Samsung Galaxy Note 3 vs Samsung Galaxy S4
11

Introduction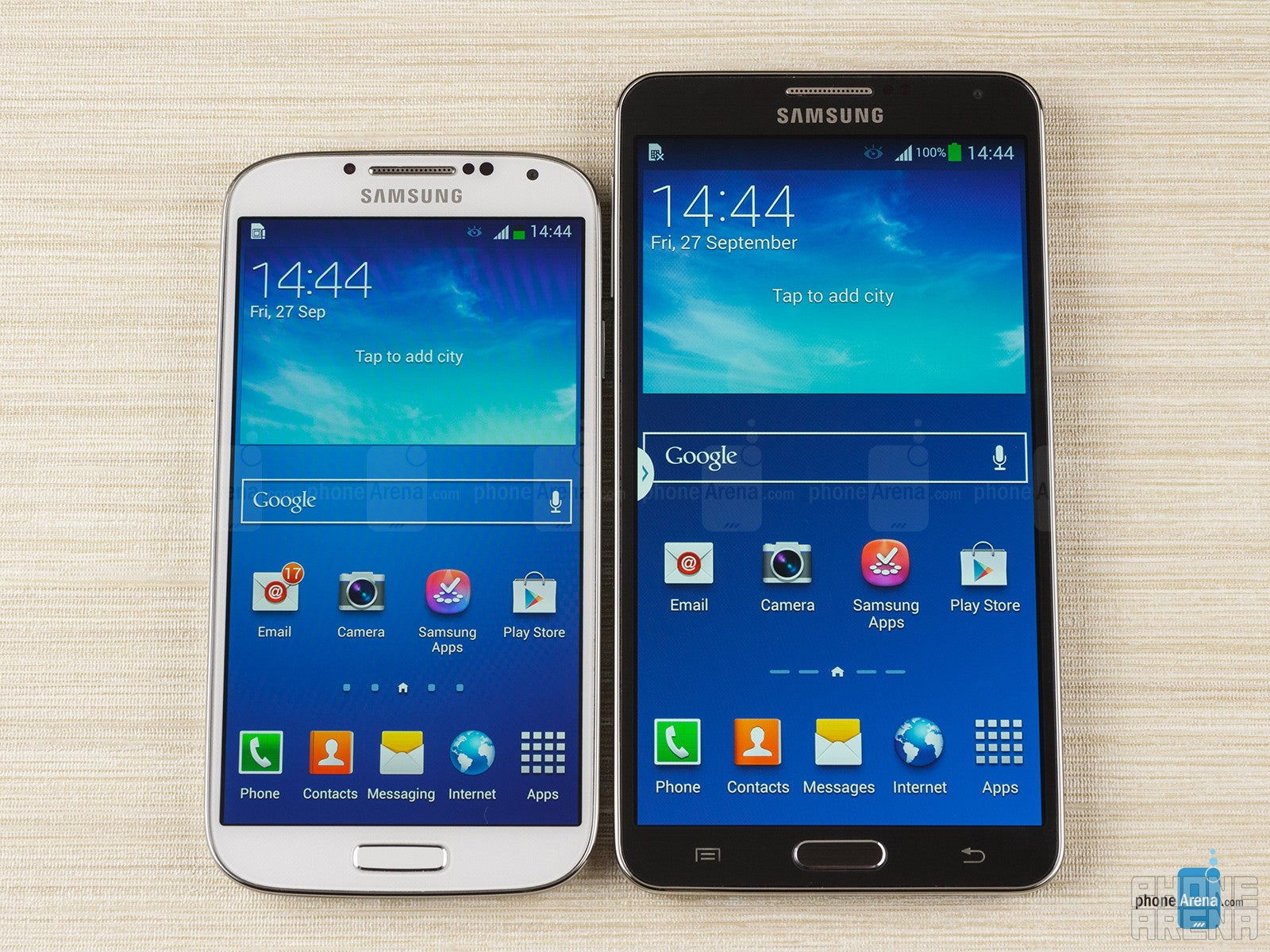 Samsung is known for having offerings across all known device categories – from tiny, low-cost Android handsets like the
Galaxy Pocket Neo
, to gigantic, feature-packed powerhouses like the
Galaxy Note 3
. Somewhere in the middle is the
Galaxy S4
– Samsung's current Android flagship smartphone, and even though the GS4 falls into a different category, it inevitably faces the Note 3 at times, as users often find themselves choosing between the two.
As different as they are, the Note 3 and S4 are still dangerously similar in many aspects – both feature superb hardware, large screens and the same user interface. Obviously, we'll have to take a closer look at the nuances that distinguish the phablet and the phone, as that's what's most likely to cause consumers to side with one or the other.
Design
With the Galaxy Note 3, Samsung introduced a slightly different design language that may make its way to some of its other product categories. Of course, we're referring to the leather-like back cover, which is still plastic, but gives a whole different look and feel to the device, as opposed to the smooth and glossy plastic of the Galaxy S4. We don't say that it's a better design, it's just different.
While the Galaxy S4 has a more streamlined and approachable design, the Note 3 seems to be going for a strict, mature and even business type of look. We aren't amazed by the leather-like plastic, but it can't be denied that it has a relatively authentic look... at least when viewed from afar. The phablet itself doesn't feel cheap – it seems to be well-built, although we don't enjoy the fact that such an expensive device is made with such flimsy, cheap materials. The same thing goes for the Galaxy S4, which has a very similar construction, so neither handset really stands out, as far as looks and build quality are concerned.
Size-wise, the Galaxy S4 is way easier to hold and use, which isn't surprising, considering that it's among the smallest handsets with a 5" display. Meanwhile, the Note 3 is, naturally, a monster with its massive 5.7". The phablet is significantly bigger, though the manufacturer has tried to keep those bezels as small as possible, and we have to say that the result is pretty good, as the Note 3 doesn't feel as bulky as one might expect from a device with a 5.7" screen.
Buttons for volume and power are pretty much identical, which would mean that they get the job done, without being excellent in what they do. Both handsets feature a microSD card slot, but there is a notable difference when it comes to their microUSB ports. Samsung has equipped the Galaxy Note 3 with a USB 3.0-compatible port, which is why it's so big and different from the one on the Galaxy S4. In order to achieve the higher speeds of the USB 3.0 port, however, you'll have to use a compatible cable. You can still plug a regular microUSB cable and use it for charging and data transfer, but it won't benefit from the USB 3.0 characteristics. You also need to have a USB 3.0 port on your PC for this to work.
Display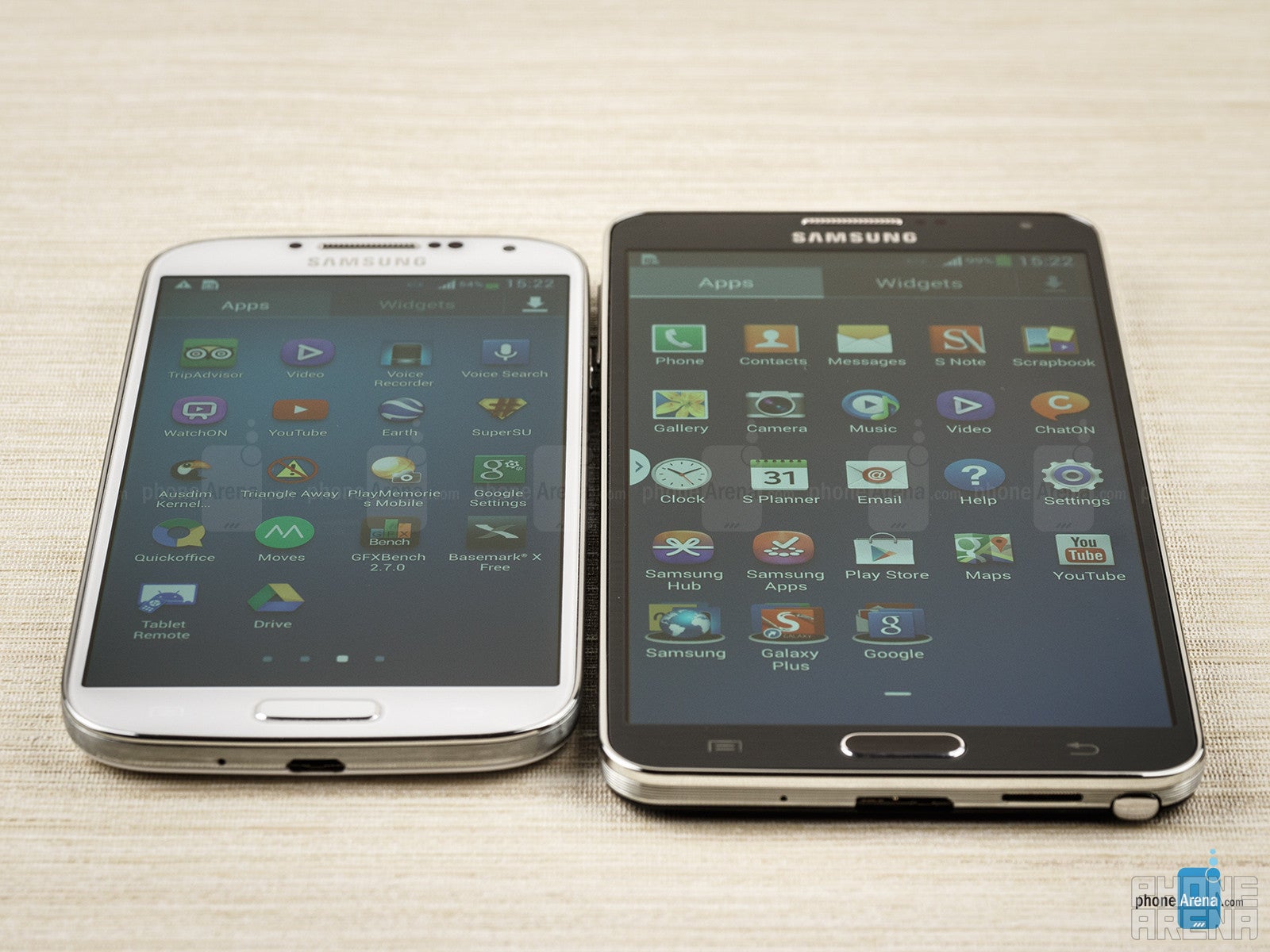 If you just can't get enough screen, then here's a good reason to seriously consider getting the Note 3. With its massive 5.7" Super AMOLED panel, the Note 3 features considerably more real estate that will make almost everything you do on the device a bit more pleasant and easier on your eyes. The 5" screen of the Galaxy S4 is by no means small, of course – it's still quite large, but as we said, if size isn't an issue for you and you want as much screen as you can get, the Note 3 can offer you just that – more. And, in this case, we actually mean "more of the same," as both screens utilize Samsung's Super AMOLED technology. Resolution-wise, both are 1080 x 1920 pixels, which means that pixel density is a bit higher on the Galaxy S4, but the difference in clarity is negligible. Actually, it'll be easier to read stuff on the Note 3, due to its bigger size.
As far colors and overall image quality goes, there isn't a substantial difference between the two. When set to the 'Standard' screen mode, the display of the Galaxy S4 tends to be a bit better with its color temperature of 7800 K (kelvin) and Delta E (average color error) of 5.96. These figures are by no means good, but still, they are a bit better than the Note 3's 8100 K color temperature and Delta E of 6.34. Both displays lack quite a bit of red in this mode, with the one of the Note 3 being the worse. If you switch to the much more natural 'Professional Photo' mode, which we recommend that you do, in case you have one of these devices, things get way better. The color temperature of the Galaxy S4 drops to the much more natural 7100 K (the reference point is 6500 K), while the one of the Note 3 hovers around the 7000 K mark. The Delta E figures also get better: 4.78 for the GS4 and 4.33 for the Note 3. In this mode, these AMOLED screens also prove that they know what 'red' is, and even though blue and green are still dominating, the balance between these three primary colors is much better than what we observe in the Standard mode.
One notable (no pun intended) improvement found with the Note 3's screen is its considerably better outdoor visibility. Indeed, if you take both displays and try to view them under the hot, bright sun, you'll have a much easier time viewing the Note 3, which is a definite advantage. Viewing angles are about equal on both handsets. It's great to see the brightness output remain almost unchanged as you view the screens from an angle, though there's a bit of unpleasant color alteration.
Display measurements and quality
S Pen
One feature that you won't find on the Galaxy S4 is the S Pen stylus. The Note 3's S Pen is pressure sensitive, enabling it to precisely know how much pressure is being applied. Therefore, strokes will have either more or less emphasis depending on how much pressure is applied. Additionally, the S Pen works in conjunction with the smartphone's various Air View functions – something that comes in handy with the web browser. Although it doesn't entirely replicate the pen/pencil & paper experience to the teeth, it's as close as we can get with a smartphone at the moment.
There are also some more "advanced" functions with the Note 3's S Pen. First, the device recognizes when it's removed/inserted from its slot. Secondly, there's a new feature with the S Pen called "Air Command." Air Command is automatically activated when the stylus is removed from its slot – or manually by hovering anywhere on the screen with the S Pen, and then clicking on the button on its body. Once activated, this fan looking thing pops up on the screen of the Note 3, thus, giving us access to five additional functions – Action Memo, Scrap Booker, Screen Write, S Finder, and Pen Window. You can learn more about those in our Samsung Galaxy Note 3 review. The main point you should take home is that you want to do a lot of handwriting and drawing on your mobile device, you should consider the Note 3 and its S Pen stylus.
Samsung Galaxy Note 3 360-Degrees View
Samsung Galaxy S4 360-Degrees View
Recommended Stories