Samsung Galaxy J7 2017 (AT&T) Review
2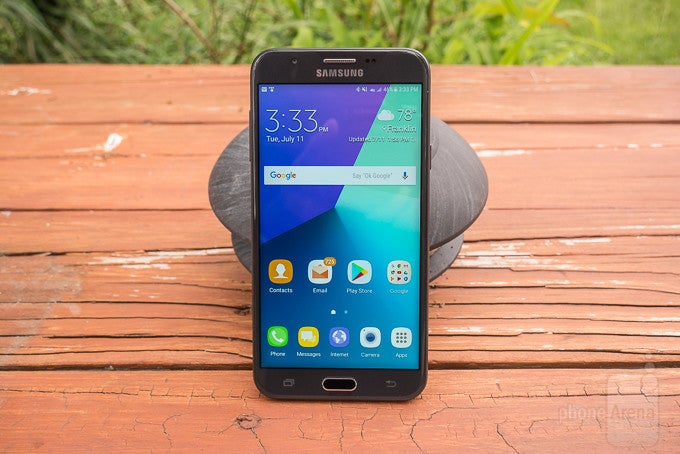 Introduction
The latest
Samsung Galaxy J7
was unveiled in Europe just over a month ago, and since then AT&T has started selling its own
Galaxy J7 2017
– with specs and styling much more akin to the J7 V released for Verizon in March. In fact, the outward appearance of the phone shows that this is the same phone but with slightly tweaked internals. The J7 actually has many variants, all in the mid-range field. This particular one seems to blend elements from Verizon's J7 V, released in March, and the unlocked 2016 Galaxy J7, which was released in April of last year. Selling for $240 off-contract, AT&T's new J7 2017 has a lot of competition. This price and configuration lands it in the company of the higher spec'd 2016 J7, Motorola's consistent and reliable G series, and even some solidly spec'd Chinese brands, like the well-received
Honor 6X
. Leaving aside screen size, the
iPhone SE
also competes in this price range. So, does this mix-n-match remix offer enough of Samsung's flair and capability to win out decisively over these highly competitive, unlocked, and AT&T-friendly mid-rangers?
Design
Plainly put, it looks like a Samsung Galaxy Note 2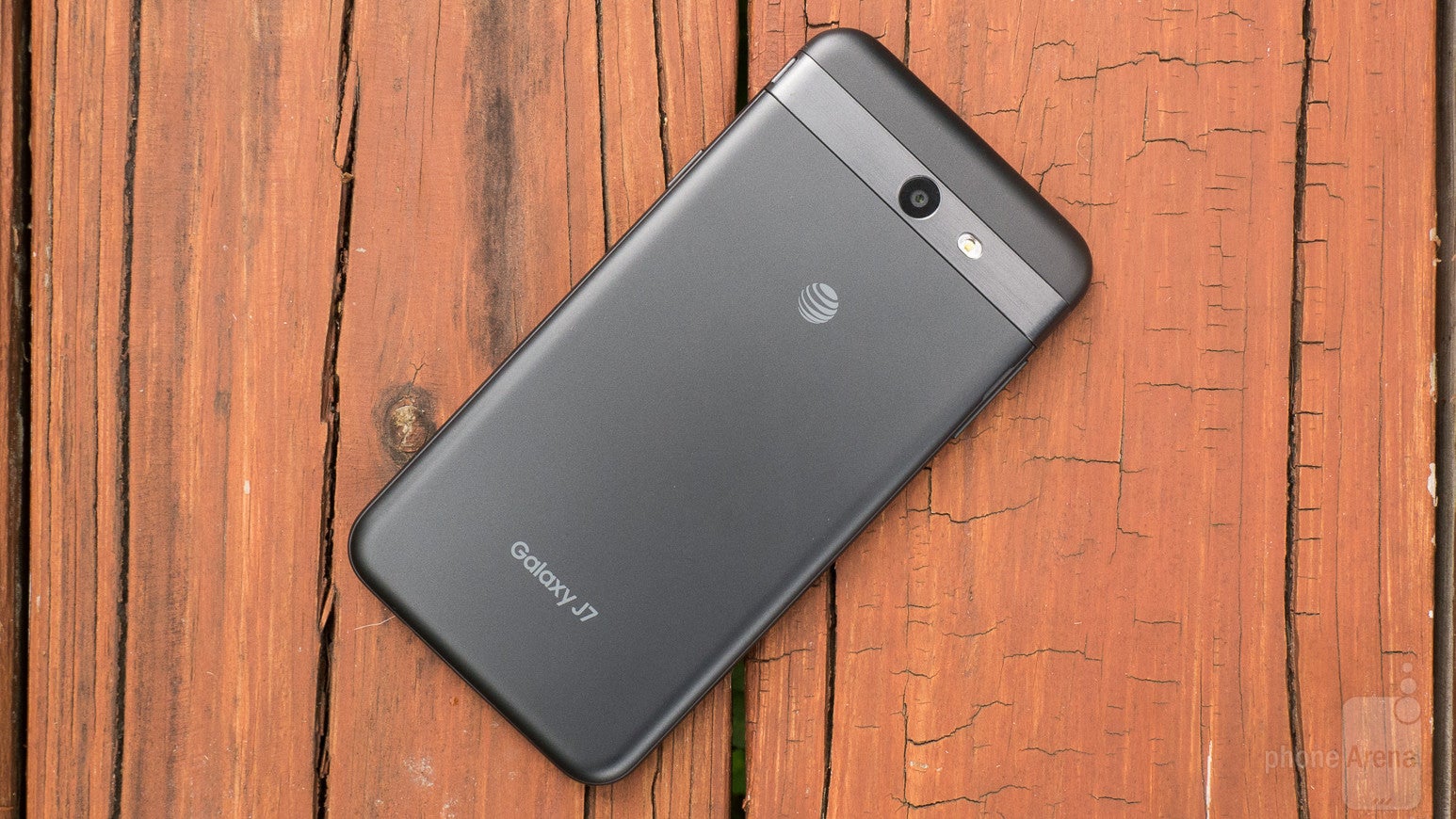 Samsung has certainly shown strength and innovation in designing flagships like the
Galaxy S8
, so we know they're more than capable in this area. Unfortunately, little, if any innovation has gone into the design of their mid-rangers, up to this point. At face value, the J7 looks a lot like a Galaxy Note 2 (minus some sensors) – a nearly five-year-old phone. The large metallic "Samsung" lettering and silver earpiece grille combine with the also silver, non-backlit haptic buttons, and silver bezel surrounding the home button – which lacks a fingerprint scanner – altogether giving this phone an aged look, evoking a throwback to Samsung's days of plastic smartphones with silver plastic accents. Fortunately, the silver accents end there, as rubberized plastic coats the edges and backing of the phone.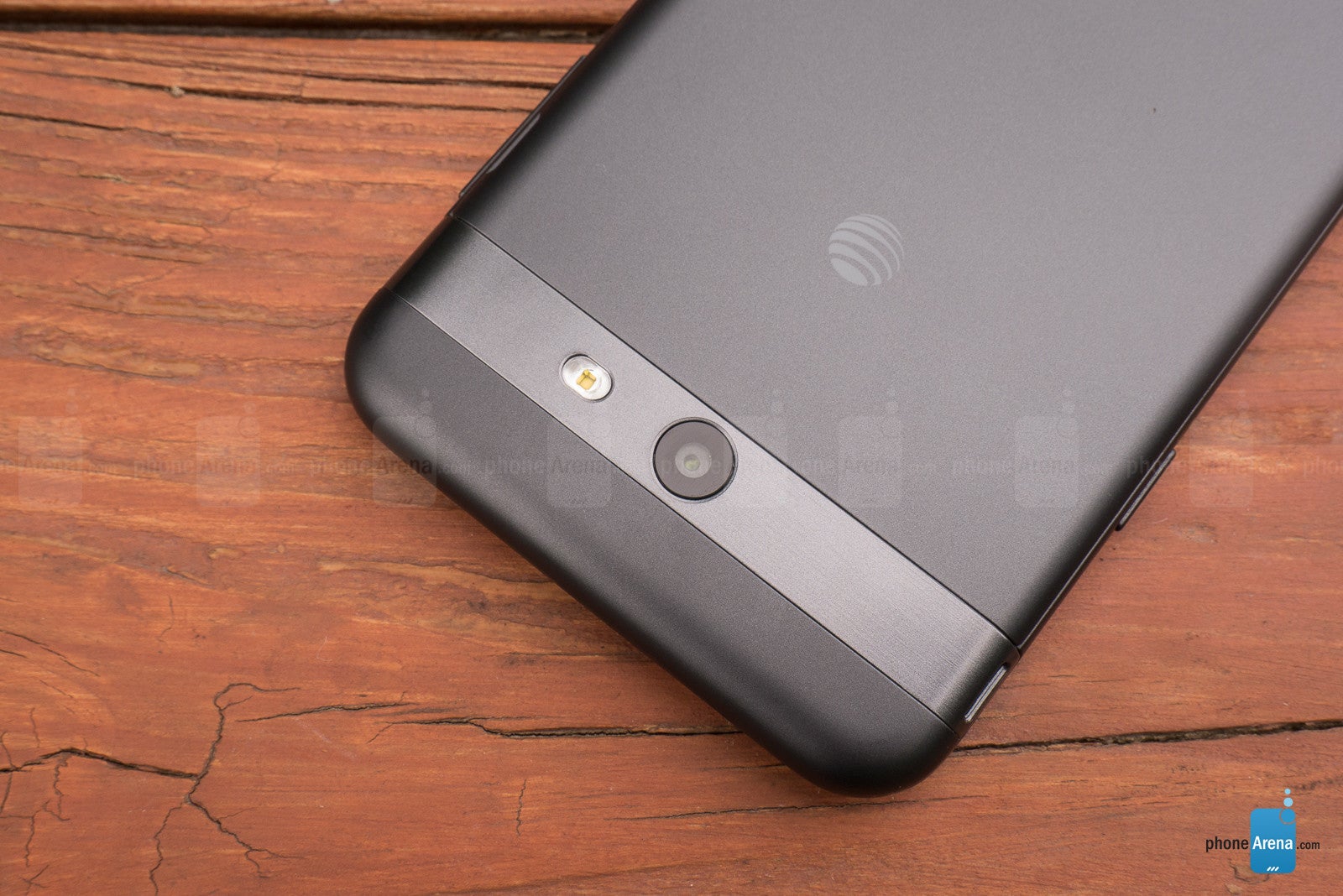 In back is a lone horizontal metal stripe, about a half-inch wide, which encompasses the 8 MP camera and single-LED flash – neither of which is raised from the backing. On the right side, you'll find the phone's metal speaker grille, also encased in the metal stripe. Although an unusual placement, it's one we didn't mind, as we never found ourselves covering it, and projecting the sound forward is always a plus. Lower down on the right side, you'll find the very clicky, even loud, lock button, placed exactly where it should be for accessibility. The similarly loud and clicky volume rocker on the left side, however, is slightly higher on the edge of the phone, requiring you to inch your fingers up the side to access it when using the phone with one hand. Looks aside, the thick rounded edges coupled with the intermediate 159-gram weight, lend the J7 to a solid in-hand feel. Thinner large-screened phones can often feel slippery in the hand, but the thicker, curved edges at least afford this handset a better grip.
Display
Surprisingly good clarity in most situations. For what the screen lacks in color range, it overcompensates with brightness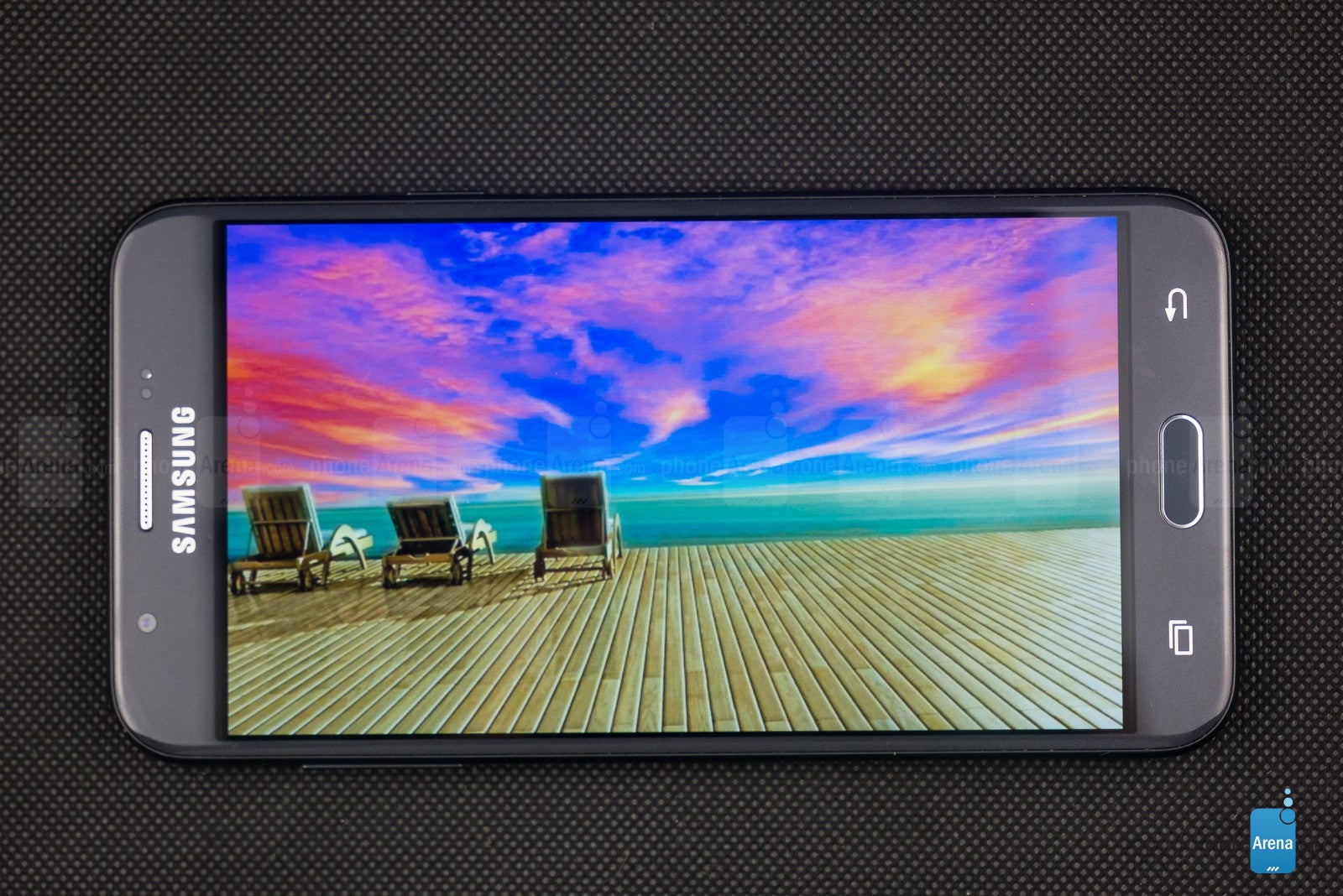 The company opted for an LCD panel rather than AMOLED, for which most Samsungs are known. The J7 still pulls off some vibrant, and decently accurate colors in most situations. The display does lean quite noticeably toward the colder/bluish side, though, an affect that is seen most easily in its representation of purple, white, and some blues.
We were surprised by the absence of our longing for a 1080p screen, though. Clocking in at 1280x720 and 267 ppi, this TFT display actually does a good job with detail. Zooming in on high-resolution photos produces none of the grain or pixelation we were dreading. We don't mean to sound so surprised, but a 5.5-inch, 720p, TFT screen had us worried. The display is also a very bright one; maxing out at 628 nits, we had to keep the brightness way under the 25% mark just to make the screen easier to look at. No ambient light sensor exists, so you don't have the option for auto-brightness, but rather the not-so-well-thought-out "outdoor mode" which raises the screens brightness for 15 minutes when enabled, or indefinitely if the screen remains on.
Display measurements and quality