OnePlus 8 Pro Review
20
We may earn a commission if you make a purchase from the links on this page.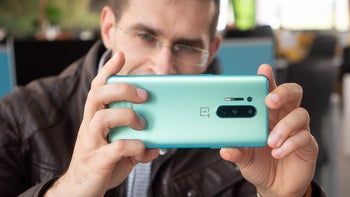 The OnePlus 8 Pro is the biggest, meanest, and best smartphone OnePlus has put out thus far. At least that's what it aims to be. It features a fantastic set of cameras, a big, gorgeous, 120 Hz AMOLED screen, the fastest possible hardware on an Android phone, and an impressive battery.
But do you need to spend $900 for it, when the OnePlus 8 delivers a similar experience for $700? Well, the 8 Pro's camera is definitely an improvement over its cheaper sibling, but it also has a bunch of quirks that you may or may not like.
The Pro is slightly bigger, it's noticeably heavier, and its speakers are virtually the same. Indeed, I'd say that if you don't insist on that slight camera upgrade, you can save yourself $200.
Design and Display
The OnePlus 8 Pro has a 6.8-inch AMOLED screen with a 19.8:9 aspect ratio. Even with the slim bezels around it, this makes for a phone that is noticeably big. It's also a bit on the thicker side and weighs a chunky 199 grams (7.02 oz). You can definitely feel that heft whenever operating the device or even carrying it in your pocket. In comparison, the OnePlus 8 feels light, balanced, and a pleasure to wield with one hand.
Not only is the OnePlus 8 Pro thicker, but its camera module also sticks out more. This is less of a visual problem and more of an ergonomics annoyance, as you will find it jabs into your fingers more often (if you don't use a case).
The display on the 8 Pro is a beautiful AMOLED panel — as we've come to expect from OnePlus. It provides a ton of color sliders and options, so you can set it up to your personal taste, ranging from accurate to wildly vibrant. The Pro version also has an option called Comfort Tone — much like an iPhone's "True Tone", it will analyze your ambient lighting and set the screen's temperature to a more suitable, pleasing level.
As you probably know, both the OnePlus 8 and OnePlus 8 Pro have the curved screen now. Still, the OnePlus 8 Pro's edges are much more drastic, with pronounced arches that go deeper into the phone's bezel. Some people enjoy this futuristic look, others are annoyed by the accidental touches it forces. I'd say the 8 Pro took it a bit too far — the OnePlus 8 had that perfect balance of curved display without being bothersome.
OnePlus was among the first companies to adopt a higher refresh rate on its phones, and the OnePlus 8 Pro proudly has a 120 Hz panel. All while keeping its colors accurate and vibrant — a slight yellowish tint seems to follow me as I scroll through pages and apps, but it's nothing too vexing.
Display measurements and quality
Camera & audio
The OnePlus 8 Pro has a quad-camera setup, but let's get the 4th one out of the way real fast. It's a "color filter camera", which OnePlus proudly says is inspired by the color tones that professional photographers use. To put it in less vague terms — it will process colors differently. Reds become gray, greens become yellow, et cetera. It can really change a scene and cast a dreamy look on it. But its 5 MP sensor also introduces a lot of noise and fuzziness in that dream. Gimmick or not — you decide.
The main camera has a 48 MP sensor which takes 12 MP photos by default. You know — pixel binning, bundling individual pixels in groups of 4 so that the phone can gather more light while taking a shot. This works with a smart HDR on board to create stunning photos even in highly dynamic scenes.
The camera is certainly a well-rounded performer. Its colors are lively yet grounded, its details are sharp, but not jagged. When it gets dark, it does get fuzzy, but still manages to brighten up shadows to make a coherent image. Nightscape mode does wonders at sharpening everything back up, so you can use that if you are shooting a static scene. In other words, it can hold its own against the greats on the market, and it's better than the camera of the OnePlus 8 (slightly better for daylight, very noticeably better at night).
We've got a telephoto camera on board which supplies 3x optical zoom. It makes for much more compelling portraits, with accurate facial features, and a natural bokeh, which you can rely on and forego using the software portrait mode entirely. In fact, since Portrait Mode is still a bit finicky and picky when it comes to activating the depth effect, I just prefer to go into normal Photo mode at 3x zoom. The 8 MP sensor underneath sounds sketchy on paper, but actually provides pretty detailed shots, with no visible noise.
The ultra-wide camera has a 48 MP sensor as well and it's great for action or epic landscape shots. Its color-calibration is pretty close to the main sensor and switching between the lenses feels seamless.
The selfie camera is very detailed, with great color accuracy and good HDR performance. Skintone is a bit too light sometimes, giving the subject a slightly pale look, but I'm verging on nitpicking here.
Video quality follows the path laid out by the photo performance. The clips are sharp, detailed, with great colors and fast autofocus.
The OnePlus 8 Pro's dual speakers are definitely loud and sound pretty detailed. They do lack some "meat" so they come across as a bit harsh when you try to blast music through them. Yet, they do not distort and they provide all the audio information you need to enjoy your misc multimedia on the go.
Software & performance
OnePlus' OxygenOS has always been defined by two things — simplicity and speed. OnePlus isn't a fan of throwing a bunch of features and setting menus on top of Android just for kicks. It has always stated that a feature will be added only if the manufacturer finds meaning in it.
And that pretty much shows. You've got some pretty elaborate screen color modes, but aside from that, OxygenOS feels pretty close to Google's vision for Android. And, at 120 Hz, its animations fly by fast and smooth. It's a pleasure to operate.
The OnePlus 8 Pro is, of course, capable of 5G connectivity and OxygenOS has a bunch of improvements under the hood to make sure that the phone makes good use of it. For one, it'll silently swap to 4G when it doesn't need a super-fast connection, just to save power. Then, it will also try to reinforce a slow Wi-Fi connection with intelligent dual-channel 5G connectivity.
You've got a theme store, the new Dark Theme, Ambient Display customization, and a few custom gestures, which you may or may not use. And that's it — the rest is Android 10 through and through.
The hardware that powers all of this is — of course — Qualcomm's extra-fast Snapdragon 865, paired with 8 GB or 12 GB of RAM, depending on which model you go for. Storage options are 128 GB and 256 GB — nothing extreme like a 512 GB option, but honestly, what OnePlus gives us is more than what most users would need for the lifetime of the phone. There's no microSD slot for expansion, in case you were wondering.
Battery life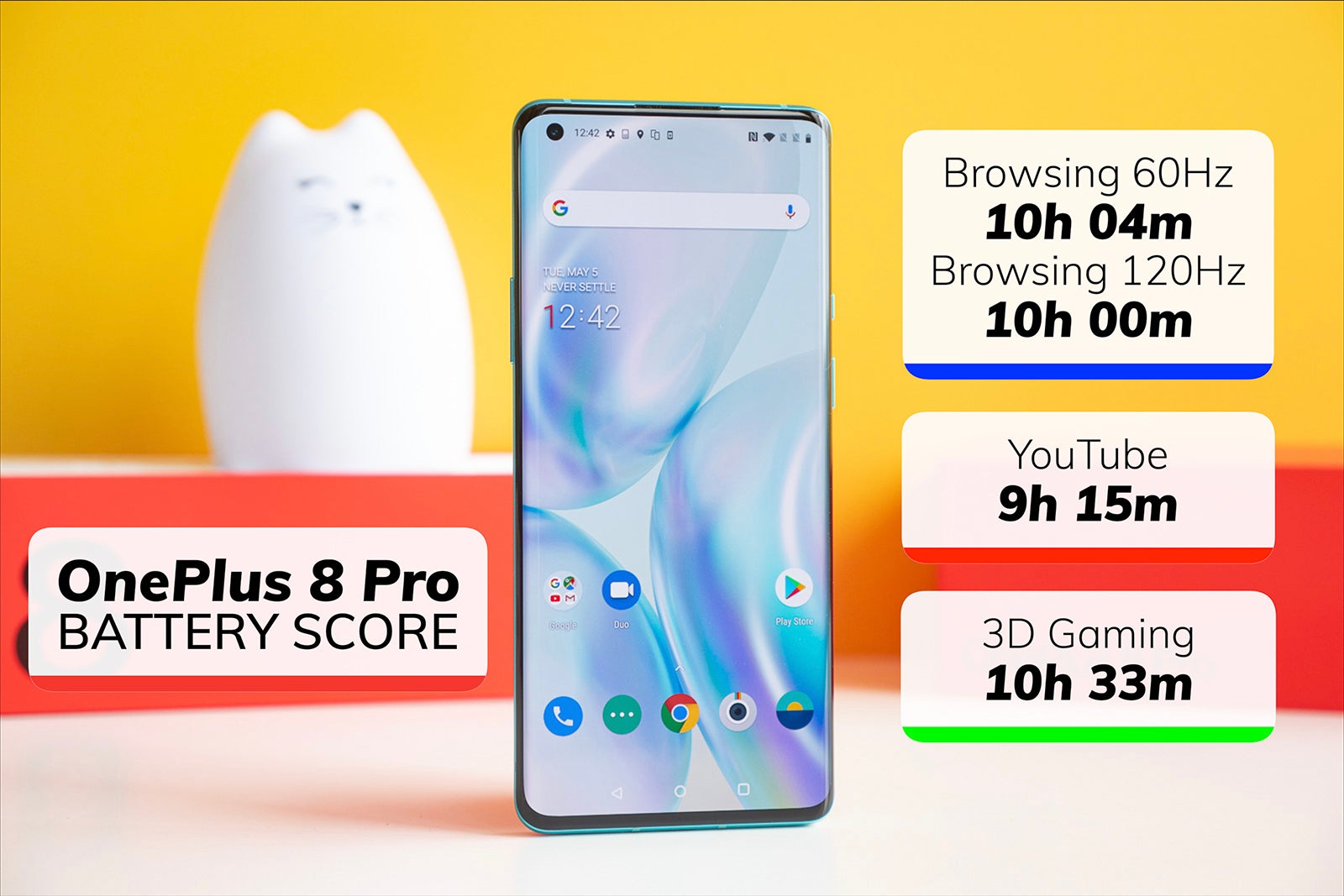 The cell that keeps the lights on has a capacity of 4,510 mAh. It's a bit less than the phone's heft would suggest, but battery life is more than satisfactory. Giving us a stable 9-10 hours through all our battery life tests and replicating the experience in real life — we've nothing to complain about.
Of course, it comes with Warp Charge in the box, which can give you 40% of battery in about 20 minutes of charging. So, even if you overestimate your OnePlus 8 Pro's battery prowess, you can rest assured that you can top it up fast if emergency calls for it.
Read our in-depth OnePlus 8 Pro battery test here!
Best OnePlus 8 Pro alternatives
If you are looking at the OnePlus 8 Pro (instead of the non-pro), you are interested in at least one of two things — a big screen or a good camera going alongside a flagship performance. And really, at the $900 price point, it's kind of hard to find something that meets these requirements.
At $1,000, you've got the
Galaxy S20
and
iPhone 11 Pro
, both of which have their awesome cameras and their own ecosystems to consider. But both are noticeably tiny, compared to the OnePlus 8 Pro — if that screen size is a must for you, you'll need to shell out an extra $100 for the Samsung and Apple equivalents of what
OnePlus 8 Pro
gives you.
Then, there's the
Google Pixel 4 XL
, which has a starting list price of $900, and is often discounted nowadays. It'll provide the same stock, speedy Android experience, and great camera performance. The downside here is that the Pixel starts at 64 GB storage and tops off at 128 GB for $1,000. Also, its battery life is worse than the OnePlus'.
If the slightly improved camera is not in your wishlist, just go for the regular
OnePlus 8
. You get the same performance and features, including 5G connectivity, in a thinner and lighter body — which I personally find more ergonomic — without sacrificing too much in terms of screen size.