Nokia Lumia Icon Review
99+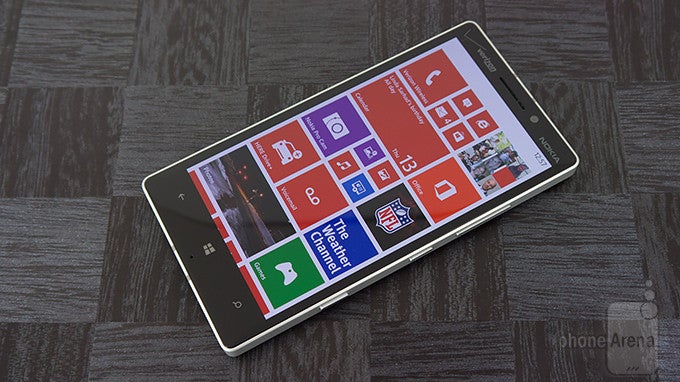 Introduction
As the good saying goes, it's better late than never. The timeless adage rings deeply for Verizon when it comes to Nokia smartphones, seeing that the carrier is constantly receiving second servings in comparison to its rival in AT&T. It was especially made apparent last year with the arrival of the highly anticipated Lumia smartphone for Big Red, the
Nokia Lumia 928
, which was a none other than a slightly modified version of the
Lumia 920
before it – yet again, a phone launched with AT&T first.
More recently, AT&T continued to reap all of Nokia's fruitful labors with the
Lumia 1520
, a game changing Windows Phone in respect to its specs and size. Following in tradition, from what it seems, Verizon is laying claim to a modified version – the non-number branded
Nokia Lumia Icon
. Taking almost everything we love about the mighty Lumia 1520, the Icon's package is slightly smaller, due to the 5-inch display it's packing along for the ride. Aside from that, it looks like there aren't any compromises with this over AT&T's pride and joy. Well, let's cross our fingers about that one!
The package contains:
Wall charger
microUSB cable
Warranty information
Get started guide
Design
Its design is not as iconic as those of some other Nokia phones
Depending on how you look at it, the Lumia Icon is either a larger version of the Lumia 928 before it – or a slightly shrunken down size of the Lumia 1520. Compared to other recent Lumias, we can't say that we're totally in love with the design here. First and foremost, it has a flatter/boxier characteristic to it, seeing that it's sporting tapered cuts in the rear casing that are more subdued than ever before.
Although we appreciate the sturdy metallic bezel outlining the handset, which sprinkles on a hint of premium to the overall design, it makes the handset sharp to the touch. In fact, it's not as comfortable to hold in the hand due to the edges of the bezel digging into our hand. In comparison to the Lumia 1520, the Icon is obviously easier to hold with a single hand due to its smaller size, but then again, those sharp edges combined with its flatter design, doesn't make it the most ergonomic thing.
Finally, there are only two colors available with this model, matte black and white, which employ the same polycarbonate materials we've seen endlessly by now. Frankly speaking, it's not an iconic design – nor is it daring or cutting edge.
Keeping true to the design language that's been well established by now, it features the same set of ports and buttons around its trim – these consist of its microUSB port, two-level shutter key, power button, volume controls, 3.5mm headset jack, and SIM slot. A changeup to say the least, unlike previous Lumias that required a SIM removal tool to access the SIM, the Icon's tray is easily accessed by simply prying the compartment with our fingernail.
Below and above the display, we find the usual trio of capacitive Windows Phone buttons, earpiece, light & proximity sensors, and a 2-megapixel front-facing camera. Sorry folks, this one doesn't feature a microSD card slot.
Both the Lumia 1020 and 1520 are known to be serious camera centric devices, so it doesn't surprise us that the Icon is in the club as well. Rather, there's an evolutionary improvement seen with the handset's 20-megapixel PureView camera, which features ZEISS optics, a wide angle f2.4 aperture lens, optical image stabilization, and dual-LED flash. Whereas the cameras on the aforementioned smartphones jutted out tremendously, the Icon's entire camera package is flush to the surface – resulting in a uniform back casing.
Display
Sharp, 441 ppi AMOLED screen that is rather difficult to view in the sun
So long Lumia 1520. There's a new king in the Windows Phone arena that's taking the crown for having the most detailed display. Flaunting a 5-inch 1080p HD OLED display with Nokia's ClearBlack technology, it results in having a pixel density count of 441 ppi – easily besting the 368 ppi tally of the Lumia 1520. It's undoubtedly detailed, giving every little morsel plenty of sharpness and clarity.
Nokia has been known to switch up the displays they employ with their phones, which is especially apparent here with the Icon. Instead of following in the same path of the Lumia 1520, which sported an LCD display, the Icon's display favors AMOLED technology. The result, of course, is having oversaturated colors that instantly catch our attention – more so when the color black is actually black, not a shade of grey. Additionally, its viewing angles are stupendous, since it maintains its clarity at all angles.
Under the settings menu, we can adjust the color profile of the display. Therefore, we can modify both the color temperature and saturation, giving colors a cooler or warmer glow. Also a frequent feature amongst Nokia's Lumia smartphones, we can interact with the display while wearing gloves. It's a pleasant thing to know when it's frigid outside, and at the same time, its sensitivity can also be adjusted for better accuracy.
However, it's not the brightest display we've come across. Just a smidgen shy of 300 nits, the display is difficult to view outdoors with the sun present – requiring us to shield it most of the time. Layered on top of it all is Gorilla Glass 3, which should do nicely to protect it against minor scuffs and scratches. Overall, it's still a head turner in a dark room, as the iridescent glow of the display makes it a prime target.
Display measurements and quality