Motorola Moto X 2014 vs Samsung Galaxy S5
20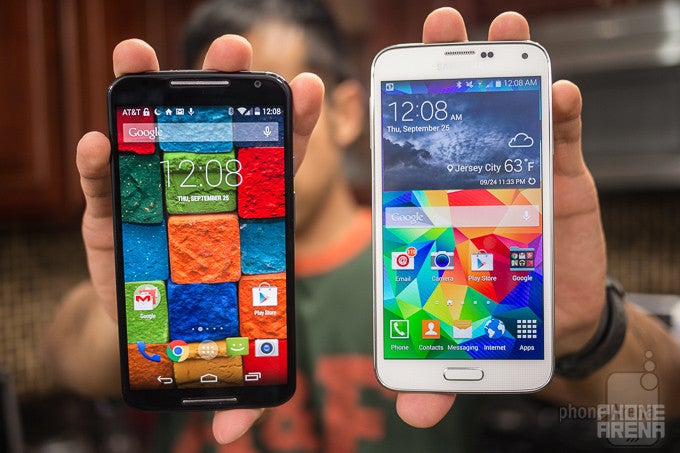 Introduction
Now that Motorola's flagship phone for 2014 is finally out, it's time to pit it against the handset that's arguably the reigning champion in the Android smartphone space – the
Samsung Galaxy S5
. Always a formidable contender, the Galaxy S5 somehow manages to continue beating its rivals in several departments. Motorola has surely tweaked its
Moto X
to become a device indicative of a flagship, whereas last year's model felt more like a mid-ranger in some aspects, so we're anxious to see if all of its hard work pays off in knocking out the Samsung Galaxy S5 from its pedestal.
Design
When it comes to style and construction, the Moto X undoubtedly exhibits all of those qualities to make it the more appealing handset – plus, it helps when its design can be customized to the teeth. Indeed, the two are comprised out of plastic, but the kind used by the Moto X, combined with its aluminum frame, gives it a lovable premium quality to overpower the subdued look of the Galaxy S5. Let's not forget that we can customize the Moto X with leather or wood back, giving it that unique premium feel. Despite that, we'll applaud Sammy for giving its smartphone a water-resistant casing capable of being submerged under water for a short period of time, which definitely comes in handy with certain situations.
Display
Checking out their displays, there's not one in particular we're fonder of over the other. The Moto X uses a 5.2-inch 1080 x 1920 AMOLED display – while the Galaxy S5 is outfitted with a 5.1-inch 1080 x 1920 Super AMOLED screen. In the details department, they both have rich and crisp details to allow us to distinguish miniscule sized text.Max brightness isn't great with either of them, as the Moto X and Galaxy S5 respectively deliver maximum outputs of 385 and 442 nits. Since they're based on AMOLED technology, they offer the same superb viewing angles and over-saturated color production. Neither is actually great in accurately reproducing true colors, but at least with the Galaxy S5, we can modify its color output to give it a more natural quality.
Display measurements and quality
Recommended Stories