Motorola Edge 20 Pro Review: focusing on what's important
7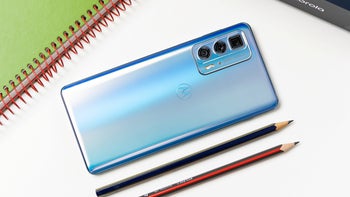 The new
Edge 20 Pro
is here, and it is Motorola's top 2021 smartphone. This is the successor to the Motorola Edge+ from last year, and just like it, it is a nice upper mid-range device.
The Motorola Edge 20 Pro has great performance, nice build quality, and a modern-looking design. Its display is excellent, and its cameras offer solid performance. This is an all around great smartphone to have.
It also has a rather affordable price of €699. This is €200 more than the standard Edge 20, which leaves the question, is the extra money worth it?
In my opinion, most people do not need to go for the more expensive model. For one, both phones have the same display, main camera, and design language. But if you choose to spend the extra €200, the Edge 20 Pro gets you a periscope zoom camera, a more powerful processor, and a bigger battery than its mid-range sibling.
But what about the Edge 20 Pro's competitors? These include the likes of the
Galaxy S21+
,
ZTE Axon 30 Ultra
, and the
OnePlus 9
. The Edge 20 Pro is also close in price to the
iPhone 12
. Compared to these devices, the Motorola offers better value for money. This phone packs some solid specs at a more accessible price, which compensates for its few shortcomings. Overall, I would recommend this phone to people that value performance and battery life.
Design
This phone's design stands out from the crowd with its interesting color options, good looks, and completely flat display. The latter is very welcome, as last year's Edge phones had curved displays, which wasn't appreciated by some.
My review unit was in Iridescent White. This is an interesting color option, as it has a bluish tint, a highly reflective surface, and changes color depending on the lighting.
The Edge 20 Pro is well built. It uses quality materials that have a nice fit and finish. Its aluminum frame feels good in the hand, with its curved corners providing a better grip. This is important because this phone weighs 190g, and while this doesn't make it the heaviest phone out there, it isn't the lightest either. Note that this phone only has an IP52 water repellent rating, so you better be careful not to drop it in water.
Motorola's new Pro phone is big. Its display is one of the biggest on the market, but its bezels are small. In turn, this makes the phone's size acceptable. The screen's tall aspect ratio helps with holding the phone, but single-hand use will be hard. Above the punch-hole selfie camera is a rather large cutout for the earpiece.
Unfortunately, the earpiece doesn't double as a second, stereo speaker. The Edge 20 Pro only has a single bottom-firing speaker. The speaker produces clear audio but lacks depth. Its position also means it is easy to muffle. This is a big disappointment, as almost every smartphone in this price range has stereo speakers. If Motorola decided to include a headphone jack, its audio score might've been better, but this isn't the case. At least I can say that this phone offers better-than-average haptics. These are not on the level of the iPhone but still offer good enough feedback, especially when gaming.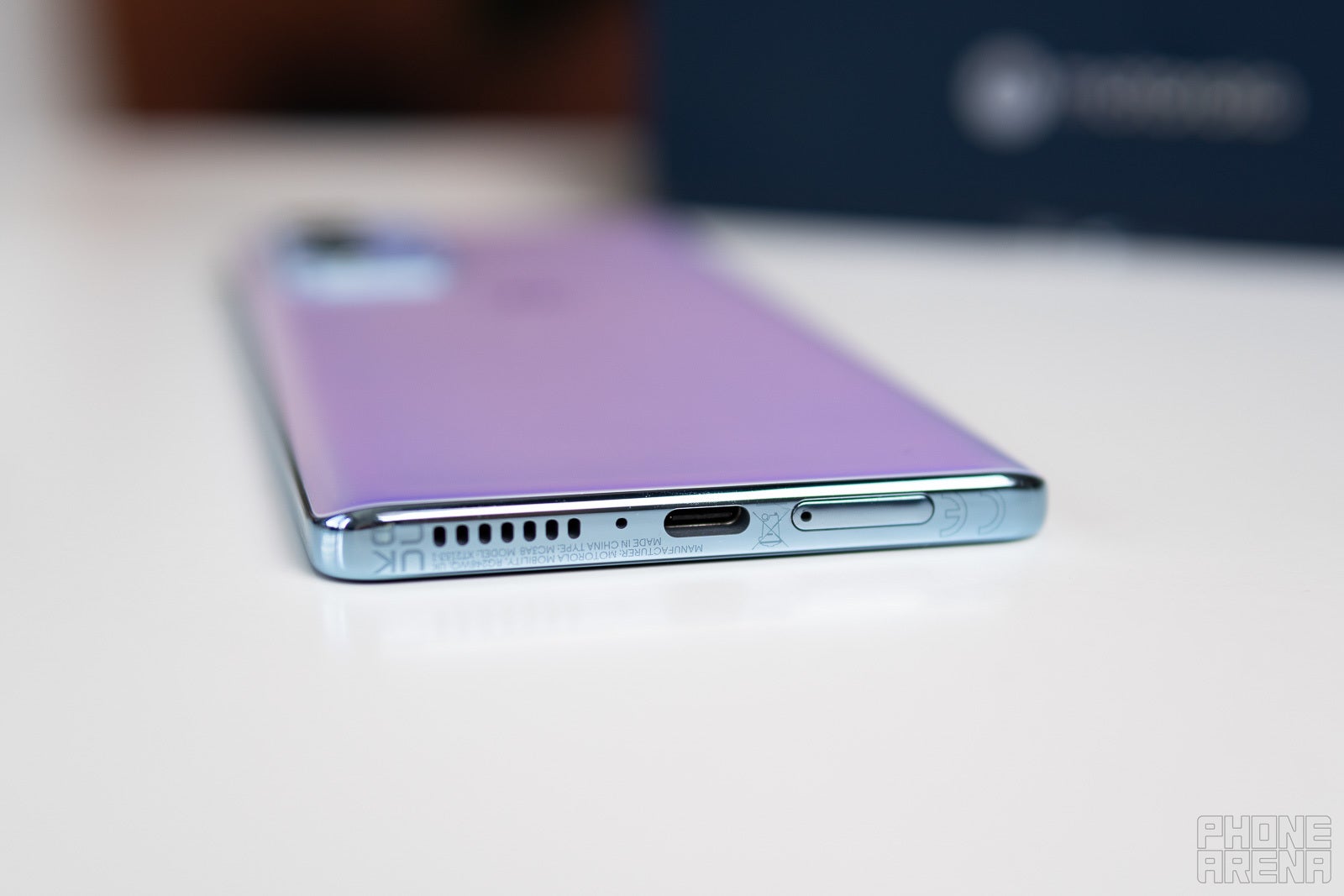 The back of the phone is made out of 3D glass. It has an average grip, and it feels solidly built. The back on the Edge 20 Pro is just as slippery as glass back phones. The camera module helps with the grip, as it protrudes from the body.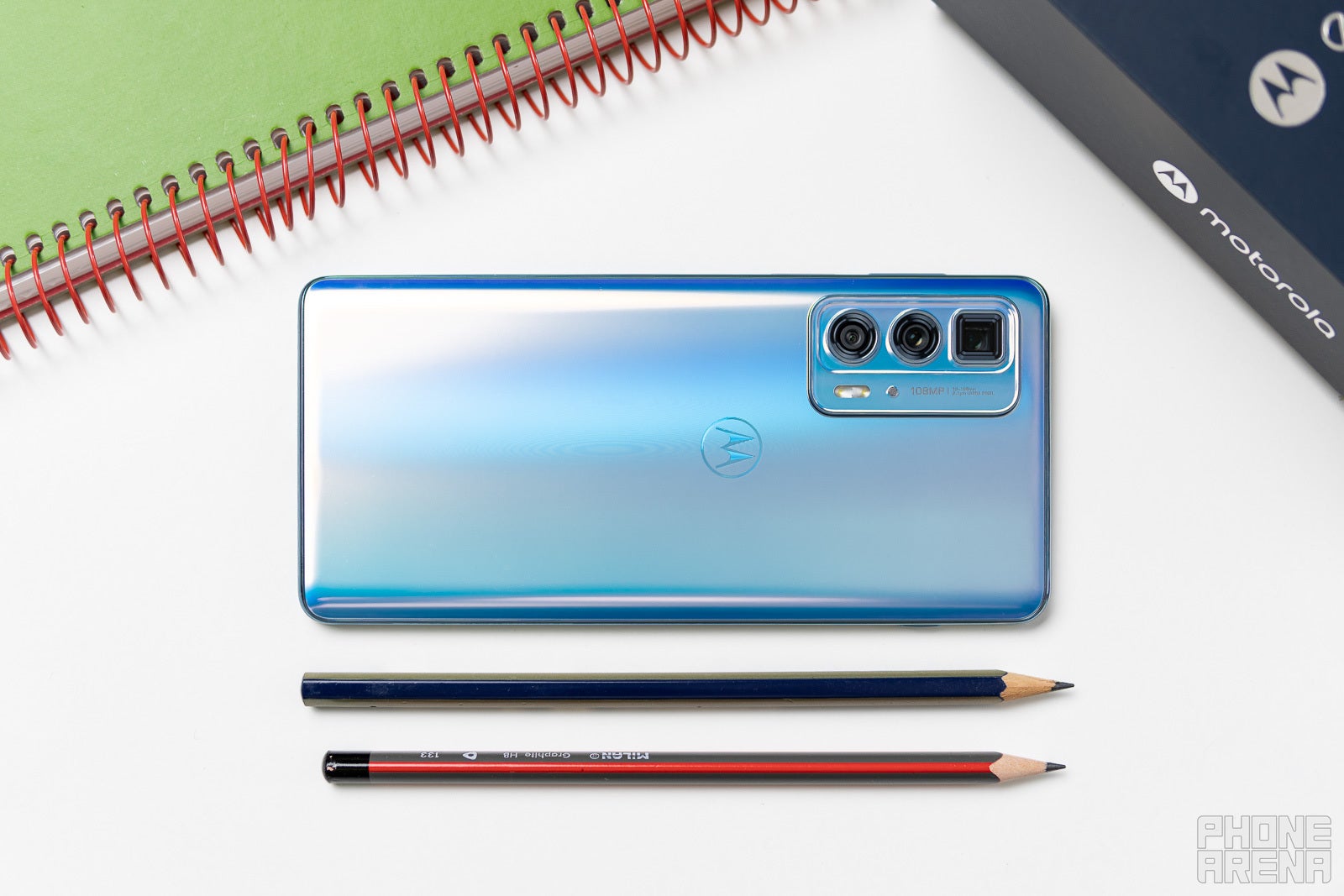 Thankfully, Motorola has included a case in the box, which does help with the grip. The aluminum sides of the phone feel and look premium. The buttons on this phone are not the best. The placement of the volume buttons makes them hard to reach, and while together with the Google Assistant button these give good feedback, unfortunately, they feel rather flimsy.
The power button acts as a fingerprint scanner too. This one is sometimes hard to find, especially if you don't use a case, as it is less protruding than the other buttons, and its feedback isn't the most satisfactory. At least the side-mounted fingerprint scanner works well, but I would've loved to see an under-display one, especially considering other phones in this price range use such scanners.
Overall, the design of the Motorola Edge 20 Pro is good, but nothing to write home about. It is nice-looking but lacks the fit and finish of premium phones.
Display
This phone's display is simply lovely. It might be too big for some, including me, but it is still manageable. The Edge 20 Pro has a 6.7-inch OLED display with an FHD+ resolution (2400 x 1080). The strongest trait of this display is its very high 144Hz refresh rate. The rate is adjustable in the settings. This phone also has a 576Hz touch sampling rate, which makes it perfect for intense gaming.
While the display of the Edge 20 Pro is easy to read in direct sunlight, its cover glass is very reflective, which can be distracting. The colors and saturation of the display are adjusted well, and the result is a great-looking picture. This display's tall aspect ratio (19.5:9) is welcome, as it helps with the phone's grip and is very useful when browsing.
In conclusion, the display of the Edge 20 Pro might be its top selling point. It is really a great panel. My only concern is its resolution, as I feel the pixel density could've been better. Let's hope for a Quad HD display next year.
Display measurements and quality
Performance and storage

The Motorola Edge 20 Pro offers great performance in every task you throw at it. This phone's Snapdragon 870 is one of the best processors out there. It isn't as powerful as the Snapdragon 888, but most people won't notice a difference. Considering this phone's price point, it is a powerhouse.

The Edge 20 Pro offers 12GB of RAM, which makes the phone a multitasking champ. I have to say that I was really impressed with the heat distribution on this phone. Even when thrown the heaviest of games, the Edge 20 Pro impressed me with staying almost cool to the touch. Its battery isn't easy to drain either, which means the processor is well optimized with the rest of the hardware and software.

The Motorola Edge 20 Pro comes in only one storage option, which is 256GB. This should be more than enough for most people. There is no expandable storage on this one.

5G is present on this phone. I had no problems with reception and internet speeds at all. Here are some benchmark comparisons of the phone for you to check out:


Software and features
Motorola's Edge 20 Pro runs Android 11 out of the box. Motorola guarantees at least two major software updates in the future, which means there is no room for concern about long-term support. The software on my unit was stable and very fluid, with me having no issues whatsoever while using the phone.
The software interface is smooth and clean. It is clear from bloatware, with only Motorola's native apps preinstalled. These apps offer plenty of useful features, though. The chopping motions to turn the flashlight on and the double twist of the phone to open the camera are my favorites. As you probably know, these functions aren't exclusive to the Edge 20 Pro and can be found in other Motorola models.
The Motorola Edge 20 Pro comes with the Ready For software platform. This Motorola platform can transform a TV or an external display into an Android-powered desktop computer. You can connect your phone wirelessly or via HDMI to a screen, with it acting as the trackpad, or connect it via its USB-C port. Ready For lets you run your favorite Android apps and games on a bigger screen. You can also connect a wireless keyboard and a mouse to the phone, which is convenient.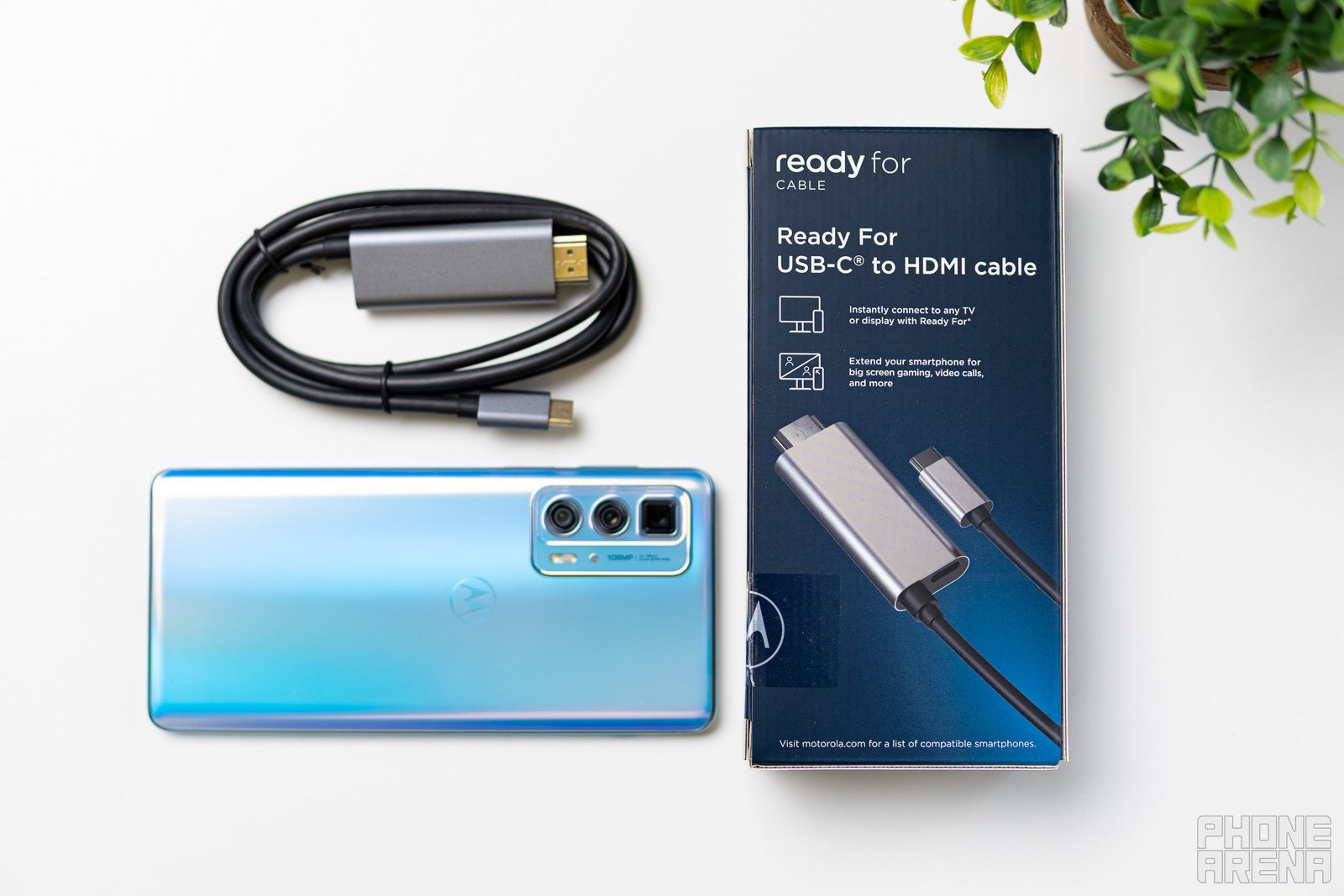 The platform is also available for Windows 10 PCs. This way it is easy to interact with both your phone and your computer's files from your desktop computer. I had no issues with the Ready For software platform. It ran smoothly and without any studders, even in wireless mode. Keep in mind that for it to work flawlessly, your internet connection should be strong. Otherwise, you can always get a USB-C to HDMI adapter for a faster and more reliable connection.
Camera
Here is where things get interesting. The Motorola Edge 20 Pro has a triple-camera system with a dual-LED flash and a dedicated third microphone. This microphone allows for Audio Zoom. Audio Zoom is a video recording feature that amplifies the sound from wherever you zoom at. The feature worked great during testing.
The main camera of the Motorola Edge 20 Pro is a 108MP sensor with an f/1.9 aperture and Ultra Pixel technology. This is the same sensor that is used in the much cheaper Edge 20 and Edge 20 Lite as well. The Ultra Pixel technology combines nine pixels into one larger one, which makes for a 12MP photo in the end. The point of this is to improve low light performance, and it also saves on storage.
The photos from the main camera look great. They offer plenty of detail, accurate exposure, and good focus. I only wish the photos were a bit more saturated. These are often not as colorful as real life, and this undersaturation is relevant for all three cameras. You can adjust the saturation after taking the picture, but it is still a shortcoming of the camera system.
The other two cameras produce great results during daylight too. The Edge 20 Pro's 16MP ultrawide camera produces nice pictures with plenty of detail and a good field of view. This is also the camera that is used for Macro Vision photography. The macro pictures I took looked great and offered plenty of detail. The only thing I struggled with in Macro Vision mode is focusing, which often took a lot of adjusting to work properly.
The 8MP 5x zoom periscope camera is a nice addition to the setup. This sensor produces good and sharp enough results. This is the only camera with optical image stabilization, which helps it a lot when zooming. The maximum zoom is 50x, which is plenty. Overall, the periscope camera does its job well as long as you give it enough light.
For night photography, Motorola offers a mode called Night Vision. This mode improves low-light photography by taking a couple of pictures and combining them into one. Shooting in this mode results in brighter pictures with better detail. In order for this mode to work, you need to hold the phone steady for longer than usual. Keep in mind that it isn't suitable for moving objects. With or without Night Vision, night photos taken with the main camera look nice, with good detail, accurate focus and colors. This is not the case for the rest of the cameras. The ultrawide shooter produces average results during the night, with it often struggling to pick the correct exposure. The periscope lens is almost unusable during the night unless you are zooming on a very well-lit object. Keep in mind that only the main camera supports Night Vision.
Portrait pictures can be shot only by the main camera. Still, the Edge 20 Pro produces great portraits with accurate focus, a nice bokeh effect, and plenty of detail. Skin tones look accurate as well. Faces offer plenty of detail, without looking oversharpened. Portraits during the night lack detail. This is mostly because the camera struggles to focus and the exposure is a bit on the dim side.
The front camera of the Edge 20 Pro is a 32MP punch-hole sensor. It has Quad Pixel technology, which similarly to Ultra Pixel combines four pixels into one for better low light performance. You can always choose to capture in the full 32MP resolution from the settings. Daytime selfies look good, with accurate colors and exposure. The only thing is that details often appear to be oversharpened. This is especially noticeable with beards. You can also take portrait selfies, which use AI to produce the bokeh effect.
Night-time selfies are a bit disappointing. These use the Night Vision technology too, but take a lot of time to process after you hit the shutter button. The result is average. Selfies captured in low light situations often struggle to focus or adjust the exposure accurately. Sometimes these turn out great though, so in conclusion, it is a hit or miss.
The front camera can shoot video in 4K 30fps. Videos from it offer plenty of detail, but the stabilization isn't the best. The microphones aren't the greatest at eliminating outside noise, which might be a bummer to those that love vlogging on the go.
Moving on to the back cameras, these offer a rather average video performance. The main camera can shoot in 8K 24fps, but while this resolution offers plenty of detail, its stabilization disappoints. 8K videos are very shaky, and the lack of OIS (optical image stabilization) is very noticeable in the video department.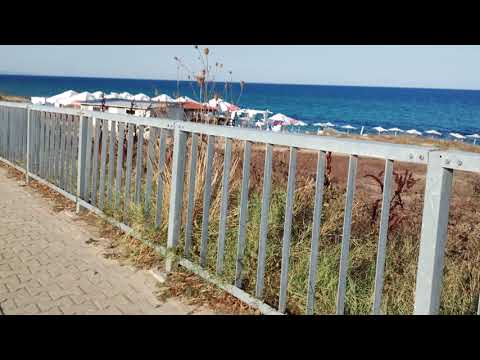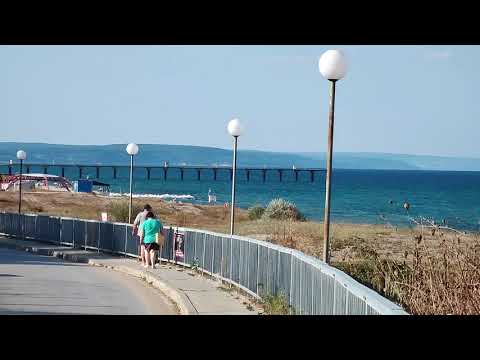 The other resolutions you can choose from are 4K 60fps, 4K 30fps, and 1080p in 60 or 30fps. While 4K videos look great and stable, you can only use the main camera to record them. To be able to switch between all three cameras, you need to record in 1080p 30fps. This is a bit of a bummer. The reason for that is the periscope camera's 8MP resolution, which isn't enough for 4K. But daylight videos in 1080p 30fps also look great, and the versatility you have by having the three cameras is amazing. It is easy to follow a far-away object with the periscope camera thanks to its OIS.
Motorola has included a Super Slow Motion mode. This mode lets you record a slow-motion video in FHD 240fps, with the option to record a 960fps video for a small amount of time. While these videos don't offer plenty of detail, the results are impressive slow-mo effects that are fun to make.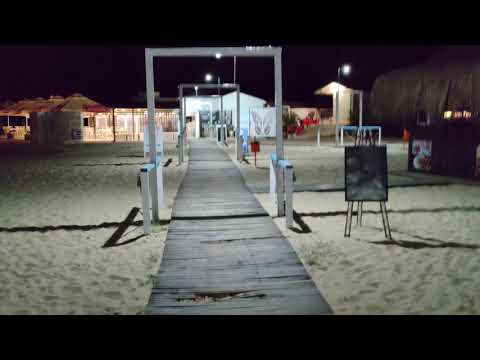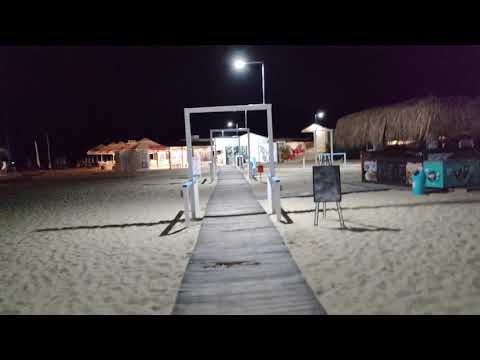 Things get bad for the Edge 20 Pro during the night. Video quality on all resolutions is average at best. The 8K 24fps resolution is almost unusable during the night, as it is both shaky and lacking in detail. If you go for the 4K 30fps setting the Edge 20 Pro will struggle less, but still won't provide a better than average result.
Battery life
The Motorola Edge 20 Pro offers excellent battery life. It packs a large 4,500mAh battery which easily lasted me a day and a half, with the high-refresh-rate setting on Auto. The battery management is great on this one, and I think if you choose the 60Hz refresh rate you can probably stretch to 48 hours between charges. The battery life performance is helped by the Edge 20 Pro's very efficient Snapdragon 870 processor too.
The only downside this phone has in the battery department is its charging. The Edge 20 Pro only supports 30W fast wired charging, which is far from the best in class. This probably won't be concerning to most users, as the phone still manages to charge from 20 to 80% in around 50 minutes. Keeping in mind that you get the fast charging brick in the box, which is nice of Motorola and should compensate for the slow charging speeds.
Unfortunately, this phone doesn't support wireless charging. This is a bummer considering there are plenty of phones in this price range that have wireless charging.
Overall, if you're not a fan of wireless charging anyway and are looking for a phone that offers great battery life even with its high refresh rate setting turned on, then this one is a great choice.
Recommended Stories