Meizu MX4 Review
40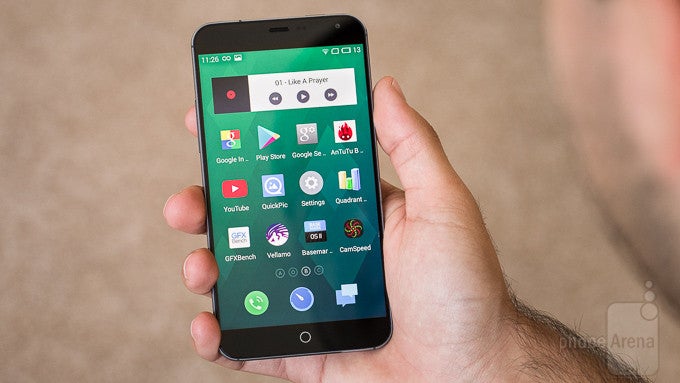 Introduction
Meizu has been slinging flagship devices at the market for years now, but those have been having a hard time sticking around in meaningful quantities. This is specifically true as of late as local rival Xiaomi has been showering itself in glory, overshadowing Meizu in the process. Now, with the
MX4
, Meizu is ready to try again.
Plenty is on offer with this phone, including a large, 5.4-inch display, an octa-core processor, and a 21 MP camera – all powered by a 3100 mAh battery. For this, you'll have to whip out $449, but don't expect to find it on the shelves of your local brick and mortar. That said, practice has shown that devices like this find their way to the States and elsewhere, and there's always Meizu's international online store, which offers free express shipping and covers any import taxes you might incur.
So does the attractive price tag and the seemingly infallible specs make the MX4 a competitive device? Let's find out!
Design
This thing is sturdy and sits nicely in the hand, but we wish Meizu spent a little more time styling the rear.
The Meizu MX4 packs a 5.4-inch screen that's plenty large. So how big of a device are we talking about? At 5.67 x 2.96 x 0.35 inches (144 x 75.2 x 8.9 mm), the MX4 is slightly smaller than the equally-trimmed
LG G3
, which is great news. The MX4 is also fairly light, at 5.19 oz (147 g), and that's always good news.
The MX4 nevertheless feels very solid in the hand, and matches your palm nicely due to that rounded back, so overall ergonomics are excellent – not least because Meizu has done an excellent job trimming any excess fat with the bezels. The materials used with the phone are well-selected as well – we've got a metal frame, within which the device is nestled, and an especially soft plastic shell at the rear. Metal is also used with the power and volume keys, both of which provide excellent tactile feedback, though the former is awkwardly-located at the top – a problem with as large a device.
Overall, we can't say that the MX4 won us over with its exterior – it's not bad by any and all means, but the rear shell is kind of unsightly.
Display
A very bright, 15:9 display with some acceptable weaknesses.
An extra large, 5.36-inch IPS screen by Sharp or JDI (depending on the batch) is what the MX4 has going on. The resolution is rather odd, at 1152 x 1920 (15:9), good for the excellent 418 pixels per inch. For protection, Meizu is using a Corning Gorilla Glas 3 cover, which should safeguard against scratches and even small drops. Thankfully, this also means that the surface of the display is coated with an oleophobic solution, meaning that oily fingerprints are minimized.
Also excellent are the maximum and minimum levels of brightness the display can produce – 535 and 2 nits, respectively. These figures are corroborated by our own findings – reading the screen outside, even with the sun over our shoulder, was easy, and the extremely low brightness of the panel also allowed for a comfortable viewing during the night. As for the screen's color reproduction, we're looking at acceptable deviations from the target, though the color temperature, at 7778 K (6500 K is the reference here), is a bit too high, which results in a bluish overcast that is especially visible with whites and grays. The display's coldness is not its only drawback, though, as gamma, at 2.01, is also sub-par (2.2 is ideal).
Display measurements and quality