LG Optimus Vu Review
13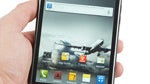 Introduction:
Here's one phone that will leave a lasting impression on you from the very moment your first spot it - the
LG Optimus Vu
. This handset is eye-poppingly gigantic. It's so big the adjectives won't prepare you for its actual size and you'd be wondering whether that's a phone or a tablet.
Chances are you won't see it a lot though as it's only selling in Korea at the moment and we don't expect it to arrive to Western markets anytime soon. Being almost in a category of its own we're excited to take a deeper look and see how LG's experiment with big phones works out and why this phone is so different.
Design:
If the
Samsung Galaxy Note
created the phablet category, the LG Optimus Vu is the very incarnation of a phablet. The Vu actually looks a bit more like a tablet than like a phone - it's plain big. The size would definitely get you some weird looks in public when you hold it to your ear. If we had to squeeze it down to one thing that makes it so weird, it's LG's bold decision to make this the world's widest phone.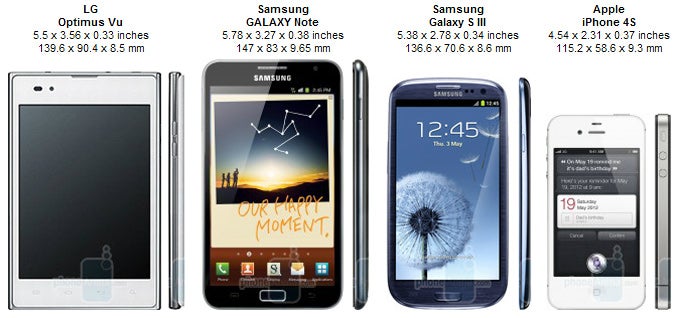 You can compare the LG Optimus Vu with many other phones using our Size Visualization Tool.
The Vu is enormous - while someone with an average hand could still hold a Galaxy Note and even make a phone call with some hand gymnastics, we wouldn't risk trying to single-handedly place a call on this device. Bottomline is you'll need your two hands to operate it.
With this in mind, is it really
pocketable
? Put simply, it's bulky and you won't forget you have a big phone in your pocket. And if you like wearing tight fit jeans, you should cross this phone off your wishlist right away.
Now, if pocketability is not your main concern, otherwise the phone is surprisingly light and lean for its jumbo looks. It's got a textured plastic back that doesn't feel particularly elegant, but makes it harder to accidentally drop the handset, and you'll appreciate LG's practicality on this. Still, it's much less classier than the luxurious soft touch plastic on the Galaxy Note. The back of the phone also holds an NFC chip.
From afar, the Optimus Vu looks good though and LG has gone with stylish rounded metallic buttons.
Below the screen
you'd find the four buttons standard for Gingerbread and earlier. We wish the phone came with the modern three-button layout, though, as reaching for the last button is virtually impossible with one hand.
On top
there's a microUSB port and a 3.5mm jack, as well as a QuickClip dedicated button for jotting down on top of what's on the screen (more on this later), the power button and a hidden antenna.
The
antenna
is the funny part to us used to phones released for the West, but in Asia watching TV on your handset is pretty common and that explains why it's here. TV is what also explains why this phone is so wide - most channels are streamed in 4:3 aspect ratio, and coincidentally the Vu comes with the same screen proportions.
Display: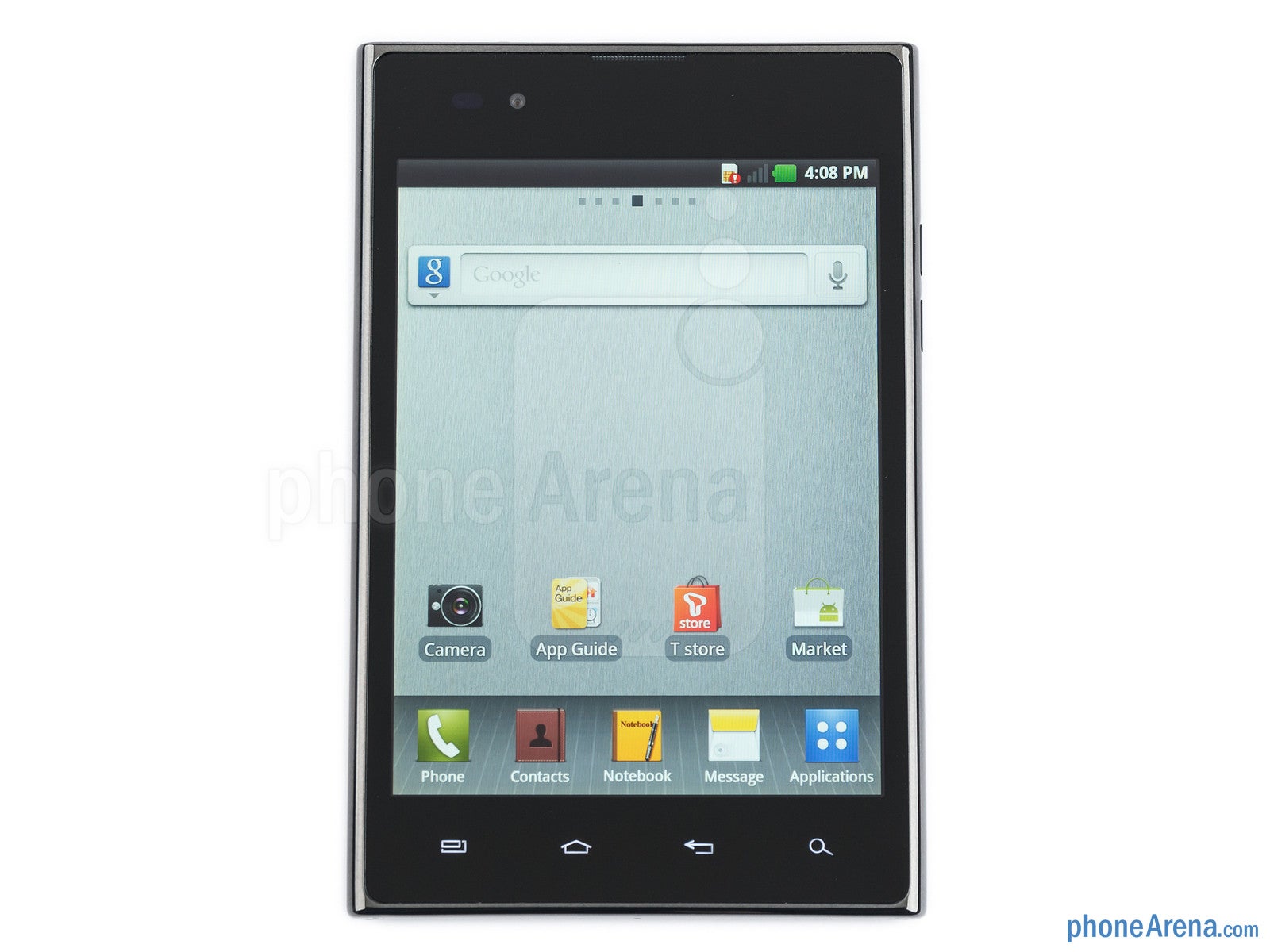 You have a gorgeous
5-inch IPS high-res LCD display
. The
resolution is 768x1024 pixels
- just like on the original iPad - and the brightness is 650 nits, which in layman terms is very detailed and pretty bright, legible even under direct sunlight. Whites are not bluish as in AMOLED panels, colors are vivid and nicely saturated, and viewing angles are wide. Overall, for its intended purpose of watching a lot of TV in - say - the subway, the Optimus Vu is great. LG says 4:3 is also the most widespread ratio for print materials, a claim we can only support - we were delighted with the reading and browsing experience on this phone.
When it comes to video on the web though, the 4:3 screen backfires as a big mismatch. Video either stretches weirdly or you have to get used to two huge black strips on the top and bottom. The experience is far from what could have been if the whole screen showed the video.
Apps that we tried scaled well - we had no problems playing Angry Birds, Temple Run and Cut the Rope, and actually enjoyed gaming on the big screen. For apps that don't scale well, LG offers "aspect ratio correction" that you trigger by holding down the home key. This will slim down the app to accurate proportions.
Rubberdium: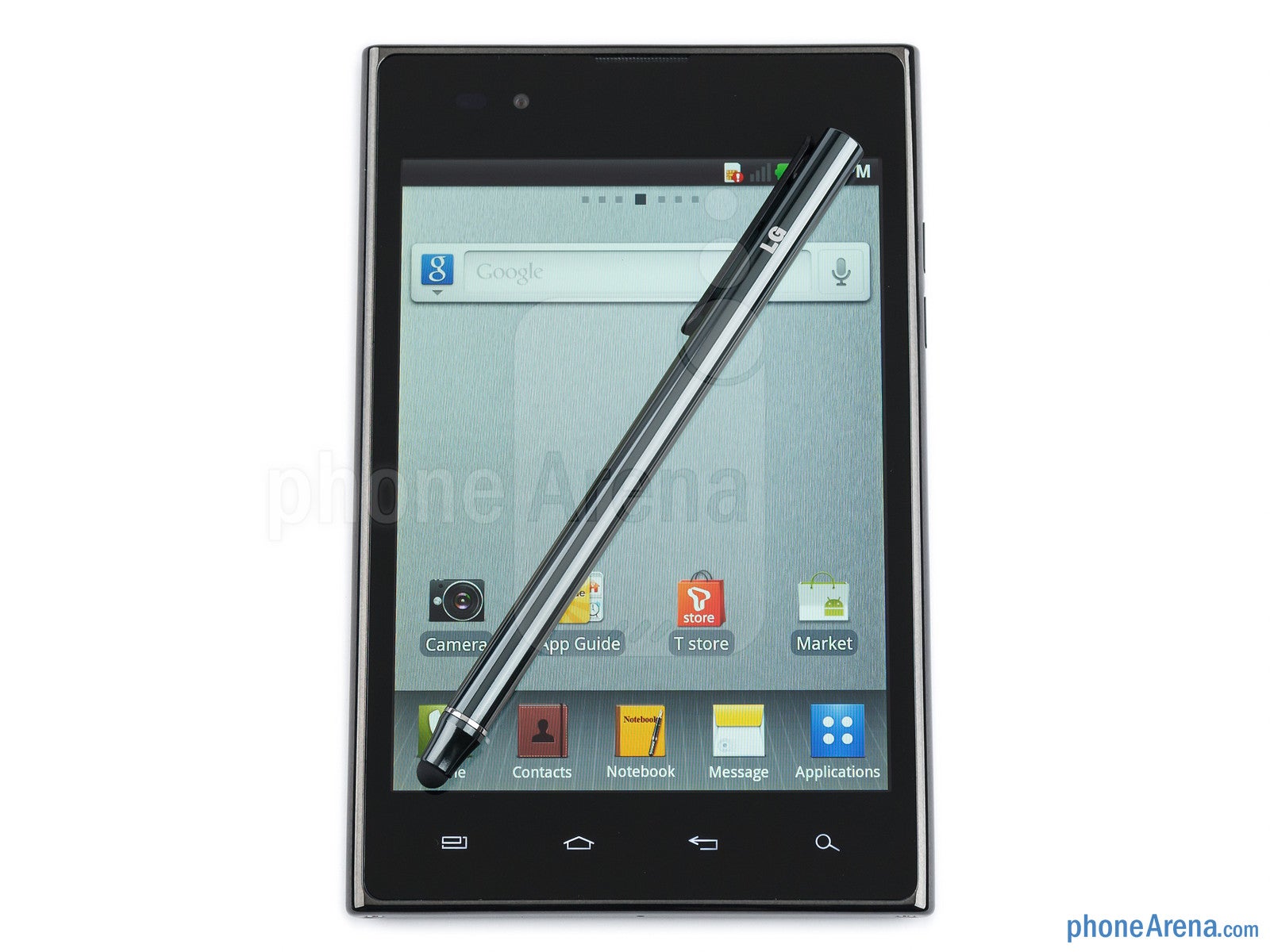 Also, the Vu comes with a "Rubberdium." Rubber jokes aside, this is actually the stylus that comes with the handset. It's somewhat different than a standard stylus as it adds a bit of a pen-like drag when you write with it. It's also surprisingly solid and comfortable to hold.
Earlier, we mentioned the
QuickClip button
on top of the Vu, and that's something you might want to use with the phablet. Pressing the button takes you into memo mode, so you can draw on the screen grab you just captured. There is also a dedicated Notebook application which serves as a center for most stylus-related activities - you can sketch and jot to your heart content.
Drawing with the stylus however still comes with the usual delay for current touchscreens and that's something we try to get used to everytime we use a stylus. Overall, it's a neat addition, but we wish there was a slot for it in the handset so you don't have to wonder where you left it when you need it.
LG Optimus Vu 360-Degrees View: