LG Enact Review
2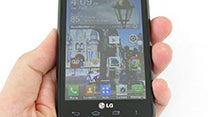 Introduction
With most smartphones touting large displays (and large prices), it's nice to see manufactures still making affordable phones with physical QWERTY keyboards. Enter the new
LG Enact
, which is available from Verizon Wireless for only $20 with a 2-year contact. We've seen a few QWERTY devices from LG over the years, including the LG Enlighten back in 2011, but this time around LG has increased the features (though not high-end) with a slightly larger 4" display, 1.2GHz dual-core processor, 5MP camera, and naturally can use Verizon 4G LTE data network. Though the Enact does stand with some competition, mostly from the
Samsung Galaxy Stratosphere II
,
Pantech Marauder
, and even the
Motorola DROID 4
.
Included in the retail box is the LG Enact VS890 smartphone, 2460mAh battery, wall charger, microUSB cable, and user guides.
Design
The overall appearance of the LG Enact isn't going to win any awards, but we like the two-tone black and gray combination and we appreciate the textured back and sides, which allow for a firm grip, when compared to the slippery feeling of the Samsung Galaxy Stratosphere II. The device is also fairly compact and fits comfortably in the hand, but it does feel a bit heavy for extended use, coming in just under 6oz.
Below the display are four capacitive buttons for back, home, recent apps, and settings, while above the display is a standard VGA camera for self-pics or video chatting. Along the left side is the volume rocker with microUSB port, and the power/lock key is on the right, but we found these buttons are hard to distinguish from the surrounding plastic by touch alone. Up on top is the 3.5mm headset jack, while on back is the 5MP camera with LED flash. Removing the battery cover will allow access to the SIM slot and the microSD memory card slot.
Display
Keeping with the low price-point of the device, the LCD display comes in at only 4" in size with a WVGA resolution of 480x800 pixels. Because of this, most text and images have noticeable jagged edges, instead of looking sharp and clear as with a higher-resolution display. And since it's LCD, colors look a bit washed-out as well, while the Super AMOLED display on the Galaxy Stratosphere II produces more vivid, over-saturated colors. Overall, the display quality on the Enact isn't bad, especially for the price; we just wish it was higher resolution so that it would look sharper.
QWERTY Keyboard
One of the main features of the LG Enact is the physical QWERTY keyboard. Sliding it open and closed is pretty easy to do (even with one hand) with a better feel to it than the Pantech Marauder and Samsung Galaxy Stratosphere II. Once it is opened, we are presented with a nice 5-row keyboard with dedicated number keys across the top. In fact, the layout is pretty much similar to the Stratosphere II. Using the QWERTY keyboard is a pleasant experience, as the keys have a nice size and feel to them, but larger hands may have an issue, as there isn't much space between the keys. Our only complaint here is that the backlighting for the keyboard is not very bright, which does make it less visible when there is low surrounding light. In our opinion, the keyboard's backlight needs to be brighter. Because of this, the Motorola DROID 4 still remains king, as it has a larger keyboard with enough backlighting for it to be visible at night.
LG Enact 360-Degrees View