HTC RE Camera Review
18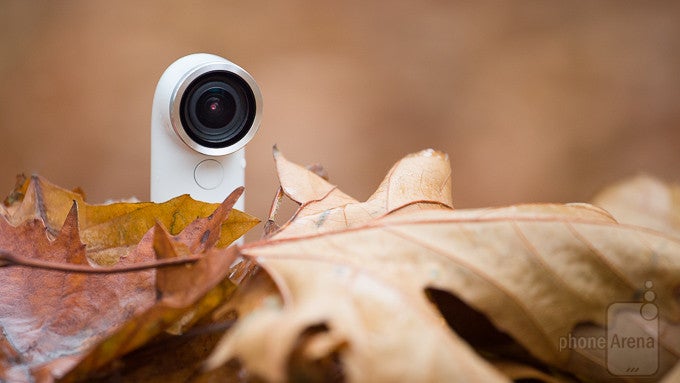 Introduction
The HTC Re Camera is a strange creation unlike anything else we've seen: it's not an action cam like a GoPro, and it's also very far away from a traditional camera. HTC calls the Re a 'lifestyle cam', implying that it has the style and durability to be with you in all sorts of situations - you can equally well use it in the gym, and at official events like a wedding.
The Re is indeed something that is easy to carry in your pocket, a strange little thing that resembles an elbow of a pipe, an inhaler, a periscope, or who knows what else, but not a traditional camera.
This unorthodox appearance is further boosted by the lack of a viewfinder, something that makes the HTC Re a very impromptu camera experience and a bit strange to operate at first. With its peculiar looks and some added features like the light waterproofing, this unique little cam has definitely gotten our attention. Let's find out if it's really any good.
Design
The peculiar form of the Re Camera is comfortable to hold and allows you to experiment and shoot from up high and down below.
It is the form of the Re Camera that gets instantly noticed - shaped like an inhaler, this little cam stands out among all other cameras out there. In terms of color and material, the Re comes in a choice of four fresh colors - white, red, blue, and green, and they all sport a glossy finish.
It has a large, one-step shutter button on the back that falls right where your thumb resides. The button is clicky and comfortable to press, something particularly important when you don't have a viewfinder and that click is the only thing that reassures you that you've indeed taken a picture (hold it if you want to record video). There is just one more button, and it acts as a trigger - hold it to activate slow motion video.
There are also two LED lights - one on the back, integrated in the shutter key, and another one on the front. The LEDs light up once when you take a picture, while when in video, the light from them will blink (yellow for pictures and regular videо, and blue if it's a slow-motion video). Then, you have two microphones, one on top of the camera and another at the front. You charge the Re via a 5-pin microUSB port located on the bottom of the shooter, where there is also a flap-protected microSD card slot, and a tripod mount.
You also should not worry about getting your Re camera wet - it comes with an IPX7 certification, meaning that you can submerge in water up to 3 feet (1 meter) deep for as long as 30 minutes. HTC is also selling a waterproof cap that bumps up Re's waterproof rating to IPX8, allowing you to dip in up to 10 feet (3 meters) for as long as two hours.