Google Nexus 4 vs Apple iPhone 5
89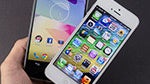 Introduction:
In the smartphone universe, Google's Nexus device is widely argued as the premier handset for the entire platform – especially more when it's running the vanilla Android experience. And normally, it's usually quite often that it's pitted against the very best from Apple's camp, which as we all know, should be none other than the latest model of the iPhone. Soaking that all in, we're seeking to find out exactly how the
Google Nexus 4
and
Apple iPhone 5
stack up against one another. Going into this crucial holiday period, there's no arguing that the two are highly sought commodities at the moment, but as with all comparisons, we'll put our two cents after we compare how they perform in all categories.
Design:
Even from a cursory glance, we still can't help be attracted to the iPhone 5's iconic design and its premium construction. Not only is it lighter and thinner than its rival, but it's also easier to hold in the hand because of its more form fitting size. And with its premium choice of materials, like its brushed aluminum casing and chamfered beveled trim, it adds a solid sense of sturdiness to its overall construction. Well, there are still some attractive elements with the Nexus 4, like its glass surfaces and the neat optical illusion design of its rear, but as a whole, its appearance from the front seems all too conventional. In addition, it's super slippery and prone to such unwanted distractions like smudges and fingerprints.
Although the physical
buttons
around the trim of both handsets are springy in response, our fingers are better able to distinguish the iPhone 5's set – mainly because they're raised more. As for some of the common items the two share around their edges, they include the 3.5mm headset jack, standard mic, and noise-cancellation microphone.
Obviously, it's nice to find the Nexus 4 opting to employ a microUSB port for
charging/data
connectivity – whereas the iPhone 5 relies on Apple's new proprietary Lightning docking port. Sure, it's just a pain trying to get video-out functionality with Nexus 4, as its SlimPort socket requires an optional adapter, but it's nice that a wired connection is available for it. Conversely, there's no wired option available for the iPhone 5 yet, and instead, the only way is to go the wireless route via AirPlay.
Snapping self-portraits is an easy task with both smartphones, as the Nexus 4 sports a higher 1.3-megapixel front-facing
camera
, versus the 1.2-megapixel one on the iPhone 5 – with both having the ability to shoot video in 720p. In the rear, however, they're both featuring 8-megapixel auto-focus cameras with LED flashes – while being able to shoot video in good ol' 1080p. However, it's worth mentioning that Apple's beauty is packing an f2.4 lens and backside illuminated sensor.
Display:
Considering these high-end smartphones we're dealing with, it's only natural to see them being accompanied with stunning displays. On the Nexus 4, it's donning a larger 4.7-inch True HD IPS Plus display with WXGA 768 x 1280 resolution, which produces a high pixel density of 318 ppi. In contrast, the iPhone 5 packs a smaller 4-inch Retina Display, which is mighty large for an iPhone of course, but equally so, its 640 x 1136 resolution manages to inch out a higher pixel density of 326 ppi. Certainly, it's the iPhone 5 getting the mark on paper for delivering the better numbers, but in practical usage, there isn't a drastic difference between the sharpness of both – as our eyes take a liking to their detailed looks from a normal viewing distance.
Meanwhile, they share some other similar qualities, as their IPS LCD based displays deliver warmer color tones that light up our eyes with their vibrancy, strong brightness output, and superb outdoor visibility. However, we notice that viewing angles are better on the iPhone 5 at extreme angles – since there's some noticeable distortion on the Nexus 4. Hardly a recognizable thing at the beginning, we notice that the Nexus 4 's touch sensitivity isn't as good as its rival, seeing that it requires firmer presses for it to register.
Google Nexus 4 360-degrees View:
Apple iPhone 5 360-degrees View:
Recommended Stories