Camera Comparison: iPhone 5s vs LG G2, Samsung Galaxy Note 3, Galaxy S4, HTC One, Motorola Moto X, DROID Ultra
99+
Introduction
The
iPhone 5s
is a smartphone that is in many ways better than its predecessor, and one of the upgrades it brings along is the improved 8MP camera. Yup, the resolution hasn't been boosted, but other aspects of the snapper itself have been tweaked, including those larger, 1.5-micron pixels and that wider, f/2.2 aperture. As a result, the camera should perform better, especially in low light situations. However, are the photographic skills of the iPhone 5s on par with those of the competition? Well, that's what we're here to find out.
For today's camera comparison, we have chosen to stack up Apple's finest against some of the top smartphones out there. Among them is the
LG G2
, which has already proven itself as a very capable shooter with its 13MP OIS camera, grabbing the first prize in our previous challenge. Of course, Samsung's best handsets, namely the
Galaxy S4
and the
Galaxy Note 3
, are also in the game and will defend the company's reputation with their 13MP cameras. And to make things even more interesting, we've brought along the
HTC One
with a 4MP, optically stabilized UltraPixel camera, as well as the
Motorola MOTO X
and the
Motorola DROID Ultra
, both packing 10MP Clear Pixel cameras. So yeah, the fight will be pretty tough. Let's get straight into it!
Note: the Panasonic Lumix GH2 is used as a reference camera.
Details
Thankfully, the weather and lighting conditions during our testing were favorable, allowing all of the smartphones to present us with the best results they could achieve. And the ones that gave us the best impression were the LG G2 and the Samsung Galaxy S4, which packed tons of details in their photos. They weren't leading by miles, however.
Daytime photos taken with the LG G2 and Samsung Galaxy S4 look great even at 100% zoom, so we can comfortably examine even the fine details in them, such as the leaves on trees or the license plates of passing cars. The iPhone 5s and the Galaxy Note 3 photos look very detailed as well, but still, they are a step behind the G2 and the S4. Also, we see that, as usual, the iPhone's photos are noisier than what we're used to seeing.
Photos taken with the Motorola MOTO X, DROID Ultra, and HTC One are usable, but their detail levels are average at best. Nevertheless, the images they produce are perfectly suitable for uploading to a social network and even making small prints.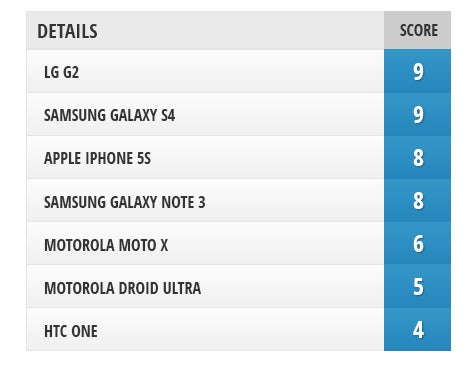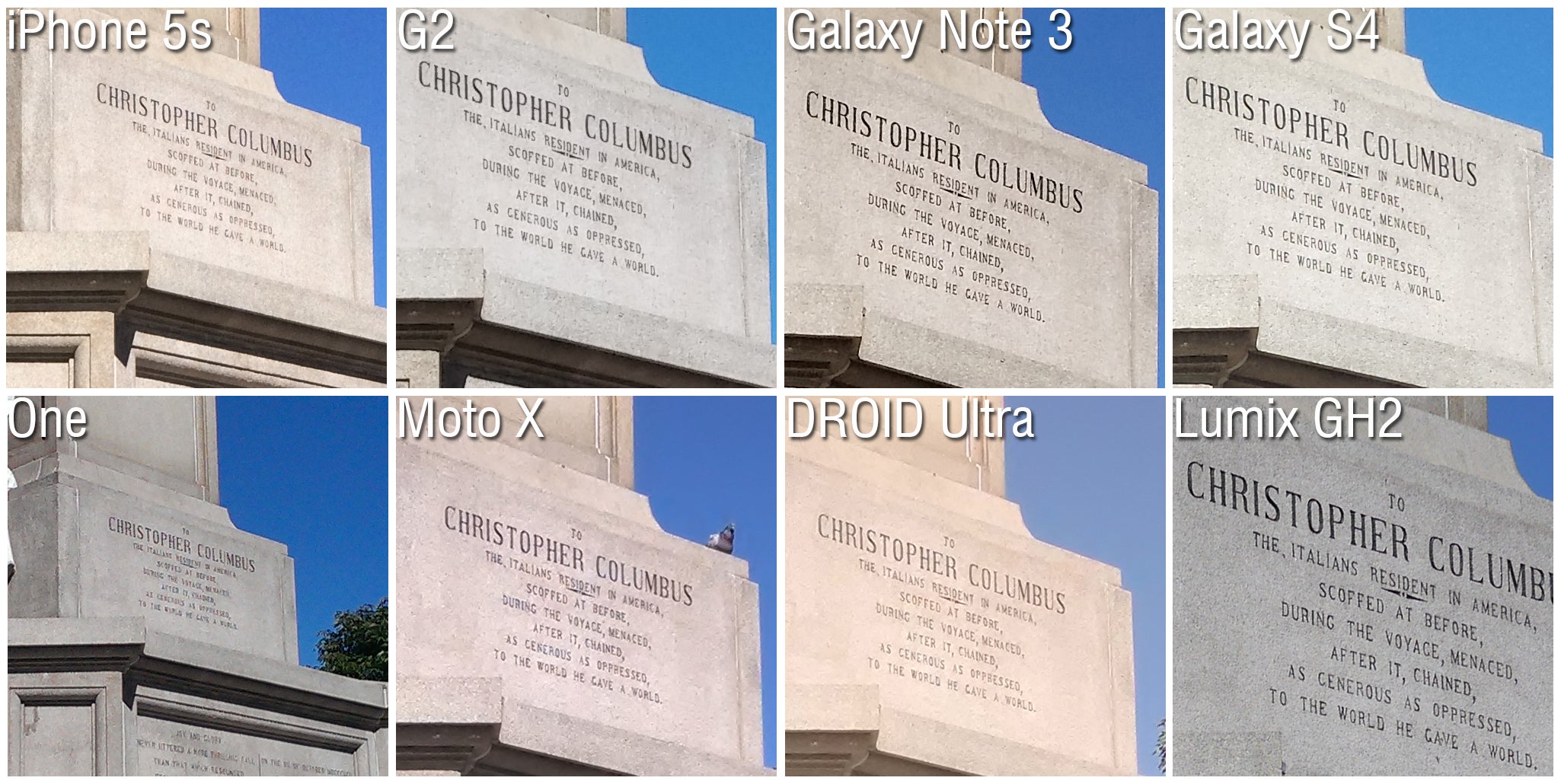 100% crop
Recommended Stories