Asus Zenfone Zoom Review
24
UPDATE

: You can now read our Asus ZenFone 3 Laser Review!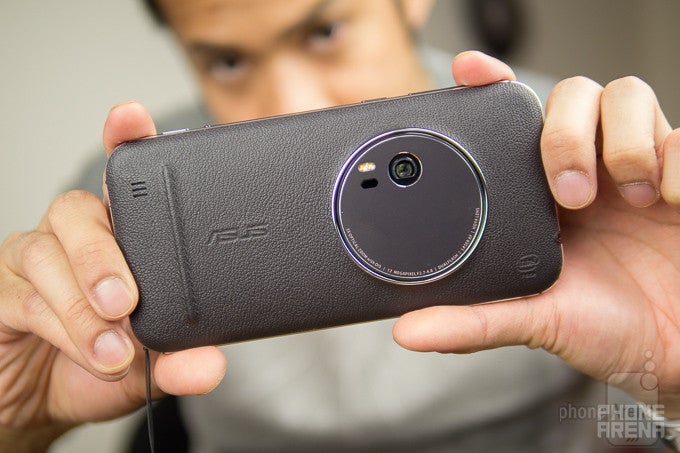 Introduction
Asus has found its niche in the mid-range segment, as opposed to trying to duke it out with the elites in the high-end space. From the looks of it, though, it's working out for the company, at least for the most part. Its
Asus ZenFone 2
, for instance, proved to be a rousing success, spurring countless variants in the process.
Now, a full year after its initial announcement, another ZenFone model is here in the flesh. The
Asus ZenFone Zoom
, as it is called, sports optical zoom with its camera – a feature that's few and far between in phones. Knowing that, the handset's aim is to specialize in photography, but is adding optical zoom adequate in defining it as a supreme camera phone?
The package contains:
Asus ZenFone Zoom
Wall Charger
microUSB cable
Lanyard
User guide
Design
Even with the internal camera gear, it's able to retain an impressively slim profile.
While we weren't particularly won over by the ZenFone 2's design, the ZenFone Zoom presents us with a slightly more refined look. From the front, it looks like all the other ZenFone 2 variants, but there's a dramatic shift everywhere else.
For starters, the Zoom features an aerospace-grade alloy trim that closely resembles the iPhone, adding a sense of strength and durability to its construction. And the rear employs a genuine leather finish with a raised stitching pattern on one side to mimic the look of a subtle handle.
Clearly, there's far more attention paid to every aspect of the phone's design, ensuring it doesn't go unnoticed. It's a bit of a top-heavy device, actually, and the raised area for its camera compartment makes holding it in the hand feel a bit unusual, as if we're accidentally touching the lens, but we suppose that one becomes used to that over time.
Catering as best it can in being a camera-centric device, the ZenFone Zoom comes with a practical set of buttons along its right edge. Specifically, it features a dedicated two-level shutter key, a tiny button strictly for video recording, and its volume controls adjust the zoom function within the camera interface. There's even a small nook along the right corner of the phone to accommodate the included lanyard as well, showing us once again it's doing its best in being a capable camera phone.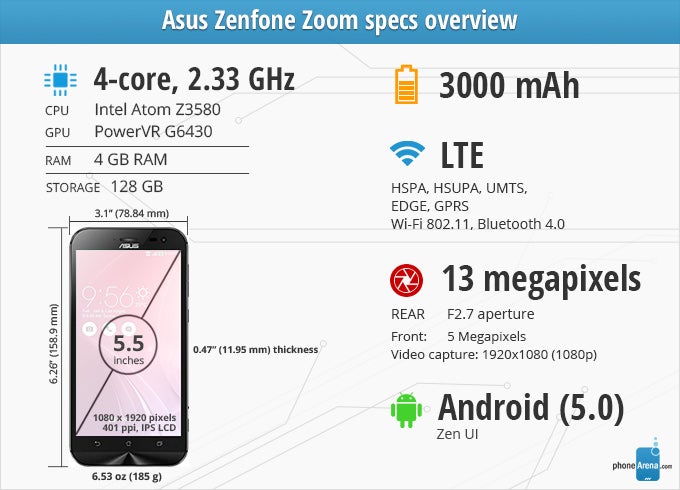 Display
By now, the display is beginning to come off as boring.
Sharing ties to the existing ZenFone line, it's no surprise that the Asus ZenFone Zoom is rocking the same 5.5-inch 1080 x 1920 IPS-LCD, protected by Gorilla Glass 4 this time. At the same time, there are no major changes with its quality. The display exhibits nearly the same characteristics as those on recent ZenFone models. From its detail, 440 nit brightness output, and overblown color reproduction, it's almost identical. Strangely, though, its color temperature runs extremely cold at ~9000K, which is a huge disparity from the 7200K – 7600K ranges we saw with the other phones in the series.
Generally speaking, the qualities of the display paint a modest picture. It's not really as exciting or attractive looking compared to other screens. In fact, it tends to appear a bit washed out at times, even when it's set to its highest brightness level.
Display measurements and quality
Recommended Stories