Asus Zenfone V Review
5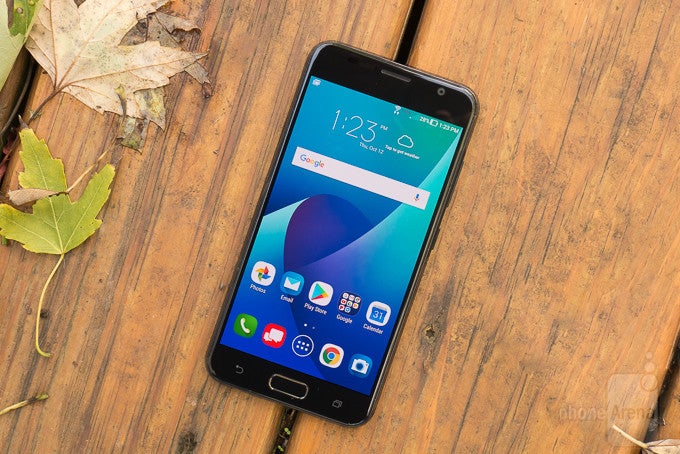 As Asus continues to roll out installments in its Zenfone 4 lineup, the company has taken a moment to release Verizon's very own, exclusive Zenfone: the
Zenfone V
. The V, of course, means "Verizon" and not the numeral "five," as this is certainly neither part of the Zenfone 4 series, nor is it a jump to
Zenfone 5
. Instead, we have a sleek-looking phone constructed of aluminum and glass, packing 2016-level flagship components. These include a Snapdragon 820 with 4 gigabytes of RAM, a 1080p AMOLED display, and a 23-megapixel camera. Selling for $384, Asus looks to be taking a crack at the "affordable flagship" division with the Zenfone V, albeit a contender better suited for 2016, and thusly forfeiting such a distinction in 2017. Still, many 2016 phones can hang just fine with this year's newest breed. So, can the V hang too?
In the box:
Asus Zenfone V
USB-C to USB-C charging cable and wall adapter
SIM tool
Quick reference guides
Design
Glass in the front and back certainly help to class up the joint
In terms of design, the Zenfone V is a bit of a departure from most Asus phones. Gorilla Glass 5 sandwiches the device's black, aluminum frame. The sides have shiny tapered edges at the front which meet with the rounded matte finish in back. These angular cuts give the device some character, but they don't necessarily make it fit better in the hand as opposed to the smooth, rounded sides found on other handsets. Under the glass backing is Asus' familiar "Zen" concentric circle design, which looks quite nice. The camera, with its built-in OIS, does stick out and create a protrusion.
Display
A 1080p AMOLED screen is nice to have at this size and price
We thoroughly enjoyed the perks of a 1080p display, even at the size of 5.2-inches, which is smaller than the average today. Producing 424 pixels per inch, on-screen content was clear and detailed. Colors air slightly on the bluish side, but enough tools for tweaking are found in the Settings menu to rectify this. Otherwise, the deep, rich colors of this AMOLED display were always pleasing to look at.