Acer Liquid A1 Review
1

This is a global GSM phone, it can be used with AT&T's 1900MHz 3G band, and with T-Mobile without 3G.

Introduction and Design:
Acer has rolled out several Windows phones since it took over Eten as part of its strategy to invade the cell phone market and what we like most about them is the capable hardware components they are equipped with. It seems what
Acer´s first Android-based handset
, the Liquid A1, relies on to win over customers is proper hardware as well – it come with 768MHz Snapdragon processor (Qualcomm 8250), 3.5-inch WVGA display, 5-megapixel camera, support for HSDPA 7.2Mbit/s and A-GPS. The device runs OS version 1.6 and the manufacturer has made several, but minor alterations in its interface like, phone book with integration of social networks, but we will tell you about them later on, now let´s see what the
Acer Liquid A1
looks like.
What´s in the box?
• Acer Liquid A1
• Wall charger with various socket inserts
• USB cable
• 2GB microSD card
• Headset
• User guide
• Software CD
• Screen protectors
We would have liked to see the handset ship with a case designed to protect the white phone body, but sadly, the manufacturer doesn't provide one. Acer has managed to create a unique, recognizable design for their handsets and they always feature symmetrical, rounded upper and lower parts of the body and in the case of the Acer Liquid A1, the 3.5-inch touch-sensitive (capacitive)
screen
with WVGA resolution takes up almost the space in between almost entirely. Unfortunately, the display will sometimes fail to register your touch, which might get particularly annoying when you type away.
Quite naturally, large
screen
equates to voluminous body, but in reality, the Acer Liquid A1 looks bulkier than it actually is - its body has almost the same overall size as the
iPhone 3GS
and is comfortable to use with one hand. The plastic it´s made of doesn't feel cheap, but doesn't look particularly scratch or impact resistant either. The Acer Liquid A1 is quite glossy and turns into an intricate lacework of blurry fingerprints quite easily, meaning you will have to clean it up often in order to have it retain its immaculate look.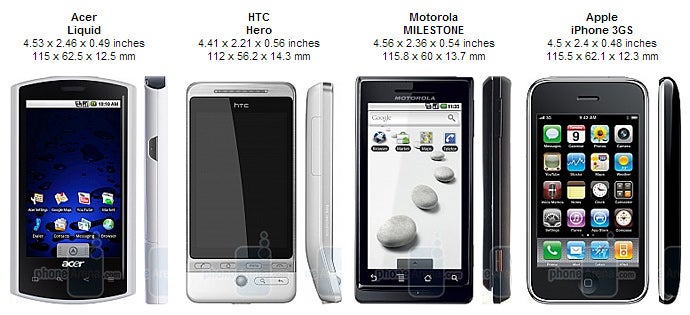 You can compare the Acer Liquid A1 with many other phones using our
Size Visualization Tool
.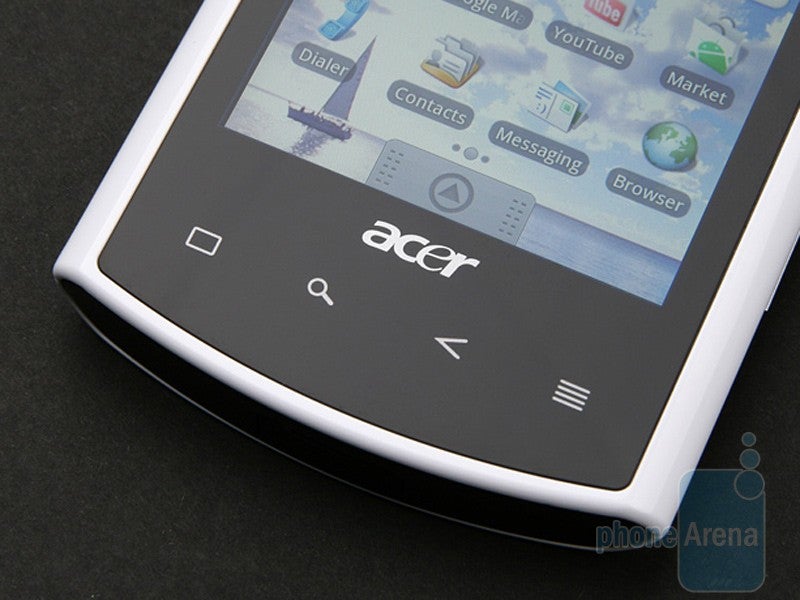 All buttons on the front side are touch-sensitive
All
buttons on the front side
are touch-sensitive and for getting back to the home screen, activating the search function, navigating a step back into menus and opening the options menu. The latter acts as a phone lock/unlock button as well, but in order to use it you need to press the power on that activates the display first – in other words, the whole thing is a bit clumsy. The
hardware buttons
are neatly tucked away into the body of the phone and we had certain troubles with them, because they are located on the bottom side that happens to be slanting, in other words they are relatively hard to press.
The Acer Liquid A1 is equipped with 3.5mm jack and oddly, miniUSB instead of microUSB slot for charging and getting connected to a computer. The light indicators for missed calls, unread messages and battery charging status look pretty cool, but are, rather impractically, located on the top side. We need to point out the battery is pretty hard to remove and we felt as if we were going to break it in the process.
Acer Liquid A1 360 Degrees View: Recommended Stories