Hands-on with the 99% bezelless phone that has a fingerprint scanner under the screen
41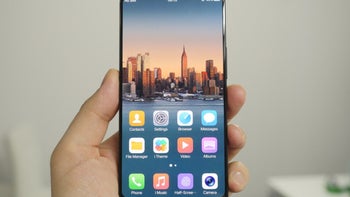 Vivo, a flourishing Chinese phone maker, may have just shown us one of the most interesting and forward-looking smartphone concepts at Mobile World Congress.
The Vivo Apex, a concept phone that may or may not ever reach the market (in China), is very remarkable for exactly 4 things. Let's take a quick look:
1. 99% bezel-less design
The Vivo Apex is almost completely bezelless. We know we've been saying this for almost every phone that came with significantly reduced bezels in the last few years, but the Vivo Apex takes things further than we've ever seen. Its top and side bezels are thinner than those of the iPhone X, and the bottom one isn't much thicker as well. It's hard to tell whether it's 'the less bezel, the better' once you cross a certain point, but the fact is the Apex concept phone looks very nice and futuristic. The least we can say is that it's a very, very impressive design. But there's more to it that just thin frames...
2. Extendable selfie camera!
Hohoho! Let's face it, all smartphones follow almost the exact same model these days. The Vivo Apex, however, is showing us something genuinely new - an extendabe / retractable selfie camera! Because the top bezel is almost nonexistent, and the bottom one isn't much bigger, there is just no place to put a front-facing camera. That's why, as soon as you select the selfie mode from the camera app, a motorized camera extends from within the top of the phone, and stays there until you switch the mode or close the app, at which point it retracts back inside the phone. Rarely have we seen such design components that feel so old and new at the same time.
Whether you like this solution will depend on the type of person you are, but generally, if you're anything close to a tech-head, chances are you'll love Vivo's extendable selfie cam. It's a solution that probably has certain flaws (for one, it's motorized so it may break), but hey, it's so cool it doesn't matter.
3. In-screen fingerprint scanner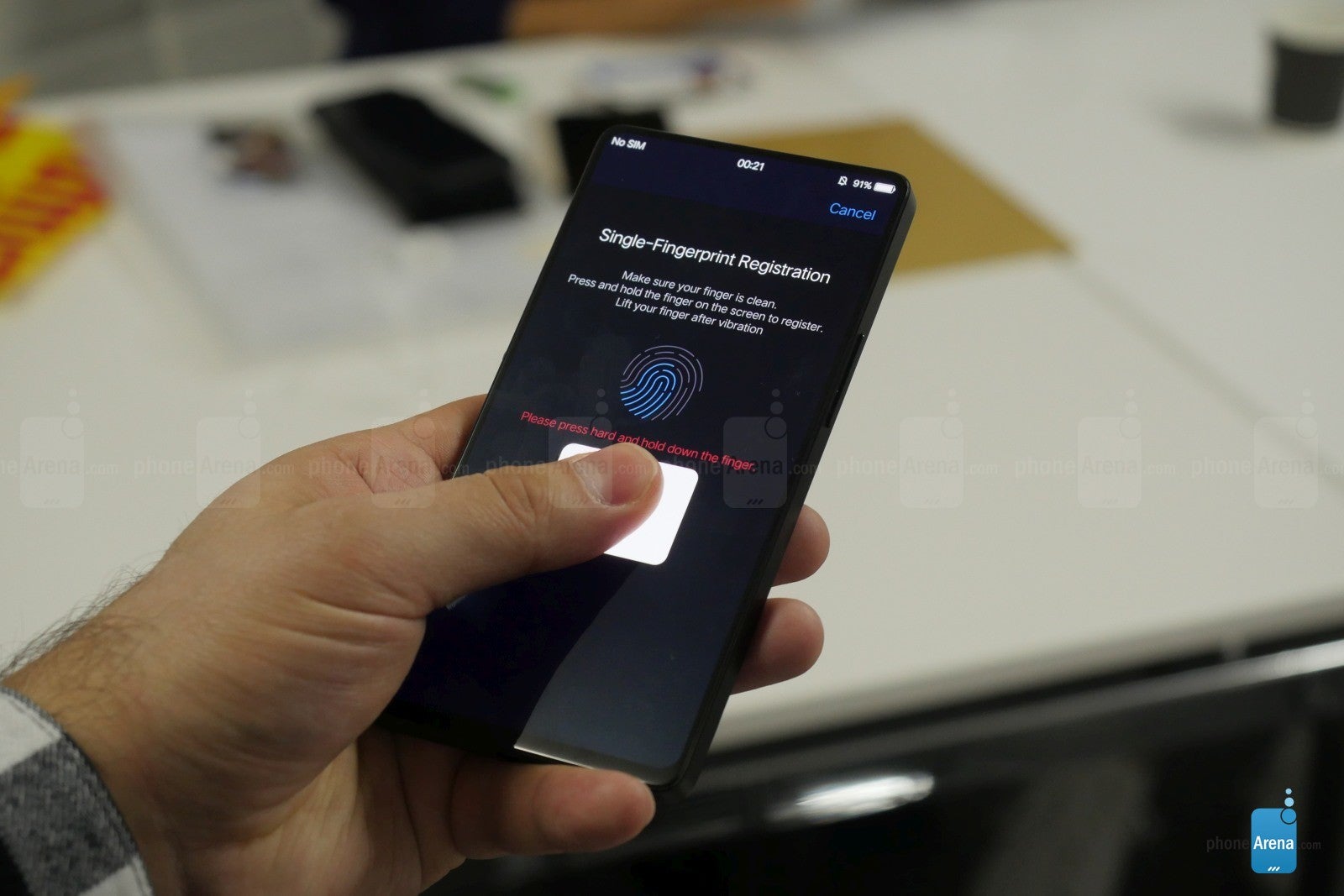 While Vivo did show us the first smartphone with a fingerprint scanner embedded under the display at CES, now it's ready to show us the next step in the technology's evolution. The Vivo Apex has a whole fingerprint scanning area beneath the display! They call it "half-display", but it's definitely smaller. Still, it's indeed a whole area, and this is the first time we see this technology live. At this point, we can't really say "yes, this is the much better solution, not Face ID", because the current state of the feature isn't very usable. It's slow and tricky to get to work. It's definitely not ready for release.
The in-screen fingerprint scanner is a rather cool technology, though, and it'll most certainly get to market later this year. At the very least, we know Samsung has been trying to get this tech to commercial state, and it's been rumored to do so with the Galaxy Note 9. Given how the company would love to have this intricate feature in workable state before Apple, we'd guess Samsung isn't going to quit working on this anytime soon.
Because of the larger fingerprint-reading area, Vivo has also create a new feature here, which allows the user to setup two fingerprints at the same time. So for example, you can set the phone to unlock only as you place both of your thumbs at the same time on the screen. What's more, the two fingerprints don't need to come from the same person, so for example, you can set a device like the Vivo Apex to be unlocked only as it's presented with your and your partner's fingerprints. We're not sure how practical this would be, but it sure sounds romantic.
4. An iOS ripoff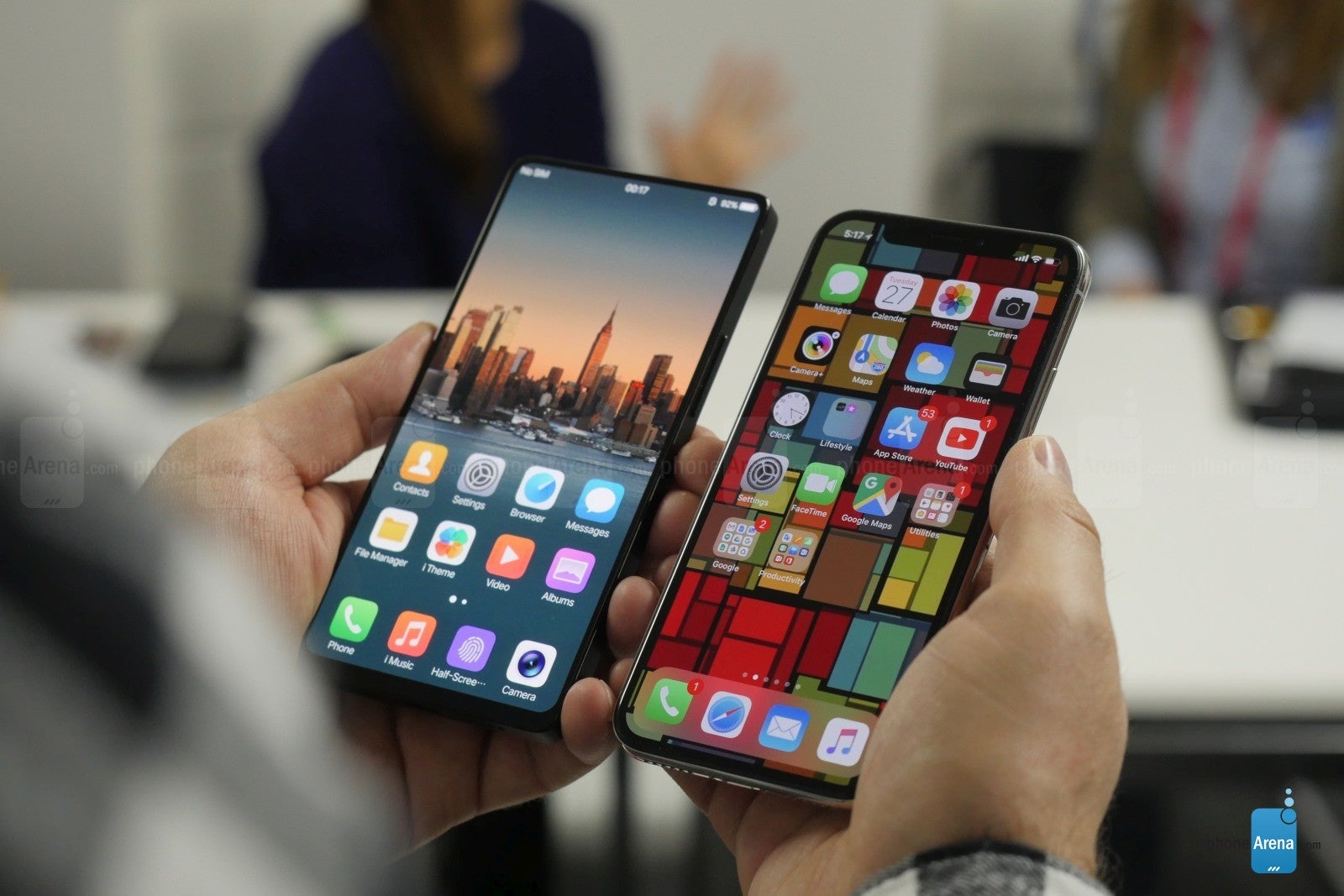 And the fourth amazing thing about the Vivo Apex is that its software seems to be a complete copy of iOS, down to the graphics assets on the homescreen and in menus. This kind of ripoff probably still works in China, but the phone obviously the can't make it to international shores in this form.
Unfortunately, a Vivo spokesperson couldn't provide details as to when the Apex, or a real product based on it, may launch commercially. Of course, this means that price info is a no go either, but Vivo usually doesn't price its phones cheaply, so even when and if this product makes it to market, do not expect it to be half the price of current flagships. The Vivo X20 Plus UD, a phone the company showcased earlier this year that also features an in-display fingerprint scanner (with a way smaller area than the Apex) has reportedly been made available in China, at a price of about $625.
The best thing about the Vivo Apex concept phone is that it's a physical evidence that progress is being made with the in-display fingerprint scanning technology, and even if Apple seems to be entirely consumed by Face ID right now, other big companies, like Samsung, may indeed be ready to integrate this extremely convenient technology some time later in the year.