Verizon unveils fourth city looking at 5G speeds this year, initial rollout will include freebies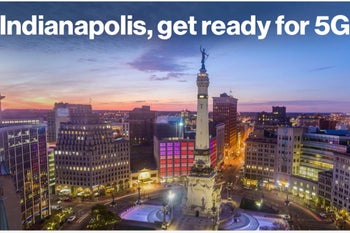 A mere few hours after Sprint unveiled (vague) plans to bring
America's first 5G-capable phone
to market sometime before the end of June 2019, Verizon strikes back by putting the latest piece of its very own 5G puzzle in place.
We already know
Big Red's next-gen mobile network
will go live next year, when a special Moto Mod allowing the
Moto Z3
handset to break current speed barriers is also scheduled for a commercial release, but in the meantime, the fourth US city to get 5G home internet service by the end of 2018 has been announced.
Indianapolis joins
Houston
, Los Angeles, and Sacramento in Verizon's quest for "greater internet service options and faster internet speeds" enabled by a 5G residential broadband deployment that remains undated.

But it will definitely happen this year, and when it does, 5G broadband subscribers are to receive a couple of sweet freebies. Namely, complimentary YouTube TV access and an Apple TV 4K digital media player, although it's unclear if you will be able to score them both or merely get the choice between the two gifts.

A monthly YouTube TV subscription costs $40, including live TV streaming of over 60 networks on "any screen", be it a mobile device, tablet, computer, smart TV, or even dumb TV with the help of a compatible streamer like a Chromecast or Apple TV.

Meanwhile, a 4K-capable Apple TV starts at $179, so unless Verizon is offering six free months of YouTube TV, picking between these two sounds like a no-brainer. Hopefully, we'll see similar if not better deal sweeteners provided in "early 2019", when Verizon plans to "quickly move to be first in 5G mobile service."