Updated Chromecast with Bluetooth support on its way according to FCC filing
5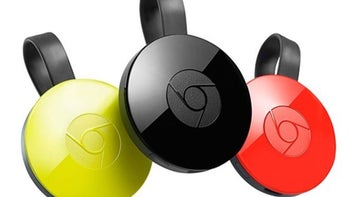 Google is working on a new Bluetooth-equipped Chromecast dongle. The current second-generation Chromecast will be three years old this September, but according to new FCC documents,
Google
has plans to update its popular product with support for Bluetooth radios.
See, Google's current offering already supports both the 2.4GHz and 5GHz radio frequencies, as well as Bluetooth Low Energy. In its current state, though, the Chromecast dongle fails to support traditional Bluetooth frequencies, which is what the FCC documents refer to. This additional support will entail only a small update to the current generation Chromecast – there are no apparent plans for a whole new product. But, unfortunately for current owners, the new support will not be rolling out as part of a software update, meaning those who want traditional
Bluetooth
support will be forced to purchase a new Chromecast. This is despite the fact that the FCC documents mention that the new product is identical to the current variant. In any case, however, it's worth noting that the benefits that the new Bluetooth support will bring are currently unclear.
According to data released in October 2017, Google's Chromecast products have sold over
55 million units
since the introduction of the original in 2013. The company is yet to reveal any details surrounding an updated version or perhaps a whole new product, but with
Google's annual I/O event
set to take place next week, it seems likely that any new Chromecast products will be announced then. If this is the case, it shouldn't be too long before the benefits of the new Bluetooth support are revealed in their entirety along with the official release date. On another note, it'll also remain to be seen if Google has any updates in store for the Chromecast Audio and Chromecast Ultra.