The TCL Tab 8 LE will become T-Mobile's most affordable 4G LTE tablet tomorrow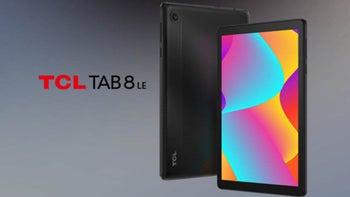 When
TCL announced
(with relatively little fanfare) at the 2023 Consumer Electronics Show last week that its latest ultra-affordable tablet would go on sale "later this month", we didn't (necessarily) expect that to happen quite so soon.
But the TCL Tab 8 LE has just been officially confirmed for a January 12 commercial debut on not one but two different US carriers. Of course, "different" might not be the best way to describe
T-Mobile
and Metro
by T-Mobile
, but technically, cash-strapped fans of Android slates will be able to choose from two purchasing options for this modest 8-incher starting tomorrow.
Regardless of your choice, you're looking at paying $159, which will make the TCL Tab 8 LE T-Mo's absolute cheapest slate at the beginning of 2023. Yes, that price point is even lower than what the nation-leading "Un-carrier" normally charges for the likes of the Alcatel Joy Tab 2 and Joy Tab Kids 2 right now, not to mention Samsung's popular entry-level
Galaxy Tab A7 Lite
option.
Obviously, your 160 bucks will buy you standalone 4G LTE connectivity, and to be perfectly honest, little else in terms of worthy features and capabilities by "modern" industry standards.
Advertised as capable of delivering "all-day" endurance, for instance, the 4,080mAh battery definitely feels a tad on the light side for an 8-inch tablet. The "vibrant" display, meanwhile, sports HD rather than Full HD resolution, which is certainly not surprising and it's actually pretty good for battery life.
Then you have 32 gigs of internal storage space, which is sadly still standard in this price bracket, as well as microSD support (good!), "immersive" dual stereo speakers (not too shabby), and 5MP front and rear cameras (meh!).
Last but not least, the LTE-enabled (but obviously not 5G-supporting) TCL Tab 8 LE is marketed as the "perfect travel companion" thanks to a design light enough to fit into a "small bag or even a large pocket."
Unfortunately, the exact product dimensions and weight number are not out yet, so we'll have to wait and compare those to the aforementioned Tab A7 Lite's relevant figures before concluding if this is indeed an overall smart buy, even on paper.