T-Mobile and Samsung offer the fastest network speeds as Google Pixel wiggles in
3
We may earn a commission if you make a purchase from the links on this page.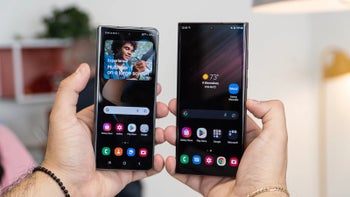 The
US carrier 5G download speeds
keep getting faster with each passing quarter thanks to no small amount to the new 5G network generation. The freshest numbers from
Ookla's crowdsourced Speedtest
are in, and in Q4 T-Mobile was again the fastest carrier with a median download speed of 151.37 Mbps, while Comcast's "
XFINITY overtook Spectrum as the fastest fixed broadband provider at 226.18 Mbps,
" while Samsung has the fastest phones when it comes to network connections.
T-Mobile vs Verizon vs AT&T network download speeds
T-Mobile
's speed increase was rather significant from 116.14 Mbps in Q3, a whopping 25% growth, though when it comes to the all-important coverage it gives way to AT&T and especially to
Verizon
's vast 4G LTE network. Not only did T-Mobile scoop the title of the fastest US carrier in terms of downloads, but it also had the quickest upload speeds, at 12.53 Mbps during Q4 2022, followed by Verizon and
AT&T
.
Needless to say, T-Mobile's unrelenting march to deliver the fastest carrier download speeds in the US is to due to its fast 5G network overhaul as it had the advantage of scooping up Sprint's mid-band spectrum after the two carriers merged. Its 5G-first mentality means that it now offers the quickest network with the lowest latency.
While this is great for marketing, its coverage still leaves a lot to be desired compared to Verizon or even AT&T's robust LTE networks which may lower their median speeds, yet their subscribers would attest that sufficiently fast downloads are much better than no downloads outside of larger metropolitan areas or major highways.
Samsung Galaxy vs Apple iPhone vs Google Pixel US carrier network download speeds
That fastest 151.37 Mbps median download speed on T-Mobile can only be achieved on "modern chipsets," read the latest Qualcomm Snapdragon modems on phones like the
Galaxy S22 Ultra
and the
iPhone 14 Pro Max
. The top-end iPhone managed to wiggle into the ranking of best devices in terms of cellular network download speeds for a change, yet it is Samsung again that makes the best phones for fast 4G and 5G connectivity.
The
Galaxy Z Fold 4
and its Snapdragon 8 Gen 1+ chipset offered the quickest downloads of 147 Mbps, but this time around Google shined at second place with its Pixel 7 Pro equipped with Samsung Exynos modem that was capable of delivering 137 Mbps. The fastest phones in terms of cellular connectivity continue with the two iPhone 14 Pro models, and the top 5 ends - rather expectedly - with the Galaxy S22 Ultra.
For the first time all of the handsets in this top 5 ranking pierced through the 100 Mbps median download speed barrier thanks in no small part to the Qualcomm and Samsung 5G modem efforts. It would be interesting to follow how download speeds fair this quarter when the Galaxy S23 series comes with souped-up Snapdragon 8 Gen 2 chipset that includes
Qualcomm's latest X70 5G modem
that is AI-optimized for better carrier aggregation efforts and faster connectivity.
Minnesota vs Mississippi: US carrier download speeds by state
When it comes to US carrier networks performance at the individual level, it is a mixed bag that doesn't show clear delineation by north or south, east or west. Minnesota, for example is now the state with the fastest download speeds, beating Illinois, though both states pierce the 100 Mbps threshold.
They are followed by New Jersey and, surprise, surprise, Washington, D.C. The US state with the slowest median download speeds on T-Mobile, Verizon, or AT&T, is Mississippi south, followed by Vermont north, as well as other sparsely populated states like Wyoming, Alaska, and New Mexico.