T-Mobile One Unlimited 55+ customers can now get three lines of service for $90
2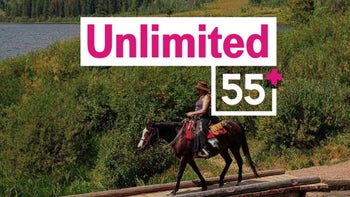 While waiting for a cool new
Global Plus
add-on to come into effect, T-Mobile customers uninterested in the "Un-carrier's"
latest prepaid deal
can get another tempting "exclusive offer" with their Unlimited 55+ plans.

Starting earlier this week, T-Mo customers ages 55 and older can get a third voice line on their special senior accounts, up from a previous limit of two. You'll still have to pay for that, of course, but we're merely talking $20 a month on top of the $70 fee charged for a pair of Unlimited 55+ lines.

Probably the best thing about this plan is that proof of age is only required from the primary account holder. The other two lines can be used by people of all ages, so essentially, what you get here is an extremely affordable family plan with a not-so-tricky special requirement.
For just $90 all in all, you're looking at a grand total of three unlimited everything lines. That's unlimited talk, text,
and
LTE data for everyone, not to mention taxes and fees included, and
dozens of other freebies
around the year smoking the competition.

The usual restrictions apply, of course, with video streaming capped at "DVD quality" (480p resolution), tethering limited to 3G, and reduced data speeds all around "during congestion" for the "small fraction of customers" using more than 50 gigs a month.