Leaked internal memo reveals new Global Plus plan for T-Mobile One subscribers
4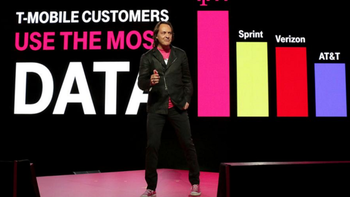 https://www.phonearena.com/
An anonymous tip sent to TmoNews indicates that T-Mobile will be introducing a Global Plus add on plan for T-Mobile One subscribers who travel overseas. Leaked internal documents from T-Mobile reveal that the carrier will launch the program starting tomorrow, November 9th. The Global Plus plan will cost $50 a month and provide subscribers with unlimited high-speed data while traveling to a "Simple Global" country.
Additional features include 5GB of international tethering in a "Simple Global" country, unlimited voice calls between these countries at no cost, unlimited messaging, unlimited stateside international talk and text (normally priced at $15 per month alone), and all of the features of the One Plus International add-on that was ended earlier this year. The latter featured unlimited 4G LTE usage in Mexico and Canada, HD video streaming, Voicemail to Text, unlimited in-flight Wi-Fi, and Name ID.
The leaked document also notes that the Global Plus add-on will not be available to business, government, No Credit Check, and prepaid accounts. It also must be used for a complete billing cycle. If you are a T-Mobile customer, Global Plus with its 4G LTE connectivity surely beats the unlimited 2G speeds available with the currently offered Simple Global plan.

Leaked internal document reveals T-Mobile's Global Plus plan
If you want to know which countries are considered "Simple Global" countries by T-Mobile, you can find the complete list of all 210 by clicking on this link.

?
An
FCC OKs Cingular\'s purchase of AT&T Wireless