Tall and mysterious, the Sony Xperia 20 leaks in high-quality renders
4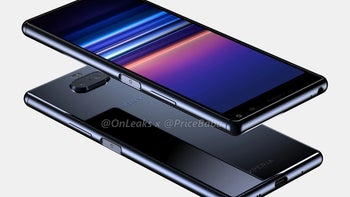 The Xperia 20 certainly looks familiar
Unlike the high-end
Xperia 1
, the mid-range
Xperia 10
and
10 Plus
Sony also unveiled a few months back are already
up for grabs in the US
. Hence, while it's definitely a little early to get a high-quality look at a sequel presumably slated for a fall 2019 announcement,
today's (on-) leaked factory CAD-based renders
of the Sony Xperia 20 are not
that premature
, impacting the appeal of its forerunners only to a minimal extent.
That being said, it's not immediately clear what the Xperia 20 intends to change about the divisive design of the extra-tall Xperia 10. In fact, at first glance, the two look almost like two (large) peas in a pod.
Yet another 21:9 mid-ranger with a huge forehead
While other companies are trying their best to make non-flagship models look as fancy and as "modern" as possible, with tiny notches and even holes drilled into their screens, Sony is doing its own thing, which feels both admirable and risky. Although we found the unusual displays of the
Xperia 10 and 10 Plus
fairly convenient for social media use and split screen operation, many apps are still not ready for the 21:9 aspect ratio and may never get there if Sony remains the only brand betting on this number.
It's also worth pointing out that even if you think the benefits of a 21:9 smartphone offset its compromises, there's simply no defending the top bezel of the Xperia 20. Even the most vocal notch critics and haters are likely to agree that thing is just too darn thick. On the bright side, the "chin" is almost non-existent, while the rear cover might seem familiar but it's actually different from the backplate of the Xperia 10 in terms of build materials.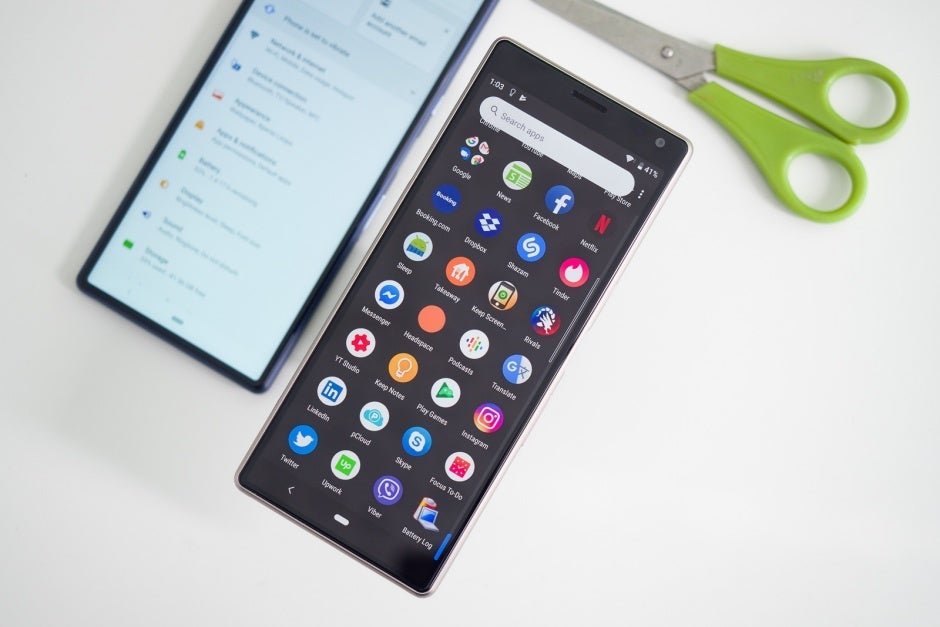 The Xperia 10 looks unusual now, but soon enough, it will look... slightly less so
Namely, we could see Sony switch from a polycarbonate body with a sleek metallic finish to a full metal-and-glass construction. Unfortunately, it's not yet confirmed that the Xperia 20 will adopt a more "premium" glass back. The thing could still be made of plastic disguised as something cooler. Other subtle changes reportedly include a redesigned speaker grill with just one set of holes and a side-mounted fingerprint reader doubling as a power button rather than two different buttons. Elsewhere, the headphone jack is alive and well, located at the handset's top, with a USB Type-C port at the bottom.
The specs are largely a mystery, so the price is also unknown
Moving past the whole "is a 21:9 screen useful or simply a gimmick?" controversy, we can't forget the Xperia 10 and 10 Plus fell short in a number of big ways in our in-depth review. Sadly, we have no idea if the Xperia 20 will manage to fix any of its predecessor's glaring flaws. We wouldn't hold our breath for a much larger battery, while the dual rear-facing cameras look the same but could obviously pick up a slew of new software tricks or even a healthy megapixel upgrade.
One of the few things of substance
reliable tipster Steve Hemmerstoffer
can vouch for is a 6-inch display size, identical to that of the "regular" Xperia 10. Interestingly, the Xperia 20 is expected to be ever so slightly taller, wider, and thinner overall than its forerunner. A performance bump is pretty much guaranteed as well, although it remains unclear if Sony is preparing an incremental improvement from a Snapdragon 630 to another 600-series processor (perhaps the
all-new 665
) or a bigger jump straight to a Snapdragon 7xx SoC.
At the same time, it's interesting to highlight PriceBaba's report mentions nothing about a prospective Xperia 20 Plus following in the footsteps of the 6.5-inch Xperia 10 Plus packing a Snapdragon 636 chipset. Of course, if there is an Xperia 20 Plus in the pipeline, something tells us Steve H., aka @onleaks, will get the inside scoop before long.