To the future and beyond: Samsung announces the next generation of RAM chips for mobile
21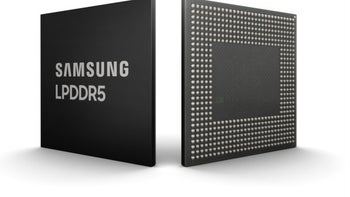 Aside from building shiny, shiny flagship smartphones, Samsung is known to push the boundaries by actively developing hardware, too — the high-powered guts that make our phones tick. The company was first to
mass-produce 4 GB LPDDR4 RAM
chips in the past and it has even
helped industry leader Qualcomm
in building its Snapdragon chips before, when the silicone slinger was
stuck in an overheating rut
. Today, Samsung has announced that it has successfully developed the first 10 nm class LPDDR5 DRAM chip.
What does this mean? Well, the LPDDR5 standard is 1.5 times faster than the current top-tier LPDDR4X chips with a data rate of 6,400 megabits per second. In terms of raw data transfer, this means that LPDDR5 can send 51.2 GB of data within a single second.
OK, what does this mean in terms of applicability? According to Samsung, this fast new chip will allow for more powerful machine learning applications on mobile devices, making AI functions faster and better, as well as improve UHD resolution capture, editing, and playback. Additionally, it's an important component for unlocking the 5G speeds of the future.
What about power requirements? Well, LPDDR5 might actually be more battery-friendly than LPDDR4, due to the fact that it has been engineered to lower its voltage when less output is required by the processor. Additionally, it has a new "deep sleep mode", which is twice as effective as LPDDR4's current "idle mode", and has been set up to avoid constantly overwriting cells with a "0" value in them. As a result, Samsung says, LPDDR5 memory is up to 30% more power-efficient than its predecessor.
It's also worth noting that the new LPDDR5 DRAM chips will be available in two configurations. A 6,400 megabit variant that operates at 1.1 V and a slower, 5,500 megabit option, which draws slightly less power at 1.05 V.
When are we going to see this new, ultra-fast RAM chips in our smartphones? Well, if Samsung doesn't partner up with someone who's about to launch a new top-tier handset by the end of 2018, we fully expect the upcoming Galaxy S10 to have the new tech on board.