Best Samsung Galaxy Tab S4 deal yet lets you save $270 on a keyboard bundle
1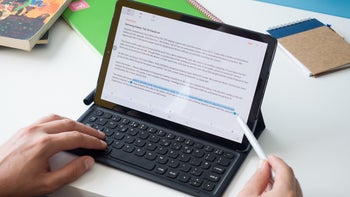 If you're in the market for a reasonably powerful Android tablet with a great screen, you might be wondering if last year's
Samsung Galaxy Tab S4
is still worth buying now that the
Galaxy Tab S5e is out
. The answer, of course, depends on a number of factors, but by far the most essential aspect is how cheap you can get the faster, more productive 10.5-incher.
At a list price of $650 and up, the
Tab S4
is obviously not the best alternative for the $400
Tab S5e
. Fortunately, several major retailers have realized big discounts are needed, with Costco today technically beating
Best Buy's recent deal for "students."
That's as long as you don't mind paying for a keyboard cover as well. $530 will buy you both the slate and its productivity-enhancing accessory, which represents a cool saving of around 270 bucks compared to the combined regular price of the two items.
That still makes this combo significantly costlier than an entry-level
Galaxy Tab S5e
configuration, but for your extra 130 bucks, you get both the aforementioned keyboard and a crazy popular S Pen. Also, a superior Snapdragon 835 processor (compared to the 670 powering the Tab S5e), a slightly larger battery, and a 3.5 mm headphone jack. What you don't get is the side-mounted fingerprint scanner of the newer slate, which is also much thinner than its already elegant and lightweight precursor.
It pretty much goes without saying that a $530 Galaxy Tab S4 with both a keyboard and a stylus included easily undercuts the likes of Apple's
2019 iPad Air
when paired with similar accessories. The
A12 Bionic-powered 10.5-incher
starts at $500 by itself, with an Apple Pencil fetching $99, and a Smart Keyboard available for an additional $159.
If there's something not to like about this killer Costco deal, it's that you obviously have to be a member to claim it. Also, the special offer is set to run through April 25 only, so you naturally don't have a lot of time to waste.