Samsung has a genius new Galaxy S23 case system to use your extra preorder credit on
24
We may earn a commission if you make a purchase from the links on this page.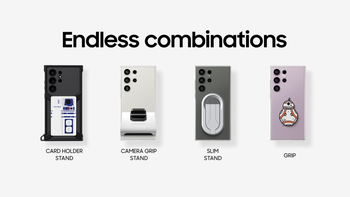 While Samsung has plenty of new official
Galaxy S23 cases
with fresh colors, it also throws in brand new accessory system design called Gadget Cases that you can use the extra Samsung store credit available via our
S23 deals
link below to grab for free during the preorder period.
The
Galaxy S23 Clear Gadget Case
, for instance, is a brand new invention by Samsung and while the $44.99 price may sound steep for a clear case which is otherwise $24.99, with our exclusive $50 Samsung credit that comes with the phone purchase credit here you can basically get it for free, while the extra value thrown in seems worth the twenty bucks difference with the regular clear case.
The ingenious Gadget accessory system, however, can now also add contraptions to the Samsung Galaxy S23 Rugged case series for $69.99. Instead of the iPhone's
MagSafe
circular system, Samsung provides, erm, a tighter circle base for adding various attachments to the case.
There is an elegant elliptical hook for your fingers when you need to hold the phone firmly and which can also double as a kickstand as it can be snapped on in both vertical and horizontal positions. If you just want a stand, there is the Slim Stand add-on, too, which can also be used as a tripod for watching videos, or following recipes on your kitchen counter.
In addition, the Galaxy S23 Gadget Cases allow for a tiny tripod attachment to mount your new phone on and do the astrophotography, TikTok video recording, or time lapse effect song and dance on the cheap.
Samsung didn't stop here, as it provides a Card Holder accessory for its Gadget Cases which does what it says on the tin, but also has a kickstand component, just as all the rest of the add-ons with the exception of the cool sticker accessories you can slap as holders to make your Galaxy S23 unique.
Samsung says that the tiny ingenuous case accessories have to be purchased separately and there might be more on the way, so the new Gadget Case system is sounding like a wise investment in the future usability of your
Galaxy S23
,
S23+
, or
S23 Ultra
phone. Now that we use our phones for a year longer on average than we did just a few years back, Samsung's modular accessory case solution would come in handy for longer, too.