Samsung Galaxy S23 Ultra leak reveals shocking camera size bump and a welcome usability improvement
We may earn a commission if you make a purchase from the links on this page.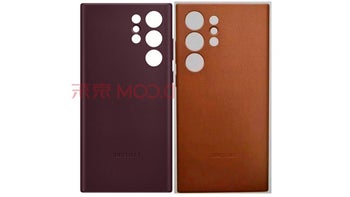 The
Galaxy S23 Ultra
, the most anticipated Android phone of 2023, is right around the corner, and just weeks before the launch we see a brand new leak that brilliantly illustrates one of the biggest change in Samsung's flagship.
Bigger S23 Ultra camera
Perennial Samsung leakster
Ice Universe
has sized up pictures of the Samsung Galaxy S23 Ultra cases that are already up for order (on the right) vs a
Galaxy S22 Ultra
case (on the left), to illustrate their differences.
The
Galaxy S23
Ultra will apparently come with a similar camera system where each lens is separated in its own compartment, but what is shocking is just how much larger each of those lenses will be compared to the Galaxy S22 Ultra. The
Galaxy S23 Ultra's 200MP main camera
rumor will seemingly hold water in the end, if the case comparison here turns out credible.
The mysterious 200MP Samsung ISOCELL HP2 sensor destined for the Galaxy S23 Ultra is said to be 1/1.3 inches in size and it will have 0.6μm sized pixels and a larger aperture of f/1.7 for getting in more light.
For reference, the S22 Ultra's 108MP sensor, the lens opening diameter above which is pictured in the case here, is 1/1.33 inches with 0.8µm pixels and an f/1.8 aperture. The S23 Ultra sensor therefore sits right between the ISOCELL HP1's 0.64 microns and the HPX's 0.56 microns, so it indeed must be a new sensor that Samsung is yet to demonstrate.
It usually doesn't announce the custom sensors it makes for its flagship phones separately, though, as they are usually reworked versions of existing models, so we'd have to wait for the phone to land and be taken apart for hardware analysis.
Ergonomic S23 Ultra button placement
Another slight, but also very welcome improvement is that Samsung is moving the power and volume buttons a bit lower, so that you won't need to stretch as much to reach those keys.
This kind of a slight adjustment seems like a minor thing, but is probably based on a huge amount of research that Samsung is doing behind the scenes to ensure the absolute best usability of their new flagship, plus remember how these small changes tweak a behavior which happens dozens of times every day.
All welcome changes, and now the only thing left is to look forward to the
rumored February 1 Galaxy S23 announcement date
, but if last year is any indication, Samsung may open its preorder reservation earlier, as soon as it announces its February Unpacked event at some point.