Samsung's Galaxy S10, S10+, and S10e are on sale at up to $180 discounts on eBay
6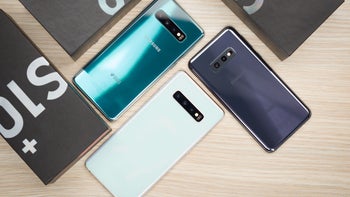 Believe it or not, it's already time for a fresh batch of killer deals on the
Galaxy S10e
, S10, and S10+. Samsung's latest ultra-high-end smartphone lineup has been on sale for a little while at some pretty
hefty discounts with monthly installment plans
, as well as
bundled with sweet freebies
in unlocked variants at Best Buy. Costco has also been offering
great savings with upfront T-Mobile activations
, but the highest markdowns with the fewest strings attached unsurprisingly come from eBay.
Top-rated seller Never MSRP is
outdoing itself
today, charging as little as $599.99 for a factory unlocked
Galaxy S10e
, $719.99 for a "regular"
Galaxy S10
with a 6.1-inch screen, and $819.99 as far as the jumbo-sized
S10 Plus
is concerned. All three deeply discounted devices come with dual SIM connectivity and standard support for GSM networks worldwide. In the US, that means you can use these phones on AT&T and T-Mobile and take full advantage of LTE speeds on both carriers, but if you're a Sprint or Verizon fan, you're out of luck.
The same goes for "fans" of warranties, but for what it's worth, Never MSRP has been positively rated by 99.4 percent of its customers over the last 12 months, vouching for the untouched condition of the S10, S10+, and S10e available with free nationwide shipping. These "brand-new, unused, unopened, and undamaged" handsets are $180 cheaper than their Samsung-sold counterparts (in the case of the Galaxy S10 and S10 Plus) and $150 cheaper as far as the Galaxy S10e is concerned.
Those are some very appealing discounts for some
extremely well-reviewed products
, but if you're interested in the GS10+, you may want to hurry. At the time of this writing, only the white model is listed as still available, with black and green flavors out of stock, and "more than 92 percent" of initially available units already sold out. The smaller
Galaxy S10
can be purchased in black, white, or green, while the even smaller S10e is still in stock in white and green versions.