Beat the Black Friday rush right now with these two killer Galaxy Note 8 eBay deals
4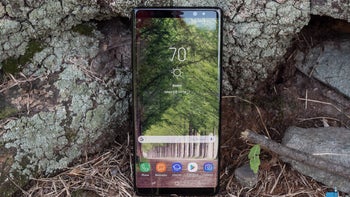 While
Samsung's official Black Friday 2018 deals
are obviously headlined by hot new devices like the Galaxy Note 9, S9, S9+, and Galaxy Watch, bargain hunters probably shouldn't write off the older
Galaxy Note 8
when shopping for nice holiday gifts.

Still sold for an exorbitant $699.99 through the manufacturer's US e-store after a $200 discount, the fall 2017-released phone is naturally available at a significantly lower price on eBay.

There are a couple of early Black Friday promotions you may want to consider right now, as trusted sellers BuySpry and Never MSRP are charging $400 and $520 for the factory unlocked Note 8 in refurbished and brand-new condition respectively.

It's hard to say which of these offers is more appealing, as the refurb comes with a 60-day seller warranty, 100 percent working condition, and full compatibility for GSM networks like AT&T and T-Mobile but also "noticeable scratches", "generic accessories", and the usual risks associated with buying pre-owned gear.

Meanwhile, the new units on sale from Never MSRP are, well, new, unused, unopened, and undamaged, sold in their "original packaging", and compatible with AT&T and T-Mobile as well, also supporting dual SIM functionality.

A key difference between the two listings is the model number (SM-N950U at BuySpry and SM-N950F/DS at Never MSRP), which means the former packs a Snapdragon 835 processor, while the latter replaces that with a similarly fast Exynos 8895.

You can also choose from gold, black, and gray color options if you decide to "splash" the 520 bucks on a new Samsung Galaxy Note 8 units, whereas the $400 seller refurbished offer is valid at the time of this writing for black variants only. Whatever you end up choosing, you can rest assured knowing this handset will not be available any cheaper on Black Friday or Cyber Monday.