Huawei Mate X: first look at the foldable phone of the future
45
Huawei has just unveiled its most revolutionary and most innovative smartphone ever: this is the Huawei Mate X, the phone that could set the tone for the future of not only Huawei, but the smartphone industry in general.
This is because the Mate X is a foldable phone, one of a new breed, but unlike others that we've seen so far, it looks way more advanced: it features a massive, 8-inch AMOLED screen uninterrupted by a notch, it has Huawei's best processor and best cameras, it features a modern, razor-thin design and it comes with the fastest 5G modem out there.
It is a sci-fi dream come true, but before we take a closer look, here are the specs highlights:
Foldable phone with its screen on the outside
Main 8" nearly square AMOLED screen, 2480 x 2200px, 414ppi
Unfolded 5.4mm thick, bulging strip for firm grip, folded - 11mm thick
Folded divides into front 6.6" and back 6.38" tall 25:9 screens
Fingerprint in power key
World fastest 5G phone, 1GB movie in 3 seconds
4500mAh battery, divided in 2 cells in each half
55-watt Huawei SuperCharge, 85% in 30 minutes
New Leica Triple Camera, Best-in-class selfie
The Foldable Phone of the Future, Now
Huawei teases what could be its most important smartphone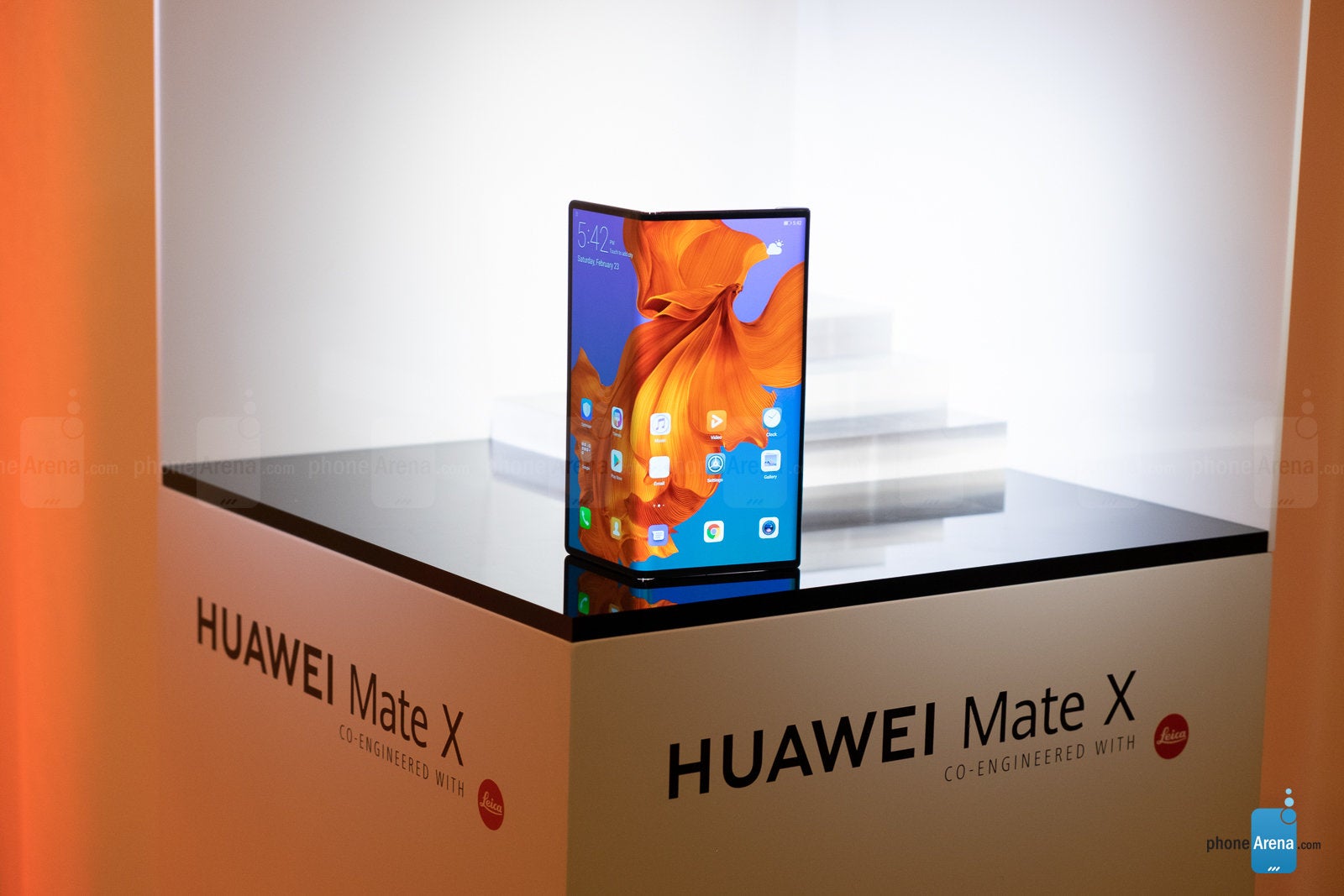 Foldable phones used to be something we'd see in the sci-fi movies, a distant dream that would linger around in people's imagination like flying cars or human-like robots, but while we are yet to see cars flying above our heads, foldable phones are no longer just a fantasy.
A number of different companies are unveiling their first foldable phones in 2019 and out of them all, one company has the boldest and bravest vision. And surprisingly to many, the name of that company is... Huawei.
The Chinese company might be out of favor in the United States, but it has shown that it will not hesitate to put all sorts of innovative ideas in its devices and the one that it showed us now truly wow-ed us. This is the Huawei Mate X, a phone that folds out to reveal a tablet-sized 8-inch display, and then with one move transforms back into a much more compact phone form factor. And all of that comes in an elegant, razor-thin body, with the latest and most powerful processor that Huawei has on its hands and with a beautiful AMOLED screen technology.
Huawei did not let us touch its new Mate X just yet. It's still working on this device and we were only allowed to look at the phone from a distance as an experienced Huawei representative showed us how easy it is to fold and unfold this handset, but we noticed that it was a fully operational unit running Huawei's familiar EMUI.
A Tablet That Fits In Your Pocket
The Mate X features an 8-inch screen and when unfolded, it measures just 5.4mm thin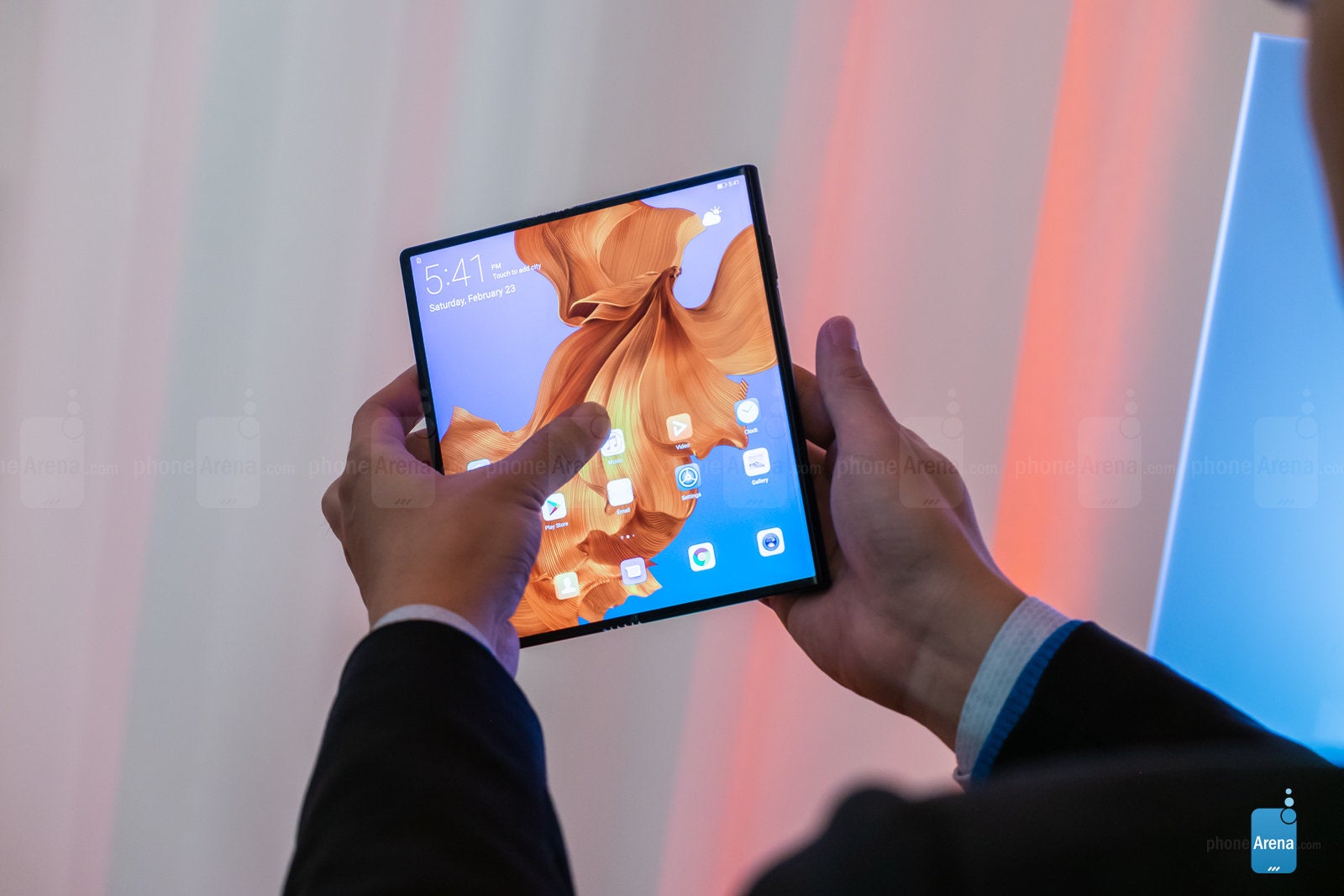 So what is it that makes the foldable Mate X so special compared to the competition? First of all, it's the giant 8-inch AMOLED screen. There is no notch here, just the display with its thin bezels and vivid, lively colors. Truly impressive… And when you fold it in its compact state, parts of the screen go dark and to divide it into a separate 6.6-inch front screen part and a 6.4-inch back part. Even when folded, the device is not too thick at 11mm, and when unfolded it measures just 5.4mm. It can unfold to a completely flat state while on the back of it you would notice a narrow vertical strip that bulges out and gives you something to hold on to and get a firmer grip. This is also where Huawei has placed all three cameras on this phone. And did you notice there are no front cameras on this phone? That is not a mistake: since you have that back screen when you use the phone folded, you can use the main cameras for your selfies too and this way you get much better-looking selfies.
For security, you have a fingerprint scanner embedded inside the power button on the side. No fancy fingerprint scanners embedded inside the screen here and since there are no front cameras, no face recognition either.
One area where the Mate X stands out is connectivity. This is a 5G phone, and not just any: Huawei says it's the world's fastest foldable 5G phone, reaching download speeds of up to 4.6Gbps, double that of the competition. This compares to 2.3Gbps on rival Qualcomm and Samsung models. Translating these numbers into human language, the Mate X should theoretically be able to download a full-featured 1GB movie in just three seconds when your network actually supports such speeds (and that probably will not be as fast as we wish).
And then comes the battery to support all this. Or rather batteries because there is a battery in each half of the phone and together they form the full, 4500 mAh capacity on the Mate X.
Huawei SuperCharge is also back. On the Mate 20 Pro from late 2018, Huawei introduced 40-watt charging speeds, but the Mate X is even quicker with support for charging speeds of 55 watts, nearly 40% faster.
Price and Release Date


All of this comes together in one futuristic phone, a phone that is a true embodiment of those dreams we had as kids and those gadgets we saw in sci-fi movies. However, all that futurism will come at a price, and a steep one at that. The Mate X is expected to be available for purchase from mid-2019. That long we can absolutely wait, no problem. The price tag of the device may be a bit of a shock, though: EUR 2300! If we make a direct conversion, that comes out to $2600! It's possible that the phone may actually cost a bit less in the US, but we cannot be certain yet. And 'a bit less' than $2600 is still a ton of money for a phone, be it a foldable one.
Thus, it becomes apparent, that the Huawei Mate X will in no way be a mass consumer product. It'll be for the early adopters and hyper-enthusiasts out there, who would spare no resources to get the most cutting-edge device there is. Add to that the fact that we still have no idea how this phone, which is almost experimental in its nature, is going to hold up in the long term, as well as Huawei's less than pristine reputation these days, and it makes us think that waiting for the second generation of foldable phones might be the smart move to play this year.
So… how do you feel about this new Huawei Mate X?
And how do you feel about foldable phones in general: do you think they will eventually take over traditional smartphones?