AT&T expands the availability and improves the affordability of Samsung's Galaxy A51 5G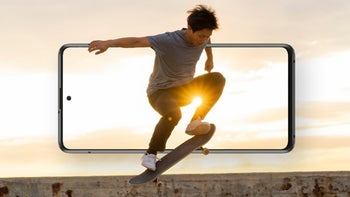 Not to be outdone by T-Mobile and Verizon,
AT&T has just officially announced
the impending arrival of
the cheapest carrier-locked 5G phone in the US
on
its "nationwide" high-speed network
at a truly irresistible price.
Somewhat predictably enough, both Big Red and
Magenta slashed the Galaxy A51 5G's list price
shortly after its commercial release (with certain strings attached), but believe it or not,
AT&T
is set to outshine its rivals come August 21. That's because the 6.5-inch handset will be available on Ma Bell for a measly 5 bucks a month with a standard installment plan, amounting to a very reasonable grand total of $150.
Even better, you'll be able to take that all the way down to... $0 with a trade-in, although the list of devices eligible for an extra $150 discount on the A51 5G is not available just yet. Incredibly enough, it seems that the killer deal will be good for both new and existing AT&T customers starting Friday, presumably requiring however a new line of wireless service.
The special offer is obviously scheduled to expire after an unspecified "limited time", at which point the
Samsung
Galaxy A51 5G will cost $500 outright, or $16.66 a month for two and a half years.
Compatible with
AT&T's "standard" 5G network
only rather than the blazing fast mmWave-based 5G+ signal as well, this version of the Galaxy A51 probably comes packing the same Exynos 980 processor as the T-Mobile-locked model in addition to a 6GB RAM count, 128 gigs of internal storage space, and a 4,500mAh battery.
In case you're wondering, the carrier's most affordable 5G-enabled phones right now are the
Samsung Galaxy A71 5G
and
LG Velvet
, both of which would typically set you back $600.
Compared to its brother, the
Galaxy A51 5G
is slightly smaller, with a 6.5-inch display in tow, while sporting a humbler 48MP primary rear-facing camera. The rest of the specs are pretty much identical, and the same goes for the premium and trendy design.