Bixby key customization saga ends on a sour note for Google Assistant fans
27
When Samsung finally announced a Bixby Key Customization feature was coming for both the
Galaxy S10 family
and
older flagships running Android Pie
, the company vaguely mentioned users would be able to program either a single or double press to launch their "favorite app." As it turns out, that doesn't include all apps installed on one's S10 or Note 9.
One app in particular that doesn't seem to be compatible with the button remapping option is Google Assistant, and we have every reason to believe that's an intentional omission rather than some sort of a glitch. While our Galaxy S10+ review unit has yet to receive
that software update
aimed at improving camera stability and bringing Bixby customization to the table, we've managed to
update the Bixby app
on a commercial Galaxy Note 9.
That means we should now be able to remap the infamous side-mounted hardware key to our "favorite app", but that's simply not possible for
Google's hugely popular virtual assistant
. The same appears to apply to Alexa and Cortana, according to a number of Galaxy S10 reviewers and everyday Note 9 and S9 users. Basically, Samsung still doesn't want you to replace Bixby with a voice-controlled digital assistant from a rival company, which... kind of makes sense.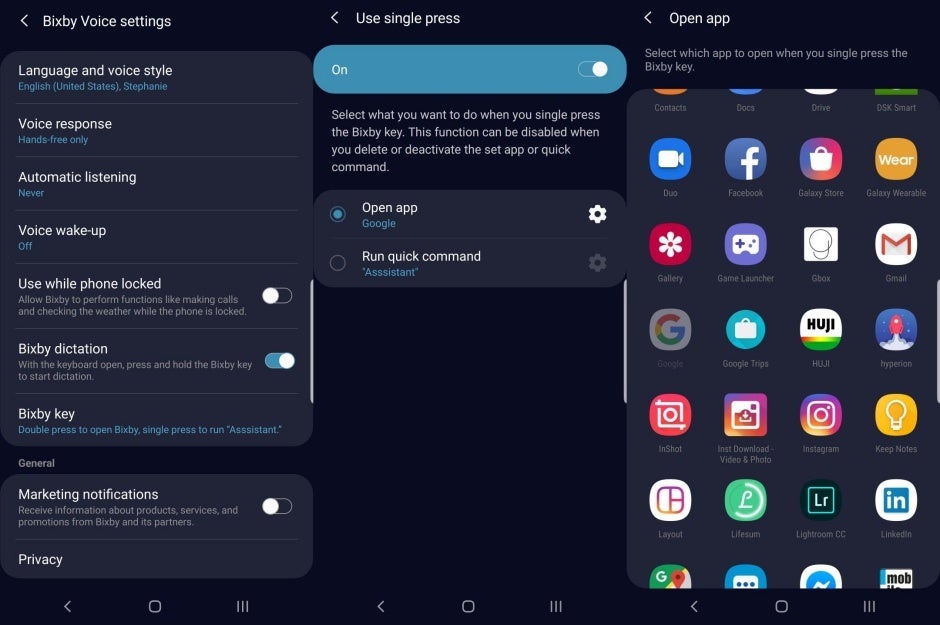 Google is a go, but Google Assistant a no-no
It's worth pointing out that the Bixby key remapping option remains useful for many other things and quick-launching many other apps. You still have to leave either the single or double press method reserved for Samsung's own assistant, but you can program the other one to open Facebook or Instagram, for instance.
In theory, it should also be possible to create a quick command designed to launch Google Assistant, which you could then assign to a Bixby button single press or double press, but that doesn't seem to work either, and even if it did, it sounds like a super-inconvenient workaround for a problem that shouldn't exist. Oh, and by the way, the customization feature does work with Google's core search app. Yup, this is a complete mess.