New Galaxy S10+ update allows Bixby key remapping, improves core functions
8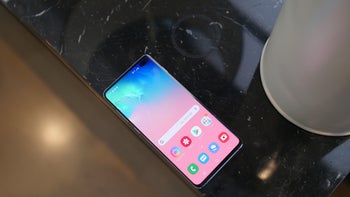 Among all the new cool features of the Galaxy S10+, there's one that users are particularly excited about and it doesn't have to do with the new cameras or powerful chips. Ever since Samsung introduced the dedicated Bixby button to its smartphones, people have been wanting the ability to use it for something else. Naturally, since that will largely negate the benefits of having it in the first place, Samsung has been stubbornly refusing to add that functionality natively.
That changed with the release of the Galaxy S10 line when Samsung promised that it will finally allow users to change the behavior of the Bixby button from its own menus. That might have been a last-minute decision since the function wasn't available on the software the Galaxy S10+ came with. It doesn't matter, however, because most people will start getting their new smartphones around March 8 and the software update is already here!
Well, not "here" here, it appears our device is towards the back of the short line of active Galaxy S10's, but
SamMobile is reporting
that some devices have already received the update.
Besides the highly anticipated feature, the update is also bringing a couple of other important changes:
The stability of Camera has been improved
The performance of Fingerprint recognition has been improved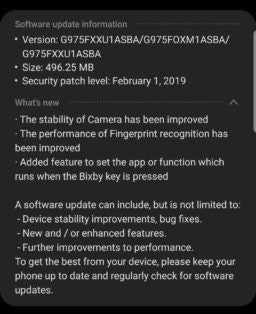 Of course, there's a bunch of smaller fixes and improvements Samsung has made, as the new patch comes at almost 500MB.
We're happy to see such a quick reaction, but we're not that surprised. After all, Samsung wants users to have the best first impression possible when they get their fancy new
From previous statements about the Bixby remapping option, we know that users will be able to customize either the single press or the double press of the button, the other will remain dedicated to launching Samsung's voice assistant. Sounds like a good compromise to us.
It's not clear if the new update will come preinstalled on the devices that are shipping in about a week, but either way, you'll likely have it waiting as soon as you turn on your new Galaxy S10 smartphone.
Samsung has said that the Bixby button customization will reach older Galaxy devices as well, so we're on the lookout for more updates.