Qualcomm Snapdragon 712 chipset is all about bringing premium features to more mid-range phones
8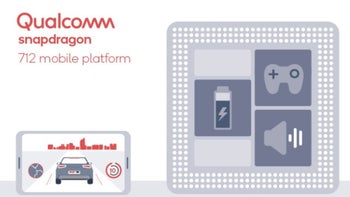 Until a year or so ago, Qualcomm's Snapdragon smartphone processor lineups were fairly easy to understand. But then
the 710
came to narrow the gap between the mid-range 6xx family and the flagship 8xx series.

While somewhat confusing at first, the 10 nm-based SoC with a powerful octa-core CPU, blazing fast LTE modem, and advanced built-in AI capabilities for non-flagship handsets quickly made a lot of people excited for a prospective wave of impressive mid-rangers with reasonable price points.
Unfortunately, Snapdragon 710 phones remain almost non-existent on the Western Hemisphere, while elsewhere the
Nokia 8.1
and
Samsung Galaxy A9 Pro (2019)
are probably the most prominent members of this upper mid-end club.
Despite the mobile platform's unusually slow adoption, a sequel is already here, fittingly dubbed Snapdragon 712.
This was discreetly announced yesterday
as a (very) minor upgrade of 2018's Snapdragon 710.

The two processors are nearly identical, sharing everything from a 10-nanometer architecture to an Adreno 616 GPU, Snapdragon X15 LTE modem for up to 800 Mbps download speeds and 150 Mbps upload capacity, a Spectra 250 image signal processor with support for up to 20MP dual cameras or a 32MP single shooter, and a multicore AI Engine.

The biggest difference is the eight Kryo 360 CPU cores are now clocked at a maximum speed of 2.3 GHz, up from 2.2 on the Snapdragon 710, which offers the Snapdragon 712 a modest 10 percent or so increase in raw performance.

Other minor tweaks include a bump from Quick Charge 4 to Quick Charge 4+ capabilities for a subtle increase in charging velocity, as well as the addition of proprietary TrueWireless Stereo Plus and Broadcast Audio technologies for Bluetooth audio performance enhancements.
Basically, the reason this largely rehashed Snapdragon 712 SoC is a thing seems to be encouraging device manufacturers to bring "premium features to more devices." Hopefully, adoption of 7xx chips will ramp up soon enough, possibly starting with the
Pixel 3 Lite XL
.

After all, both the Snapdragon 710 and 712 can flex their muscles to deliver "console-like" gaming prowess, "cinematic movie experiences", and perhaps most importantly, stellar battery life optimizations. Who wouldn't want all that in a $500 or even $400 phone?