The best time to get a pair of Powerbeats Pro is now!
We may earn a commission if you make a purchase from the links on this page.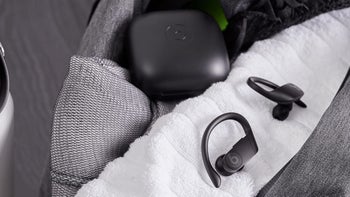 Are you the sporty type? Then we have great news for you - one of the
best earbuds for working out
is currently 40% off on Amazon. We're talking about the Powerbeats Pro, of course! These are a sweet pair of wireless earbuds that are perfect for anyone who's always on the go. Whether you're hitting the gym or going for a run, these earbuds will stay put and keep the music flowing.
One of the best things about the Powerbeats Pro is that they last for ages. You can get up to 9 hours of listening time on a single charge, and the handy charging case gives you another 24 hours of juice. So you don't have to worry about running out of power during a long workout or a long running session (who can run for 9 hours straight, anyway?).
The Powerbeats Pro are also very easy to pair with your device because they use the latest Bluetooth technology. And if you're someone who likes to fiddle with the volume or skip tracks without taking out your phone, you're in luck. The earbuds come with built-in touch controls, so you can do just that.
And when it comes to sound quality, The Powerbeats Pro do not disappoint, either (thanks to the Apple H1 chip inside). These earbuds pump out some serious bass and clear, balanced audio across all frequencies. Plus, they come with different ear tip and wingtip options, so you can find the perfect fit and seal for optimal sound isolation.
Another cool feature of the Powerbeats Pro is that they're compatible with Siri and Google Assistant, so you can use voice commands to control your music, take calls, or send texts without having to take your phone out of your pocket or bag. Normally, these earbuds are more toward the expensive category but now you can shed 40% off the price for a limited time and get them for basically pocket money. Don't miss out!