Oppo's 10x lossless zoom tech could steal the MWC 2019 spotlight away from Samsung or LG
14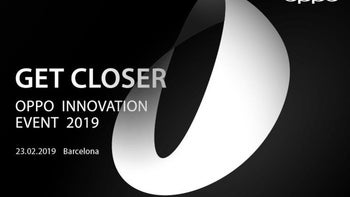 Foldable designs
and
5G connectivity
are widely expected to take center stage at
MWC 2019
in Barcelona in just a few days, but while the mobile industry is definitely pinning its hopes on these two breakthroughs for a
global market rebound
, neither is yet a very mature or accessible technology. Believe it or not, Oppo may have something in the pipeline that we can all get behind right away, with pretty obvious real-world utility and strong game-changing potential.
After reminding its Twitter followers about the exciting February 23 "innovation event"
a couple of times
over
the past few days
, Oppo significantly stepped up the hype machine by
sharing the first video
showing the 10x lossless zoom feature in action. The 21-second clip purportedly stars company VP Brian Shen as he slowly zooms in on Barcelona's iconic Sagrada Familia church, ultimately snapping a crystal clear close-up from a fairly large distance.
We have to admit we're now more prepared than ever to "get closer with Oppo", and you don't need to attend the MWC 2019 trade show to do the same, as the company plans to
live stream its innovation event
on Saturday, starting at 2 PM local time (8 AM on the US east coast, 5 AM PST).
It's worth remembering that Oppo claimed this mind-blowing technology is "ready for mass production", so we could see an actual, commercial-ready phone unveiled in Barcelona later this week with three rear-facing cameras combining an "Ultra Wide Angle", "Ultra Clear Master", and Telephoto lens to achieve 10x lossless zoom. While said mysterious device is unlikely to ever hit the US, the
OnePlus 7
could borrow the technology a few months down the line, in keeping with the two brands' history of shared designs and impressive features.