Foldable smartphones and 5G will produce the next sales boom: Gartner
16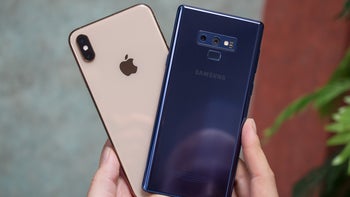 The iPhone XS Max and Samsung Galaxy Note 9
During the third quarter of 2018 smartphone shipments totaled 389 million units, up just 1.4% when compared to the same three-month period in 2017. According to a new
report
from Gartner, though, 5G and foldable smartphones will be responsible for the next sales boom.
In the smartphone market's current state, consumers appear to be holding on to devices for significantly longer due to a lack of new features. This is severely affecting the performance of
Samsung
which, despite maintaining its number one position, saw a massive drop in shipments of 12.3 million units – this is actually the biggest decrease Samsung has seen since Gartner began reporting smartphone sales.
While most brands are experiencing a slow down in sales,
Huawei
and
Xiaomi
appear to be unaffected. During the third quarter, the two brands recorded growth of 43% and 23% respectively, solidifying their second and fourth place positioning. If the two brands continue to grow at their current rate, though, they could eventually overtake rivals and move into first and third place respectively.
As mentioned above it seems people are hanging on to their devices for significantly longer. With 5G networks and foldable smartphones just around the corner, though, it's claimed that consumers will soon be more open to the idea of upgrading, thus creating a sales boom. By 2020 its forecast that
5G smartphone
shipments will total 65 million units. Foldable devices, on the other hand, will take a while longer to gain traction due to the lack of support but should eventually become mainstream products.