Microsoft's Surface Go tablet has a sluggish debut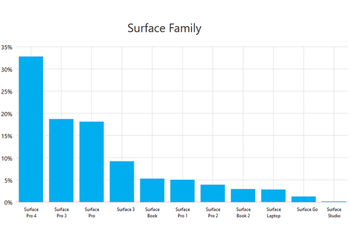 Back on August 2nd,
Microsoft launched the Surface Go line
. These are tablets running Windows 10, powered by a dual-core Intel Pentium 4415Y processor. With a 10-inch display (featuring an 1800 x 1200 resolution), and a price tag starting at $399, these slates were designed to be competition for the Apple iPad. But data from cross-promotion network AdDuplex indicates that the
Surface Go
has not experienced a fast start.
According to AdDuplex, the
Surface Go
was responsible for only 1.24% of Surface PC usage during this month up to August 22nd. The only Surface device used less during this time period is the Surface Studio and its 28-inch display. The problem here for Microsoft is that the Surface Go tablets are priced to move, and there might not be much wiggle room for the company to lower prices. Still, the device is doing better in its first month than the Surface Laptop (.6% usage data), and the Surface Book 2 (.4%) did during their debuts.
Even though Microsoft has run prime time ads for the product (click on the video below), these spots seem to get lost in the shuffle. This doesn't mean that Microsoft should give up competing against the iPad. It just means that the company needs to more heavily promote the Surface Go. With the Back-to-School season underway, now might be a good time for Microsoft to widen distribution of the device by offering
more than just the 15% discount that one retailer tried
earlier this month.