API shows that Microsoft's rumored 'Surface Phone' will have five different pre-set positions?
5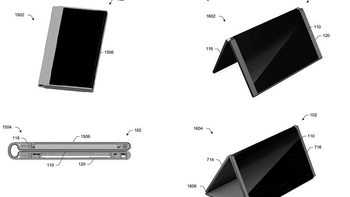 Based on an API found in the diff of Windows Build 17704 (compared to an earlier version of the OS), it appears that the foldable 'Surface Phone' will feature hinges that will allow the device to rotate 360 degrees. Apparently there will be five different pre-set positions including closed (with the dual screens facing each other inward), concave, convex, tent mode, and full. Certain applications would be available on the unit depending on how it is oriented. Previous patents
showed an alarm clock while the phone is in tent mode
, and in convex mode one of the screens could show a virtual QWERTY similar to the setup of a laptop (although a laptop uses a physical QWERTY, of course).
The latest rumors suggest that the mobile device codenamed Andromeda does offer the ability to make phone calls, and that it will be launched some time this year. Reportedly,
the device will be powered by the Snapdragon 1000 chipset
. This is believed to be a powerful chip designed by Microsoft and Qualcomm to compete with Intel's Y and U processor series.
Code found in Windows diff suggests that Microsoft's foldable device will have five modes