A new Huawei P60 Pro spec leak points to massive processor upgrade
7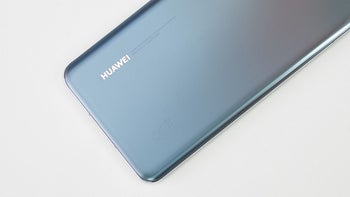 So, after we reported that
Huawei plans to unveil both a P60 and Mate 60 flagship this March
, it was only expected that the rumor mill would start going. A set of
Huawei P60 Pro specs already leaked
once, but it was odd in this particular way, where it had a Snapdragon 8+ Gen 1, instead of the newer, 8 Gen 2 model.
Well, it's time for an upgrade! At least, that's what a
Chinese tipster posted on Weibo
(translated source). Summarized in a single image, the new spec leak showcases an alleged final build for the upcoming Huawei P60 Pro. While this is great and all, this tipster isn't too active, so you may want to have a salt shaker around while taking this info in.
Let's start off with the biggest improvement: the jump from a Snapdragon 8+ Gen 1 to a
Snapdragon 8 Gen 2 processor
. While the newer chip will likely be modified to limit 5G capabilities,
Qualcom's latest chip is a powerhouse
and a much better fit for a next-gen Huawei flagship.
What are the specs of the Huawei P60 Pro?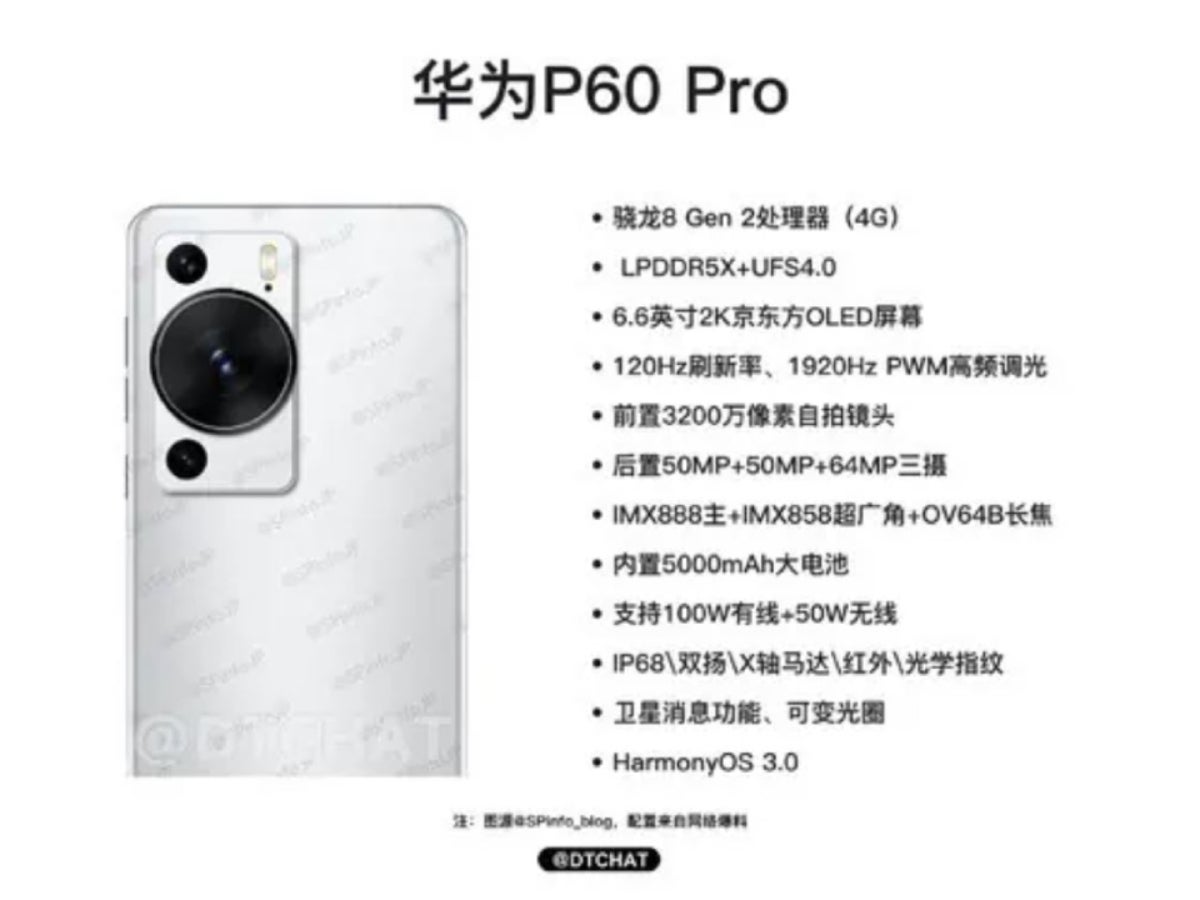 The leaked image, untranslated, but you can still make out some of the specs.
Here's a quick overview of the showcased specs from the leak:
6.6" Quad-HD+ OLED display
A 120Hz refresh rate
Snapdragon 8 Gen 2
LPDDRX5 RAM — no quantity specified
UFS 4.0 Storage — no capacity specified
5,000mAh battery
100W wired charging, 50W wireless charging
IP68 certification, meaning fully dust-proof and resistant to even warmer clean water
A triple camera array consisting of:
○ 50MP main unit
○ 50MP ultra-wide sensor
○ 64MP telephoto camera
A 32MP front-facing camera
Okay, so for starters, it's weird that we don't know what RAM and Storage options the Huawei P60 Pro will offer, but we know its IP certification grade. Hmm. The 32MP selfie snapper is fine, we've seen Samsung come up with larger ones in the past, but that main camera setup is noteworthy.
In fact, it's reminiscent of the one that the
Galaxy S21
had, as it was also equipped with a 64MP telephoto secondary lens, while its primary one was a 12MP one. With the P60 Pro, however, the primary and ultra-wide sensors are bumped up to 50MP, which would make for an interesting and useful setup.
Last up, the post itself contains two extra pointers, that don't appear to be included in the image itself — or that might just be due to the language barrier. One of them is an extra for the camera setup in the form of variable aperture.
This is not something new in the world of smartphones, with the
Huawei Mate 50 Pro
having such a feature on board. TL;DR: this means that aperture can be automatically adjusted in order to improve sharpness in daytime images, especially in close-ups, and then it would be able to open up wider for low-light situations.
The other is satellite communication, which has been gaining popularity in recent years, with
Apple pioneering the launch of a SOS service
. If we are to assume that it works in the same vein, then it would enable users to have some sort of contact with emergency services, even if lost in the wilderness.
There's still quite some time until March, when the Huawei P60 Pro will supposedly become unveiled. If this is indeed the case, as customs dictate, we are to see numerous more leaks in the coming weeks.