myCharge Freedom 2000 iPhone 5 battery case hands-on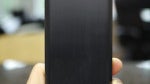 Over the years, the biggest constant that all smartphones face is battery life – it just isn't ever enough for power users. That's why many accessory makers have been quick to come up with different battery packs cases to keep our device sufficiently juiced on the go. For the
iPhone 5
, though, there's no arguing about the insane selection that's available to it. In its attempt to stand out from the usual crop, the
myCharge Freedom 2000
battery case for the iPhone 5 is different visually, but at the same time, it doesn't skimp out when it comes to protecting the prized possession.
From the onset, it's the
metallic finish
of the case that attracts us to it, as it closely mimics the premium elements of the iPhone 5's brushed aluminum casing. In addition to flaunting a premium finish, it's worth noting that the case offers
drop proof protection
, seeing that its buffed looks seems to tightly hold the handset in place – plus, the dual injected rubber sidewalls help to cushion the impact. However, there's just no way around the fact that it turns the handset into a beastly sized thing. Frankly, that's what we normally see with battery cases as a whole, so we're not too shocked by it.
Unlike other cases, the myCharge Freedom 2000 keeps the bottom ridge exposed, allowing us to connect those wider 3.5mm cables to the phone without any issues. If there's one single complaint that we have with its design, it has to be directed towards the power button, which is flat to the touch and rather unresponsive. In the rear, there's a button with a battery icon that lights up to either green or red to indicate how much juice is left. To charge its internal
2,000 mAh battery
, a microUSB port is discretely hidden behind a plastic flap towards the bottom edge. And finally, the detachable Lightning cable is also discretely hidden inside of the case when it's not being used.
Finding our handset completely zapped of power, the myCharge Freedom 2000 is able to bring it back to 100 percent capacity – while still having a little bit of juice leftover. At
$79.99
a pop, power users will undoubtedly love the extra juice it'll give the handset while you're out and about. Beyond that, it's the premium construction and looks that really differentiate it from other similar battery cases. Therefore, if you want to match the premium looks of the phone, this is surely something that'll perfectly complement it.
More battery cases for the iPhone 5
source:
myCharge