MWC 2023: We saw the crazy Xiaomi Leica concept, but it was a sticky situation
3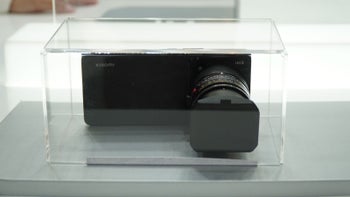 Last year,
Xiaomi
teased a crazy
concept phone with a huge (and really expensive) Leica objective lens
attached to the body. It was a PR stunt to showcase the powerful 1-inch IMX989 sensor underneath and what smartphone camera sensors were capable of.
The phone was based on the Xiaomi 12S Ultra, which never made it to global markets (
you can read our preview
), with only minor changes to fit the Leica lens. The camera above the 1-inch sensor was also removed to allow the light from the Leica lens to hit the sensor directly.
Now, here at MWC in Barcelona, we were able to take a closer look at this concept. The good news is that it's a real thing; it's not some render made deep in Xiaomi's labs (although it was probably made in a lab, just a different one).
The bad news is that we weren't allowed to touch it or play with it, as it was under a display glass, firmly attached with sticky tape (we tried to remove it by force when no one was watching, but no cigar). Here are some photos of the real thing; it's not much, but it's something, we guess.
There's another upside to this, and it's the fact that the
Xiaomi 13 Pro launched globally here at MWC
, sporting the same 1-inch IMX989 sensor underneath the main camera. So, mobile photography fans around the world can now buy the thing for 1,299 euros, and who knows, maybe in the future people will be able to snap professional lenses on top of these huge and powerful camera sensors.