In-display fingerprint sensors are about to become ubiquitous, but will they also get better?
19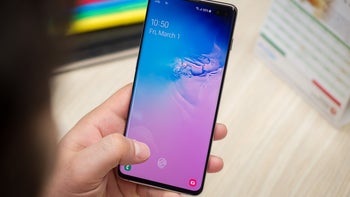 The in-display fingerprint scanner on the Galaxy S10+ is... far from perfect
While Apple's decision to do away with the beloved Touch ID fingerprint sensor and rely entirely on facial recognition technology for 2017's
iPhone X
caused quite a bit of initial controversy, "iFans" quickly warmed up to the change, wholeheartedly embracing last year's iPhone XS, XS Max, and XR, as well as the new iPad Pro 11 and 12.9, none of which came with a fingerprint scanning solution.
At the same time, Android device vendors chose to primarily work on integrating and refining in-display fingerprint readers, which are starting to become ubiquitous in the high-end segment, also expanding their reach to mid-range models. Even though this particular biometric recognition technology remains
far from perfect
, industry sources quoted by
Digitimes
only expect the popularity of OLED panels "paired with in-display fingerprint sensors" to increase throughout 2019.
That's largely because the prices of high-quality rigid OLED screens and fingerprint scanners capable of hiding in plain sight have been recently dropping, a trend that will no doubt continue this year, helping smartphone manufacturers spend less money on increasingly sophisticated components and technologies. At least in theory, that means we should see more and more mid-rangers equipped with fancy in-screen fingerprint readers, as well as cheaper high-end products sporting OLED displays with little to no bezel.
That's obviously good news for Samsung, which may need to settle for smaller profit margins on sales of AMOLED screens, with said sales numbers however tipped to further increase, consolidating the company's market dominance. Meanwhile, LCD panels will become less and less popular, even in the mid-end segment, providing very few benefits over their OLED counterparts and an almost insignificant price reduction for device makers.
Hopefully, this all means the reliability, accuracy, and security of in-display fingerprint sensors will be vastly improved in the near future as well, given the issues exhibited by phones like the
Nokia 9 PureView
and even Samsung's state-of-the-art
Galaxy S10 family
. It also remains to be seen if the rising popularity of this biometric recognition method will come at the expense of 3D facial scanning solutions, which are still
very rare in the Android landscape
and
far from infallible
.