Which new LG phone did you like better? LG V50 vs LG G8
18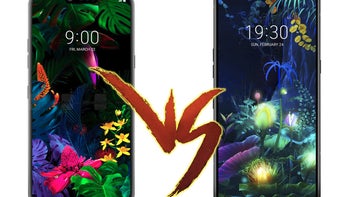 Weirdly enough, LG launched both the
G8 ThinQ
and
V50 ThinQ
at the same time (we expected the V50 in 6 months). And they share a lot of similarities, but also have some features to differentiate them.
The LG G8 has the new Z Camera on the front, which allows for Face ID-like face detection or even mapping the veins on your palm to use as a biometric lock. Additionally, the Z Camera can read air gestures, so you can control the G8 without even touching the phone — useful for when your hands are wet or dirty. The G8 also has a Crystal Sound OLED display — no earpiece here, but the top half of the screen vibrates to transfer sound... yeah. It still has a Boombox speaker at the bottom, which works together with the Crystal Sound to create a nice, spacious sound picture.
The V50 doesn't have the Z Camera and uses a "boring" old earpiece instead of a vibrating OLED screen. But it does have some things that the G8 doesn't. For one, the LG V50 has a regular, wide-angle, and telephoto camera on the back (the G8 is missing the latter) and both a "normal" and a wide-angle camera on the front (again, G8 only has the regular selfie camera). There's also this fun, yet possibly gimmicky secondary display case for the LG V50, which has the ability to turn it into a semi-gaming console or a somewhat foldable phone for a fraction of the price. And, of course, LG V50 will be 5G-compatible, in case that matters to you.
So, we wonder, which of these phones did you find more attractive?