iWatch concept render based on patent filings could be more than just fan hype
16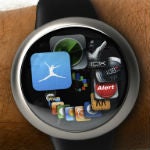 Nikolay Lamm is an old pro at putting together device renders for rumored Apple products. That's not to say that what he designs comes true, although he wasn't too far off with his
iPad mini concept
, he was pretty far off in the clouds with his iPhone 5 attempt. Well, Nikolay has taken a shot at the rumored
iWatch
, and he has used some past Apple patent filings in order to give the renders more potential accuracy, rather than just fan hype.
spiral navigation system
, which was originally intended for iTunes or an iPod. Lamm connected that with the idea (given to him by his mom) of having the iWatch be "as simple as your old iPod click wheel".
Lamm also looked to Apple to Jony Ive, and more importantly Ive's friend Marc Newson, who owns and designs Ikepod watches, which has some designs that Lamm thinks are "very Apple-esque", and notes that the Ikepod is the watch of choice for Ive. Of course, none of this means that Lamm has gotten the design right, but it's always nice to see concept renders that have this level of thought behind them.
We should be seeing the iWatch sometime soon, given that reports say Apple already has 100 people working on the product, and given that Apple's rival
Samsung also has a watch
in the works.