iPad mini concept puts true-to-rumor tablet alongside real iPad, iPhone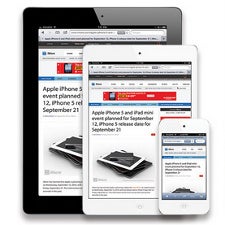 The
iPad mini
is a device that is not yet even announced, but we've heard so much about it, that by now everyone is expecting that Apple will unveil it on September 12th, at one of the biggest announcement events Apple has held. All rumors agree - it will have a 7.85-inch screen with a resolution of 768x1024 pixels, resulting in a
pixel
density of 163ppi, almost the same as on the original iPhone.
Another interesting possibility whispers agree on is that despite the noticeably larger screen, the iPad mini (or whatever Apple calls it) will barely differ in size from other 7-inch tablets like the Nexus 7, currently on the market.
Finally, it's biggest appeal would be the extremely low price - no clarity on that either, but hopes are that Apple can bring it down to between $250 and $300, and some suggest even lower. The iPad mini release date that all rumors eye is October, and now John Anastasiadis has contributed some very realistic looking renders (it's all merely a concept, though, don't get too excited!) to illustrate all that. A feast for your eyes and something to make the remaining three weeks of wait time easier, isn't it?
source:
iMore