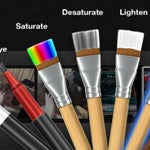 Introduction:
Call it long overdue, especially when it could've easily made it in time for the original iPhone's release, but in any event, iPhoto is finally here to iOS devices sporting the most up-to-date version of the platform – with that being the recently minted iOS
5.1
. Similar to some of the other lifestyle apps from Apple's camp, such as GarageBand and iMovie, iPhoto aims to finally provide iOS users an intuitive photo editing software that even grandma and grandpa can actually use without being totally perplexed with its functionality. Donning a $4.99 price tag, it might seem unwarranted on paper for something that could've been natively integrated with the stock Photo app, but it's bringing some additional goodies to make the purchase somewhat justifiable.
Interface and Functionality:
First and foremost, iPhoto doesn't replace the standard Photo app for iOS, but rather, it essentially works in tandem to give us some enhancement tools to fine tune our snapshots. Upon launching iPhoto for iPad, we're presented with four main tabs that give us access to Albums, Photos, Events, and Journals. Overall, the app makes good use of the generous display of the iPad, but it's evident some aspects are more robust that others – such as the main photo editing interface that employs various dividers to even out its presentation. On the other hand, it sticks to the bland routine with its appearance with things such as scoping out our photos within the predictably named Photos tab.
So let's talking about iPhoto's editing features, since it's the main driving force behind the app's reality. To sum it up, iPhoto is a great tool for those who prefer an intuitive and hassle-free experience editing photos, but surely, it's not going to get us to ditch our desktop apps and rely on it solely. And why is that you ask? Simply, iPhoto mainly provides us beginner to intermediate editing features, with it skimping out on more advanced functions such as layering – then again, it's not aiming to grab the spotlight from other full-featured photo editing suites out there.
Since this is the first time we're seeing an iPhoto app for the iPad, we're grateful to find a handy "?" icon on the top toolbar that layers some
useful tips and hints
to the various icons littered throughout its interface to get us on track. Without it, we'd be in a complete standstill – so yeah, it's great that it's there. With the toolbar placed along the bottom
edge
of the interface, it's where we get all of the app's hearty editing tools. Specifically, they're broken down to Crop & Straighten, Exposure, Color, Brushes, and Effects.
With the
Crop & Straighten feature
, it's fairly self-explanatory, as we're able to use pinch/rotate gestures, moving the gyro left/right, or enable gyro mode to allows us to tilt the iPad to manipulate our shots to our liking. Next up, the
Exposure feature
positions a linear adjustment tool that gives us access to modify various items like shadows, contrast, highlights, and brightness. Rather than moving each specific item in the linear adjustment tool, we actually prefer the dynamic approach of simply long-pressing a specific portion of our photo, like someone's face, to adjust the pertinent exposure item. In fact, it works pretty well with most thing, like shadows, as we're able to lighten and darken them to our liking. Simple? Of course, and that's the essential theme with iPhoto as we slowly get a grasp to its inner workings.
Moving right along to the
Color feature
, it works in the same premise as the Exposure feature – where it relies on an adjustment tool that we can manipulate at the bottom edge, or better yet, long-pressing areas in our image to make the pertinent changes. Want to splash some kind of artsy look to your shot? Well, that's where the
Effects feature
comes to mind as it whips out a fan that coughs up 6 main effects – these include Warm & Cool, Duotone, Black & White, Aura, Vintage, and Artistic. Once a selection is made, we can further enhance each specific effect by moving a timeline yet again to obtain the desired results.
Finally, there's the coolest editing feature of them all – the
Brushes feature
! Clicking on the appropriate icon, a cool looking transition is initiated, which results in bringing up 8 brushes that consist of Repair, Red Eye, Saturate, Desaturate, Lighten, Darken, Sharpen, and Soften. Even before flicking our fingers at our masterpiece, we were a bit skeptical about ruining it by not brushing within borders. Lucky for us, we can activate the "detect edges" option to not worry about staying within our boundaries. Honestly, we had a lot of fun using the various brushes in spiffying our shots. For example, we're able to magically give ourselves a professional looking golden tan to our skin, while using the Repair brush to remove any unwanted blemishes away. Heck, we can seriously make ourselves look like models at this point.
If you're familiar with iPhoto for Mac, the
Events tab
allows you to view events after syncing them from iTunes or importing photos using the iPad Camera Connection Kit. Lastly, there's the
Journals tab
in iPhoto that's the one-stop hub to create, edit, and view journals. After selecting the photos we want for our journal, they're organized into a mosaic of our choice, thus, building us a virtual storybook of our adventures. Yeah, it's a tangible addition to iPhoto's arsenal, but we would've easily preferred just a tiny bit more advanced editing tools.
Conclusion:
After playing around with iPhoto, we have to admit that it's fine and dandy being able to make some touch ups to our snapshots, but we can't honestly rely on it entirely for all our editing needs. Not surprisingly, the interface is as good as it can get on the iPad, especially when this is an app directly from Apple. Indeed, if you're the kind of person that loves telling stories through photos, as opposed to spoken words, then iPhoto's Journal feature is an indelible addition you'll find extremely useful for the task.
However, as much as we love its simplicity, it's still fairly limited when compared to even some free desktop photo editing applications out there – such as GIMP for example. Specifically, it lacks advanced functions such as freehand cropping, layers, and various blending tools to make it a go-to app for all our needs. Frankly, if you're one that's meticulous with photos that you post, you'll absolutely cherish the core set of editing features of iPhoto, but if you're on the other end of the spectrum, you'll probably be bored after messing around and eventually realizing that it's nothing more than novel.