iPhones score highest touch responsiveness, more than twice as responsive as Android and Windows Phone devices
99+
Have you ever thought just how responsive to touch your device really is? This is after all a key factor in determining how fast it feels, and now researchers from Agawi came up with a benchmark test that measures response times down to the millisecond. The test is called TouchMarks and relies on an Arduino board, a few 240fps slow motion cameras and as many as 50 repetitions to make sure the test is correct.
The end results are very revealing and they show that currently the iPhone has the fastest response times of any device out there. Faster than any and all Android and Windows Phone devices, and the difference is noticeable.
To understand these results (right below), you'd need to understand touch responsiveness, or the delay between you touch the screen and it reacts. Earlier research has shown that the current average of 100ms comes with a delay that the user can perceive - try writing something with a stylus and you'd see your writing trail your finger with a noticeable delay. At 50ms it's still noticeable, but not so much. At 10ms, the delay is still visible, but much less. At 1ms it's gone - the human eye perceives it as if it's not there.
So while we're still way off that 1ms ideal, it seems that on mobile phones, the Apple iPhone 5 is the fastest one scoring 55ms response times, more than half that of say the Samsung Galaxy S4. Even the iPhone 4 is faster than all Android and Windows Phones, and the test does not yet have the iPhone 5s results. So with no further ado, here are the touch response times for various devices: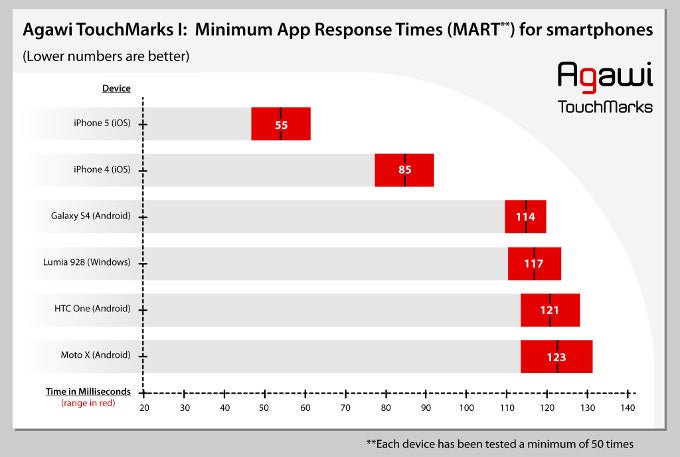 To better understand the methodology of the TouchMarks test, here is an explanation of how it is conducted: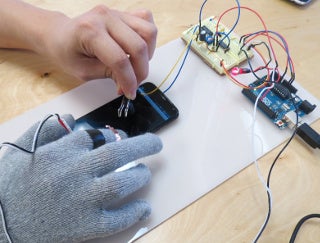 "Agawi's Touchscope was built in-house to get multiple samples of touchscreen response times very quickly, the Touchscope measures App Response Time (ART) by capturing the time delta between activation of the Force Sensitive Resistor on the glove and the Light Sensitive Resistor positioned over the device. The Touchscope is based on the Arduino platform and uses easily available electronic components so it's easy for any electronics hobbyist to replicate. The specs and code will be released soon."
All in all, it's great to see more tests, and more measurements that would help us better understand why a device feels as fast as it does. Hopefully, phone makers on the Android and Windows Phone camp will quickly realize the importance of this and how it is intimately linked to the quality of the user experience. And to better understand response times, and the goals for their improvement, take a look at the video below.