iPhone users have the highest credit card bills?
8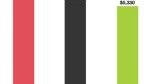 If you're not already familiar with Pageonce, it is a service that brings all your credit cards, bank accounts, and investments all into one mobile (or online) application. The team at Pageonce recently decided to compare a cross section of their
smartphone users
, and found some interesting things. The most interesting finding was that iPhone users carry a substantially higher credit card balance than other smartphone owners.
The comparison between
iPhone
, BlackBerry, Android, and Windows Mobile users found that iPhone users carry an average credit balance of $6,872, which is 21% higher than BlackBerry users, 29% higher than Android users, and 35% higher than
Windows Mobile
users. Maybe iPhone users carry more credit card debt, or perhaps they just utilize cards better for airline mileage etc.
On the other hand,
iPhone
users also had the lowest average monthly phone bill, at $164.91. Windows Mobile users have substantially higher bills, at an average of $205.33. One theory is that Windows Mobile, Android, and BlackBerry users are more likely
business users
, and are therefore using more minutes, or paying for expensive service charges outside of the U.S. Then again, aren't iPhone owners purchasing a lot of apps?
We can't be sure what exactly these findings mean. A survey of how the customers use their devices would be useful. For example, are Pageonce customers largely business users? Or do Pageonce customers tend to carry more debt, and that's why they use the service? Maybe some of the cell bills are actually family plans that are corrupting the data. What do you think?
source:
Pageonce
via
Gizmodo
Recommended Stories