Mobile data in the US alone will pass the 1 exabyte mark by the end of 2010
4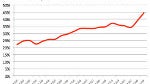 We have told you how the smartphone industry
is expanding
and what can be
expected from this
, so it's hardly surprising that the US wireless-data market grew by 25% in Q3 of 2010 compared to the previous quarter of the same year.
That's what the smartphone revolution led to – doubling of the average revenue per user (ARPU) compared to 2007 (from $8 spend a month in 2007 to $16.70 at the moment) and a drive to make better all-around devices that have improved internet capabilities. That increase in data consumption means that by the end of 2010 in the US alone, all mobile data will pass the 1 exabyte mark (1 exabyte = billion gigabytes).
Verizon and AT&T, being the leading US Carriers, account for 85% of the data revenues in Q3 of 2010, while, according to reports, in the same quarter 47% of all purchased cell phones were smartphones. These numbers only show that the smartphone industry is bound to grow and this expansion will lead to data and voice revenues being nearly equal in the US by 2013, which is a massive difference compared to the current situation – at the moment, data revenue is only 33% of all revenues that carriers receive.
With these improvements in the hardware, software and data sectors, our smartphones are set to become even more powerful devices capable of being compact and reliable for a huge number of tasks. How far this smartphone expansion will go is a matter of debate, but for now it looks like the sky is the only limit out there.
source:
Giga OM
Recommended Stories